Development
Craig Grannell rounds up the must-bookmark sites for web design, which help you build better sites yourself As you may have noticed, not least by typing something into Google and it gleefully revealing that there are 26 million results for your search, there are quite a few websites out there.
The Process of Planning a Perfect Website | Tips
As web designers it is very easy to get lost in our own heads. The process of a web design can be broken into many flavors and styles across the globe. Graphics artists and digital animators are just some of the people getting into building applications for the web.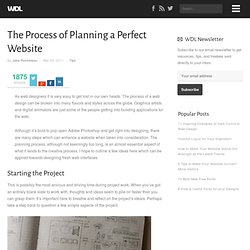 Easy Kiss 123 - Making your online life easy. Get Kissed