Videos
Turicas' blog - Software Livre, Arduino, Python, Coding Dojo, ...: Palestra online sobre Python no Lab de Garagem. Na terça-feira da semana passada (16/09/2011) ministrei minha terceira webminar (palestra online) no Lab de Garagem - dessa vez, foi sobre a linguagem de programação Python.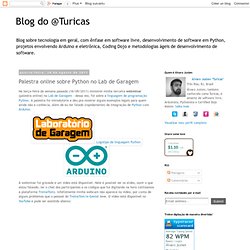 A palestra foi introdutória e deu pra mostrar alguns exemplos legais para quem ainda não a conhecia, além de eu ter falado (rapidamente) da integração de Python com Arduino. A webminar foi gravada e um vídeo está disponível. Nele é possível ver os slides, ouvir o que estou falando, ler o chat dos participantes e os códigos que fui digitando na hora (utilizamos a plataforma TreinaTom). Infelizmente minha webcam não aparece no vídeo, por conta de alguns problemas que o pessoal do TreinaTom/e-Genial teve.
Watch PyCon US Videos - 2009, 2010, 2011 episodes on blip.tv. About this original series PyCon is an activity of the Python Software Foundation, a 501c3 non-profit organization.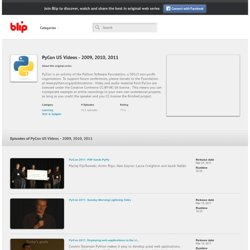 To support future conferences, please donate to the Foundation at www.python.org/psf/donations . Locaweb Techday - Introdução a Domain Driven Design (DDD) Canal de GoogleTechTalks.
---