Jquery
jQuery quickie: Colourful rating system with CSS3. Today, we're going to do a relatively simple jQuery tutorial.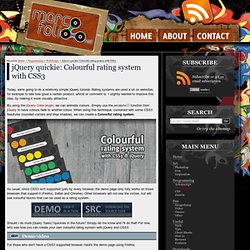 Rating systems are used a lot on websites, for example to rate how good a certain product, article or comment is. I slightly wanted to improve this idea, by making it more visually attractive. Google Swiffy. C - Portuguese Translations of W3C Documents. Video Tutorial #10 – Implementação de layout | Tableless ... GeralDiego Eis Update: Assista mais video aulas de Tableless no Campus Online.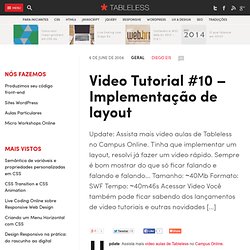 Tinha que implementar um layout, resolvi já fazer um video rápido. A Crash Course in Typography: The Basics of Type - Noupe ... Mar 28 2011 Typography could be considered the most important part of any design.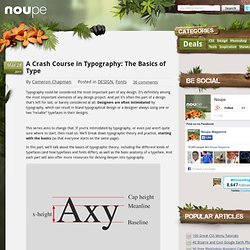 It's definitely among the most important elements of any design project. And yet it's often the part of a design that's left for last, or barely considered at all. 45 Free eBooks for Developers and Designers. Over the past year or so we have published several articles featuring a selection of the best free ebooks for web designers, with each post proving very popular and highly resourceful.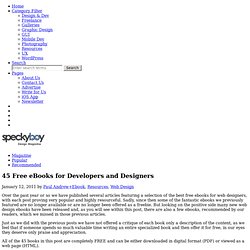 Sadly, since then some of the fantastic ebooks we previously featured are no longer available or are no longer been offered as a freebie. But looking on the positive side many new web design ebooks have been released and, as you will see within this post, there are also a few ebooks, recommended by our readers, which we missed in those previous articles. Just as we did with the previous posts we have not offered a critique of each book only a description of the content, as we feel that if someone spends so much valuable time writing an entire specialized book and then offer it for free, in our eyes they deserve only praise and appreciation.
---