WebTools
CultureCloud.com - Your Life: Books, Music, News, Food, Wine, Living, Science …
Archivist searches your iTunes library and finds shows in the Live Music Archive from bands you like. Just kick back, press play and enjoy the free tunes. See all the artists in your library with shows Search or browse through all 3400 artists in the music archive Plays in the background AirPlay support Graphics look great on your Retina display Questions?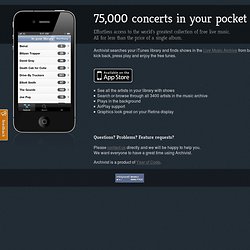 Herramienta social para la redaccion de documentos
Cree su blog ahora GRATIS.
StellarSurvey - Online survey software tool. Easily create and e-mail web surveys.
Create a graph: GraphSomething.
Welcome to ResearchWare, Inc. - Qualitative Data Analysis Software
Sage Publications has released the second edition of Researchware co-founder Dr. Sharlene Nagy Hesse-Biber's book Feminist Research Practice: A Primer. This fully revised and updated edition of Feminist Research Practice: A Primer draws on the expertise of a stellar group of interdisciplinary scholars, who cover cutting-edge research methods and explore research questions related to the complex and diverse issues that deeply impact women's lives. This text offers a unique hands-on approach to research by featuring engaging and relevant exercises, as well as behind-the-scenes glimpses of feminist researchers at work. The in-depth examples cover the range of research questions that feminists engage with, including issues of gender inequality, violence against women, body image issues, and the discrimination that affects other marginalized groups.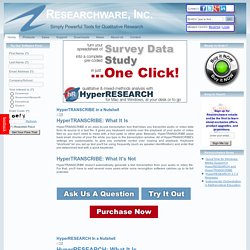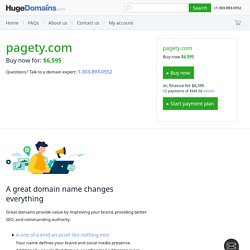 The simplest CMS you'll ever use @ Pagety
And throw in the hosting, too! Pagety is somewhere between a CMS and a hosting platform. Actually, it's both a CMS and a hosting platform, because there's no need to separate the two. Using Pagety is as easy as uploading a few HTML files via FTP, without the hassle of actually having to handle lots of different files all sharing the basic same code. You paste some code in Pagety and you're literally ready to roll in just a few minutes!
[22 Feb 2013] New Release! Production release 1.2.7 is now available. This release fixes security issues in 1.2.6.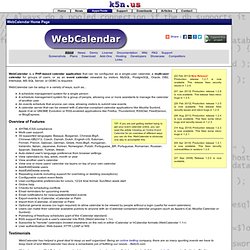 WebCalendar
WordPress
Open Source Templates
YackPack - Voice Messaging Service
Sonific Blog Music
Update: Sept 10, 2008: Sonific is over, for good. Thanks for waiting. My music widget startup, Sonific, just announced that it is going offline on May 1. Below are some snippets from my announcement, all other details are on Sonific's blog, here.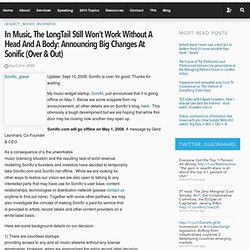 Medidor de Tiempo
Letterpop
Studio Podcast Audio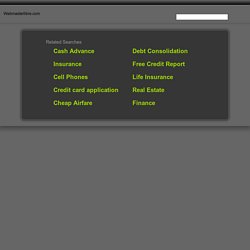 Cada día aparecen nuevos agregadores de feeds y la mayoría de nosotros queremos facilitar la suscripción a nuestro feed con ellos. Podemos optar por dar simplemente la url del feed y que cada uno se suscriba como mejor le parezca u ofrecer botones para suscribirse rápidamente con determinados servicios. Si quieres ofrecer todos esos botones sin necesidad de que afeen el aspecto de tu página, estás de suerte. FeedButton te ofrece una herramienta sencilla con la que generar un sólo botón que, al pasar el ratón por encima, nos muestra todos los servicios mediante Javascript.
Webmaster Libre
flickr
free web tools
E-Portfolio
Home
PDF Writer
Hipcast Audioblogs-Podcasts
Be Creative. We'll do the boring stuff. Hipcast lets you create and manage audio and video podcasts from the cloud, and post them to your blog. Never worry about keeping track of your media again, and access it anywhere that has an internet connection! Sign up free for 7 days and learn how easy podcasting can be!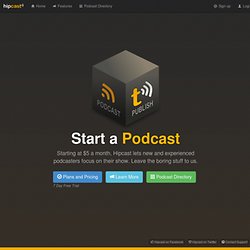 A web page header is a graphic image at the top of a web page that identifies the web site and, sometimes, the particular section of the site. We have a large collection of original header graphics that may be used free of charge under a Creative Commons Attribution 3.0 License. Our page headers are in JPG format, 800 pixels x 200 pixels. Just click a thumbnail to view/download the full-size image.
Free Web Page Headers High Quality Images for Personal Websites and Blogs
The tools you need to connect with consumers, harness rich data, and make marketing relevant. Establish authentic relationships with your users with technologies such as Social Login and Registration-as-a-Service that allow your users to leverage their real identities on your brand's websites and applications.Learn More Collect and normalize permission-based identity and behavior data with products like Identity Storage to gain an unparalleled understanding of your users, while ensuring you comply with social network and data storage policies.Learn More Turn your visitors into loyal users by offering them a completely social on-site experience with Social Plugins and Gamification and by personalizing your marketing campaigns through the NEXUS Partner Ecosystem.Learn More Resources for Connected Consumer Management