E-learning
E-Learning Market Trends and Forecast 2014-2016 - A report by Docebo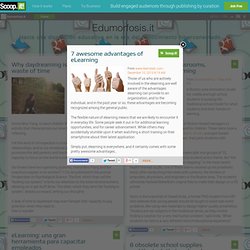 7 awesome advantages of eLearning | Edumorfosis
Those of us who are actively involved in the elearning are well aware of the advantages elearning can provide to an organization, and to the individual, and in the past year or so, these advantages are becoming recognized among the general public. The flexible nature of elearning means that we are likely to encounter it in everyday life. Some people seek it out in for additional learning opportunities, and for career advancement. While others may accidentally stumble upon it when watching a short training on their smartphone about their latest application. Simply put, elearning is everywhere, and it certainly comes with some pretty awesome advantages...
What this diagram does do a good job of is highlighting the complexities of the human mind in acquiring new information. As such, elearning developers should take note and try to make more engaging learning. For example, if you are just presenting text on a page with a few pictures, you are severely missing out on an opportunity to make your learning more effective. Whether your subscribe to the learning style approach or not, the point is humans crave variety in learning. If you create one-dimensional elearning programs, then the effectiveness of your program is surely going to suffer (you should definitely be measuring your program effectiveness).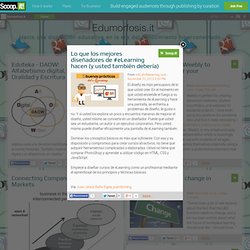 Lo que los mejores diseñadores de #eLear
La educación formal no lo es todo. Por supuesto, la universidad tampoco. Mucho menos ahora en tiempos de internet y sobreinformación. En nuestros días, si no eres autodidacta y no aprendes de manera colaborativa, fracasaste como estudiante. Y, por otro lado, si no te bajas del Olimpo de los profesores-que-todo-lo-saben para convertirte en guía y colaborador de tus estudiantes, fracasaste como profesor. Así de simple.
5 plataformas online para aprender casi lo que sea #elearning | Sigue al conejo blanco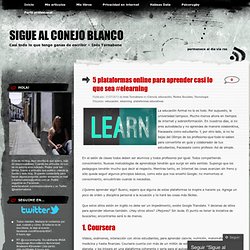 Los secretos de una implantación exitosa de eLearning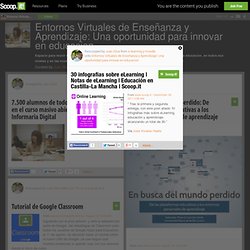 Resumen El aprendizaje colaborativo se puede afrontar desde diferentes estrategias. En este artículo contemplamos la creación y mantenimiento de entornos y redes personales de aprendizaje (PLEs y PLNs) y su integración en entornos virtuales institucionales de aprendizaje (EVEA) como estrategias que facilitan y promueven el aprendizaje colaborativo, siempre desde una visión educativa en la que el alumno es autónomo en su propio aprendizaje y trabaja para el logro de metas comunes mediante la realización de actividades de forma conjunta en grupos, existiendo interdependencias positivas. Los objetivos de este trabajo son experimentar con metodologías didácticas de integración del EVEA y los PLEs, y analizar la construcción del PLE por parte de los alumnos universitarios, haciendo especial énfasis en la construcción de la red personal de aprendizaje. Para ello se empleó una metodología de diseño y desarrollo, en una asignatura universitaria de los estudios de maestro de primaria.
30 infografías sobre eLearning | Notas de eLearning | Educación en Castilla-La Mancha | Scoop.it | Entornos Virtuales de Enseñanza y Aprendizaje: Una oportunidad para innovar en educacion
How to do an e-learning plan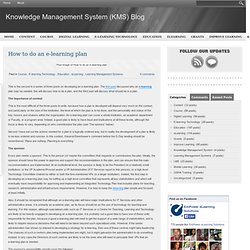 This is the second in a series of three posts on developing an e-learning plan. The first post discussed why an e-learning plan may be needed, this will discuss how to do a plan, and the third post will discuss what should be in a plan. The importance of context This is the most difficult of the three posts to write, because how a plan is developed will depend very much on the context, and particularly on the size of the institution, the level at which the plan is to be done, and the personality and status of the key movers and shakers within the organization. An e-learning plan can cover a whole institution, an academic department or Faculty, or a program area.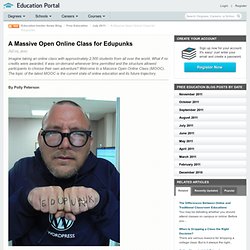 Imagine taking an online class with approximately 2,500 students from all over the world. What if no credits were awarded, it was on-demand whenever time permitted and the structure allowed participants to choose their own adventure? Welcome to a Massive Open Online Class (MOOC). The topic of the latest MOOC is the current state of online education and its future trajectory. By Polly Peterson EduMOOC for EduPunks
A Massive Open Online Class for Edupunks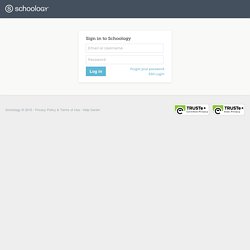 Discover new ways to empower students at NEXT this June in Denver. Experience the power of a global learning community. Build connections and collaborate with your peers. Schoology lets you manage your classroom, engage your students, find resources, and connect to other teachers anytime, anywhere. Schoology offers a dynamic, scalable learning management system that both teachers and administrators love to adopt. Schoology centralizes all your academic content and simplifies management so you can spend more time teaching and less time managing your classroom.
Download LCDS v2.5 now! The Microsoft Learning Content Development System (LCDS) is a free tool that enables you to create high-quality, interactive, online courses. The LCDS allows anyone to build e-learning courses by completing the easy-to-use LCDS forms that seamlessly generate highly customized content, including interactive activities, quizzes, games, assessments, animations, demos, and other instructionally engaging elements.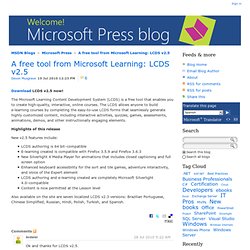 LCDS v2.5
cloudcourse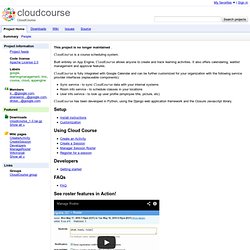 This project is no longer maintained . CloudCourse is a course scheduling system. Built entirely on App Engine, CloudCourse allows anyone to create and track learning activities. It also offers calendaring, waitlist management and approval features.
HootCourse Take your class conversation online News: Facebook support discontinued
WiZiQ
Intuitive, Claroline permet une utilisation aisée des espaces de formation et de collaboration. Son exploitation ne nécessite aucune compétence technique particulière. Claroline permet une personnalisation des profils, une modularité et une ouverture à l'environnement et aux évolutions du web ainsi qu'une liberté de configuration.
Assessment, Survey, and Game Applications for eLearning :: Respondus, Inc.
Respondus has made life much easier for me! We have a campus-wide license and our instructors are really loving it! Susan McKinnon Georgia Perimeter College For the past decade we've been reshaping how students are assessed.
Need Tons of New Worksheets? - 50,000+ printables - Save Time! View Now... Math and English Language Arts - 15,000+ English - 5,000+ Math
Keywords: free elearning platform, elearning software, learning management system, LMS, free elearning software, free LMS, course management, content management, moodle alternative, online learning, elearning system, elearning software, open source, virtual learning environment, VLE, distance education, distance learning, content authoring tool. Registered ATutor Installations 68,121 AContent 1.3 Released
Learning Content Management System: Information: