E-learning
7 awesome advantages of eLearning | Edumorfosis
Lo que los mejores diseñadores de #eLear
Miércoles, 28 Noviembre 2012 19:37 En esta entrada encontrarás una lista de 49 libros electrónicos (eBooks) GRATUITOS para diseñadores instruccionales y profesionales del eLearning. Si has leído algún de los libros siguientes, ¡comparte tu opinión con la comunidad del eLearning!
eBooks gratuitos sobre el eLearning y el Diseño instruccional
La educación formal no lo es todo. Por supuesto, la universidad tampoco.
5 plataformas online para aprender casi lo que sea #elearning | Sigue al conejo blanco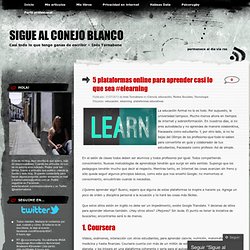 Los secretos de una implantación exitosa de eLearning
30 infografías sobre eLearning | Notas de eLearning | Educación en Castilla-La Mancha | Scoop.it | Entornos Virtuales de Enseñanza y Aprendizaje: Una oportunidad para innovar en educacion
How to do an e-learning plan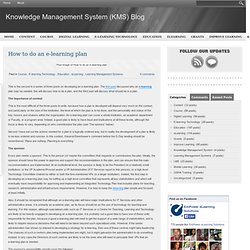 This is the second in a series of three posts on developing an e-learning plan. The first post discussed why an e-learning plan may be needed, this will discuss how to do a plan, and the third post will discuss what should be in a plan. The importance of context This is the most difficult of the three posts to write, because how a plan is developed will depend very much on the context, and particularly on the size of the institution, the level at which the plan is to be done, and the personality and status of the key movers and shakers within the organization. An e-learning plan can cover a whole institution, an academic department or Faculty, or a program area.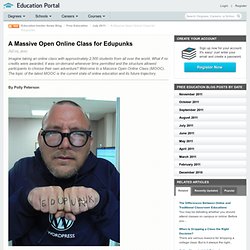 Imagine taking an online class with approximately 2,500 students from all over the world. What if no credits were awarded, it was on-demand whenever time permitted and the structure allowed participants to choose their own adventure? Welcome to a Massive Open Online Class (MOOC). The topic of the latest MOOC is the current state of online education and its future trajectory. By Polly Peterson EduMOOC for EduPunks
A Massive Open Online Class for Edupunks
Download LCDS v2.5 now! The Microsoft Learning Content Development System (LCDS) is a free tool that enables you to create high-quality, interactive, online courses. The LCDS allows anyone to build e-learning courses by completing the easy-to-use LCDS forms that seamlessly generate highly customized content, including interactive activities, quizzes, games, assessments, animations, demos, and other instructionally engaging elements.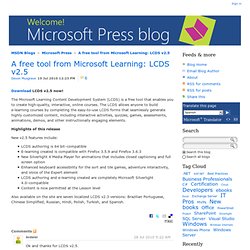 LCDS v2.5
cloudcourse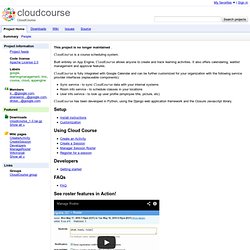 This project is no longer maintained . CloudCourse is a course scheduling system. Built entirely on App Engine, CloudCourse allows anyone to create and track learning activities. It also offers calendaring, waitlist management and approval features.
Entorno Aprendizaje Social
WiZiQ
Assessment, Survey, and Game Applications for eLearning :: Respondus, Inc.
Need Tons of New Worksheets? - 50,000+ printables - Save Time! View Now... Math and English Language Arts - 15,000+ English - 5,000+ Math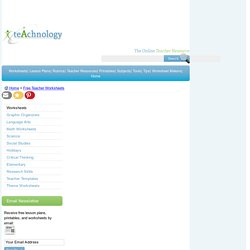 Learning Content Management System: Information: