E-learning
Infografia-e-learning.jpg (JPEG Image, 900 × 1749 pixels) - Scaled (57%) 4 Creative Process Tips for the e-Learning Graphic Designer. 4 Creative Process Tips for the e-Learning Graphic Designer Posted by Christopher Palm on Thu, Sep 18, 2014 by Christopher Palm, media artist Remember pencil and paper?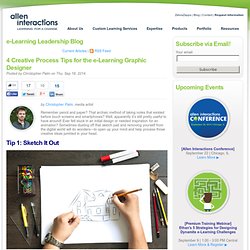 That archaic method of taking notes that existed before touch screens and smartphones? Well, apparently it's still pretty useful to have around! 6 top tips to build a solid eLearning Portfolio... Why e-learning should be in perpetual beta. Today at 7pm, Michael Allen, Julie Dirksen, Clark Quinn and Will Thalheimer, backed by a raft of other well-respected thinkers and practitioners in the field of workplace learning technologies will be launching the Serious eLearning Manifesto.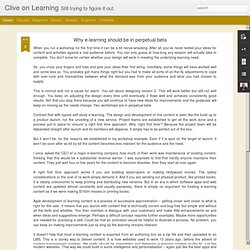 This campaign is the result of many years of discussions, lamentations and grumblings about the state of e-learning. It's time to do something about the problem before e-learning is discarded as a good idea that, in spite of 30 years of our best efforts, somehow never got to fulfil its potential. As usual, because this terminology means such different things to different people, I must clarify what sort of e-learning we're talking about here: the problem is with interactive, self-study materials accessed on a computer. We're not talking webinars, virtual classrooms, online video, social learning and all those other good things. Going Out on Your Own? Here is Where You Can Find ELearning Clients. If you are an instructional designer and have ever dreamed about going out on your own, then the one thing that is likely holding you back is wondering how you are going to find paying clients.
Naturally, the avenues available to you depend largely on your areas of specialization, skill-set, and overall experience, but there are still some options that are universal to everyone. Before deciding to go it alone, you should really assess why it is you want to go on your own in the first place. If it is because you just want a change of scenery, you may want to consider looking for another employer instead. Antonio @ CDATA-UPRA. How gamification is used in eLearning | Edumorf... 5 reasons why Learning Analytics are important ... The Serious eLearning Manifesto: A Multidimensional Tool. The Serious eLearning Manifesto: A Multidimensional Tool Posted by Allen Interactions on Thu, Jun 05, 2014 GUEST BLOGGER:Will Thalheimer, consultant and research translator, Work-Learning Research, Inc. | @WillWorkLearn.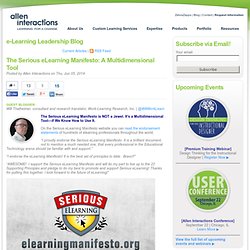 El #Knowmad del #eLearning | Edumorfosis.it | How to Create eLearning Using PowerPoint. Having a solid foundation in PowerPoint is a must when using rapid content authoring tools to create online learning.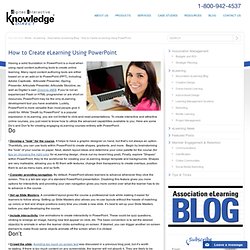 Many rapid content authoring tools are either based on or an add-on to PowerPoint (PPT), including: Adobe Captivate, Articulate Presenter, iSpring Presenter, Articulate Presenter, Articulate Storyline, as well as Digitec's own Direct-to-WEB. If you're not an experienced Flash or HTML programmer or are short on resources, PowerPoint may be the only eLearning development tool you have available. Luckily, PowerPoint is more versatile than most people give it credit for. E-Learning Market Trends and Forecast 2014-2016 - A report by Docebo. 7 awesome advantages of eLearning | Edumorfosis. Lo que los mejores diseñadores de #eLear. eBooks gratuitos sobre el eLearning y el Diseño instruccional. 5 plataformas online para aprender casi lo que sea #elearning | Sigue al conejo blanco.
La educación formal no lo es todo.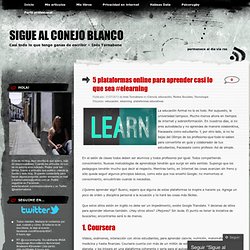 Por supuesto, la universidad tampoco. Mucho menos ahora en tiempos de internet y sobreinformación. En nuestros días, si no eres autodidacta y no aprendes de manera colaborativa, fracasaste como estudiante. Y, por otro lado, si no te bajas del Olimpo de los profesores-que-todo-lo-saben para convertirte en guía y colaborador de tus estudiantes, fracasaste como profesor. Así de simple. Los secretos de una implantación exitosa de eLearning. 30 infografías sobre eLearning | Notas de eLearning | Educación en Castilla-La Mancha | Scoop.it | Entornos Virtuales de Enseñanza y Aprendizaje: Una oportunidad para innovar en educacion.
How to do an e-learning plan. This is the second in a series of three posts on developing an e-learning plan.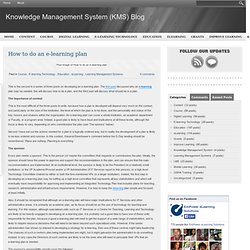 The first post discussed why an e-learning plan may be needed, this will discuss how to do a plan, and the third post will discuss what should be in a plan. The importance of context This is the most difficult of the three posts to write, because how a plan is developed will depend very much on the context, and particularly on the size of the institution, the level at which the plan is to be done, and the personality and status of the key movers and shakers within the organization.
An e-learning plan can cover a whole institution, an academic department or Faculty, or a program area. A Massive Open Online Class for Edupunks. Imagine taking an online class with approximately 2,500 students from all over the world.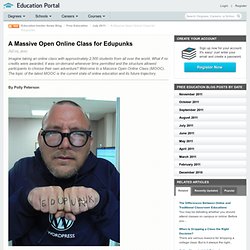 What if no credits were awarded, it was on-demand whenever time permitted and the structure allowed participants to choose their own adventure? Welcome to a Massive Open Online Class (MOOC). The topic of the latest MOOC is the current state of online education and its future trajectory. By Polly Peterson EduMOOC for EduPunks.
ComunidadesEDU. Schoology. LCDS v2.5. Download LCDS v2.5 now!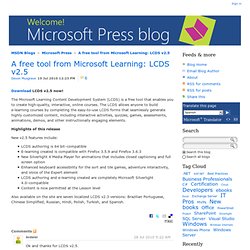 The Microsoft Learning Content Development System (LCDS) is a free tool that enables you to create high-quality, interactive, online courses. The LCDS allows anyone to build e-learning courses by completing the easy-to-use LCDS forms that seamlessly generate highly customized content, including interactive activities, quizzes, games, assessments, animations, demos, and other instructionally engaging elements. Cloudcourse. This project is no longer maintained .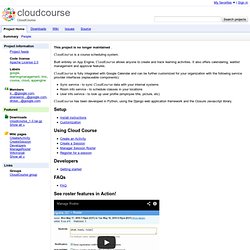 CloudCourse is a course scheduling system. Built entirely on App Engine, CloudCourse allows anyone to create and track learning activities. It also offers calendaring, waitlist management and approval features. HootCourse. Udemy. LMS suizo. Entorno Aprendizaje Social. Sclipo. WiZiQ. WiZiQ. Udutu. Claroline.net. Assessment, Survey, and Game Applications for eLearning :: Respondus, Inc. Free Worksheets. Need Tons of New Worksheets? - 50,000+ printables - Save Time! View Now... Math and English Language Arts - 15,000+ English - 5,000+ Math.
Edu 2.0. Learning Content Management System: Information: Elluminate live.
---