Philosophy of Education
Integral Development and Educational Renewal in Saskatchewan A Visionary Process | in education
Abstract "We must educate to survive, critique and create." (Berry, as cited in O'Sullivan, 1999, p. 8) The Vienna Circle and Logical Positivism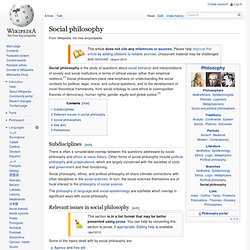 Social philosophy is the philosophical study of questions about social behavior (typically, of humans ). Social philosophy addresses a wide range of subjects, from individual meanings to legitimacy of laws, from the social contract to criteria for revolution , from the functions of everyday actions to the effects of science on culture , from changes in human demographics
Epistemology ( i / ɨ ˌ p ɪ s t ɨ ˈ m ɒ l ə dʒ i / from Greek ἐπιστήμη - epistēmē , meaning "knowledge, understanding", and λόγος - logos , meaning "study of") is the branch of philosophy concerned with the nature and scope of knowledge . [ 1 ] [ 2 ] It questions what knowledge is, how it is acquired, and the possible extent to which a given subject or entity can be known.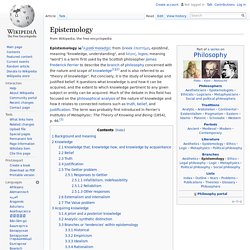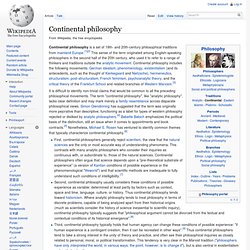 Continental philosophy is a set of 19th- and 20th-century philosophical traditions from mainland Europe . [ 1 ] [ 2 ] This sense of the term originated among English-speaking philosophers in the second half of the 20th century, who used it to refer to a range of thinkers and traditions outside the analytic movement . Continental philosophy includes the following movements: German idealism , phenomenology , existentialism (and its antecedents, such as the thought of Kierkegaard and Nietzsche ), hermeneutics , structuralism , post-structuralism , French feminism , psychoanalytic theory , and the critical theory of the Frankfurt School and related branches of Western Marxism . [ 3 ] It is difficult to identify non-trivial claims that would be common to all the preceding philosophical movements.
Hegelianism is a collective term for schools of thought following or referring to G. W.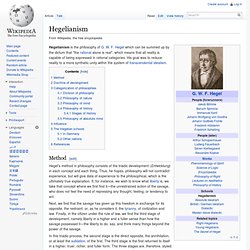 Hegelianism
Philosophy of education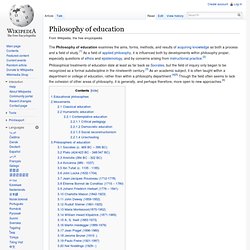 Philosophy of education can refer to either the academic field of applied philosophy or to one of any educational philosophies that promote a specific type or vision of education , and/or which examine the definition, goals and meaning of education. As an academic field, philosophy of education is "the philosophical study of education and its problems...its central subject matter is education, and its methods are those of philosophy ". [ 1 ] "The philosophy of education may be either the philosophy of the process of education or the philosophy of the discipline of education.