Philosophy of Education
The Vienna Circle and Logical Positivism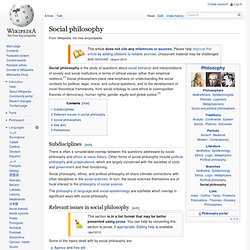 Social philosophy is the philosophical study of questions about social behavior (typically, of humans). Social philosophy addresses a wide range of subjects, from individual meanings to legitimacy of laws, from the social contract to criteria for revolution, from the functions of everyday actions to the effects of science on culture, from changes in human demographics to the collective order of a wasp's nest.
Epistemology ( i/ɨˌpɪstɨˈmɒlədʒi/ from Greek ἐπιστήμη, epistēmē, meaning "knowledge, understanding", and λόγος, logos, meaning "study of") is the branch of philosophy concerned with the nature and scope of knowledge[1][2] and is also referred to as "theory of knowledge".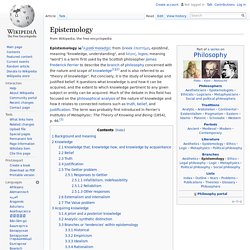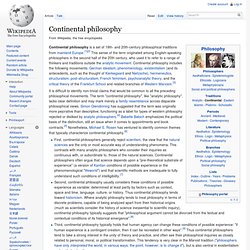 It is difficult to identify non-trivial claims that would be common to all the preceding philosophical movements. The term "continental philosophy", like "analytic philosophy", lacks clear definition and may mark merely a family resemblance across disparate philosophical views. Simon Glendinning has suggested that the term was originally more pejorative than descriptive, functioning as a label for types of western philosophy rejected or disliked by analytic philosophers.[4] Babette Babich emphasizes the political basis of the distinction, still an issue when it comes to appointments and book contracts.[5] Nonetheless, Michael E.
Hegelianism is the philosophy of G. W.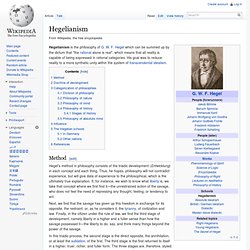 Hegelianism
Philosophy of education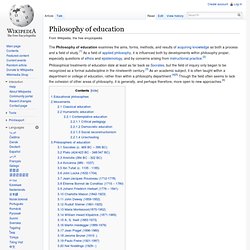 The Philosophy of education is a field of applied philosophy that examines the aims, forms, methods, and results of education as both a process and a field of study.[1] It is influenced both by developments within philosophy, especially questions of ethics and epistemology, and by concerns arising from instructional practice.[2] The subject is often taught within a department or college of education, rather than within a philosophy department.[3][4] Philosophical treatments of education date at least as far back as Socrates, but the field of inquiry only began to be recognized as a formal subdiscipline in the nineteenth century.[5] Though the field often seems to lack the cohesion of other areas of philosophy, it is generally, and perhaps therefore, more open to new approaches.[6]