PBL
Get flash to fully experience Pearltrees
Printer-friendly version PDF version Title: Supporting Project Team Formation for Self-directed Learners Authors: Spoelstra, Howard; Van Rosmalen, Peter; Sloep, Peter Abstract: The outcomes of project-based learning can be optimized if team formation experts assemble the project teams. For self-directed learners in globalized online learning settings human team formation experts might be unavailable.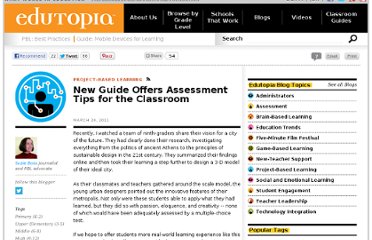 Recently, I watched a team of ninth-graders share their vision for a city of the future. They had clearly done their research, investigating everything from the politics of ancient Athens to the principles of sustainable design in the 21st century. They summarized their findings online and then took their learning a step further to design a 3-D model of their ideal city. As their classmates and teachers gathered around the scale model, the young urban designers pointed out the innovative features of their metropolis.
This is a five minute presentation I am making today as part of an NAIS 3 hour workshop , Becoming A School of the Future: The conversation continues . The slides themselves are almost entirely image driven; my talking points for each slide are below. Notes on slides: Slide 2.
What is inquiry-based learning? An old adage states: "Tell me and I forget, show me and I remember, involve me and I understand." The last part of this statement is the essence of inquiry-based learning, says our workshop author Joe Exline 1 .
I've been thinking a lot lately about professional development, personal learning networks, conferences, workshops, motivation … for different reasons. Think of the last time you learned something new that mattered to you, really made a difference in your teaching. Was it from a book, a magazine or a video? At a professional development workshop? A conference somewhere?
Problem-based learning ( PBL ) is a student-centered pedagogy in which students learn about a subject through the experience of problem solving. Students learn both thinking strategies and domain knowledge. The PBL format originated from the medical school of thought, and is now used in other schools of thought too. The goals of PBL are to help the students develop flexible knowledge, effective problem solving skills, self-directed learning, effective collaboration skills and intrinsic motivation. [ 1 ] Problem-based learning is a style of active learning .