Educational Gaming Hi all,
Learning with Minecraft - EdTech Blog at Chatsworth
Breaking Boundaries with Virtual Worlds in a Science Classroom and a Teen Jail: Two Case Studies by Amira Fouad on Prezi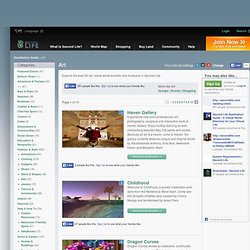 Art
LRRH - The Other Side of the Story Alpha Auer (in collaboration with Alpho Fullstop), Cherry Manga and Soror Nishi come together to tell the tale of Little Red riding Hood, from another point of view. Featuring detailed installations and intricate landscaping, the installation opens on the 15th of February and lasts until 15th of April.
Quest Atlantis
Best Games for Kids
My name is Sasha Barab. I'm a professor of Learning Sciences at Indiana University, in Bloomington, Indiana. And I guess I'm here to share our experiences in getting kids engaged with new media literacies.
Big Thinkers: Sasha Barab on New-Media Engagement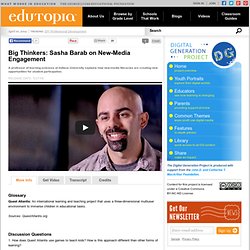 Additionally, check out the story about the Math competition!! THIS is what I am talking about!! by brettamccall Sep 6
I love the mission example: Ghost v Ghost where the question is posted: How do we know what and who to believe when everyone's story is different?
Its so important to put these kinds of questions into games where play is possible.. I mean where the ability to mess with the tools and information available and be willing to make mistakes as the ideas come up. by brettamccall Sep 6