Educational Gaming
Learning with Minecraft - EdTech Blog at Chatsworth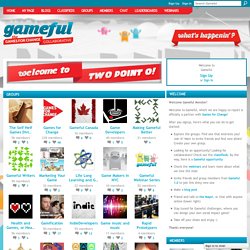 So you think exercise is an excruciating test of willpower over the drudgery of treadmills, crowded gyms and sweaty t-shirts? So do we! That's why we need Rundercover, a thrilling interactive audio-game.
Breaking Boundaries with Virtual Worlds in a Science Classroom and a Teen Jail: Two Case Studies by Amira Fouad on Prezi
Art
The QA Legend video helps Questers understand the power and demise of the Arch of Wisdom and serves as an introduction to the game. Download a version of the comic or this video . Creative Expression is one of the seven Quest Atlantis Social Commitments that we try to realize in the lives of children (see Mission statement in the About Quest Atlantis footer tab). In the Does Art Imitate Mission, students explore their own artistic nature as they learn about various artistic styles and help construct their own creative cityscape to share with a struggling artist-demonstrating their commitment to Creative Expression.
Best Games for Kids
My name is Sasha Barab. I'm a professor of Learning Sciences at Indiana University, in Bloomington, Indiana. And I guess I'm here to share our experiences in getting kids engaged with new media literacies.
Big Thinkers: Sasha Barab on New-Media Engagement