Articles
Process Guides. The Integrated 21st Century (i21) Interactive Classroom is an engaging and personalized learning environment designed to optimize teaching and learning through the interconnected use of mobile computing, audio, visual and formative assessment technologies across the curriculum.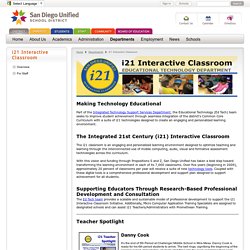 With this vision, and funding through Proposition S, San Diego Unified has taken a bold step toward transforming the learning environment in each of its 7,000 classrooms. Over five years (beginning in 2009), approximately 20 percent of classrooms per year will receive a suite of new technology tools designed to create an engaging and personalized learning environment. Coupled with the digital tools is a comprehensive professional development and support plan designed to support achievement for all students. Jan's Illustrated Computer Literacy 101: Computer Basics. You don't have to know everything to be comfortable with computers.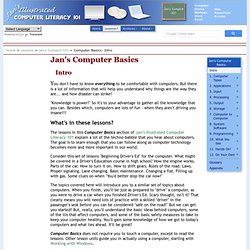 But there is a lot of information that will help you understand why things are the way they are... and how disaster can strike! "Knowledge is power! " So it's to your advantage to gather all the knowledge that you can. Pleased to Tweet You: Making a case for Twitter in the classroom. Sorry, but the article or page you're looking was not found.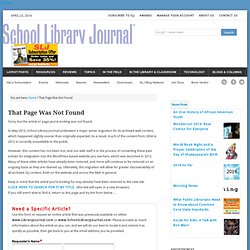 In May 2013, School Library Journal underwent a major server migration for its archived web content, which happened slightly sooner than originally expected. As a result, much of the content from 2004 to 2012 is currently unavailable to the public. However, this content has not been lost, and our web staff is in the process of converting these past articles for integration into the WordPress-based website you see here, which was launched in 2012. Many of these older articles have already been restored, and more will continue to be restored on an ongoing basis as they are cleaned up.
Ultimately, this migration will allow for greater discoverability of all archived SLJ content, both on the website and across the Web in general. The Elements of Style: Twitter Edition. I have at least four copies of The Elements of Style.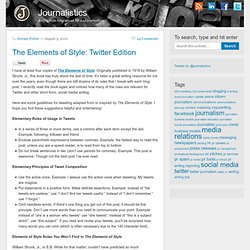 Originally published in 1918 by William Strunk, Jr., this book has truly stood the test of time. It's been a great writing resource for me over the years, even though there are still dozens of its rules that I break with each blog post. I recently read the book again and noticed how many of the rules are relevant for Twitter and other short-form, social media writing.
Here are some guidelines for tweeting adapted from or inspired by The Elements of Style. Back to school with wikis. Regular readers know that I'm a big fan of Google Apps in all of its collaborative glory.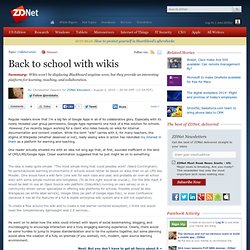 Especially with its newly revealed user group permissions, Google Apps represents one heck of a free solution for schools. However, I've recently begun working for a client who relies heavily on wikis for internal documentation and content creation. While the term "wiki" carries with it, for many teachers, the stigma of Wikipedia (whether deserved or not), really seeing wikis in action has rekindled my interest in them as a platform for learning and teaching.
One reader actually emailed me with an idea not long ago that, at first, sounded inefficient in the land of CMS/LMS/Google Apps. Closer examination suggested that he just might be on to something:
---