Edprof
Our TopTenREVIEWS Gold Award for Mac web design software goes to Karelia Software's application, Sandvox. The intuitive usability and a few "wow" features put Sandvox on the top. The software is very easy to use and boasts a host of fantastic features. Although Sandvox features are quite similar to other top web design software for Macs, Sandvox seems to be a step ahead of the game. For example, most design software will have templates, but Sandvox templates offer better variety and style.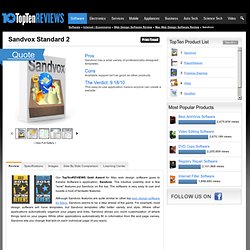 Sandvox 2012 - TopTenREVIEWS
Professor tries improving lectures by removing them from class
Personal narrative plays an important role in Mike Garver's teaching style. Garver, a professor of marketing at Central Michigan University, often uses anecdotes from his own life in his lectures, according to one of his students. "It's a good way to, in his words, 'Put a movie in your mind,' " says Mike Hoover, a senior at Central Michigan, who is currently taking Garver's course in market research.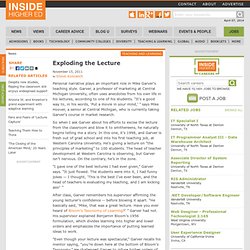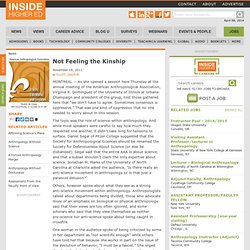 Anthropologists debate role of science
MONTREAL -- As she opened a session here Thursday at the annual meeting of the American Anthropological Association, Virginia R. Dominguez of the University of Illinois at Urbana-Champaign and president of the group, told those gathered here that "we don't have to agree. Sometimes consensus is oppressive." That was one kind of oppression that no one needed to worry about in this session. The topic was the role of science within anthropology. And while most speakers were careful to say how much they respected one another, it didn't take long for tensions to surface.
Skip to content Journal of Thought The JOT site will be back up soon
Journal of Thought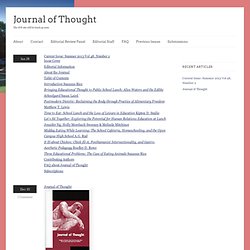 Educating Professionals
A New York Times article last fall reported on the persistence of gender bias in the sciences. A byproduct of differential experiences in the sciences is that they may undermine women's confidence. As a consequence, women in the sciences may be less likely to pursue opportunities for advancement within their institutions. (see Bias Persists for Women of Science, a Study Finds)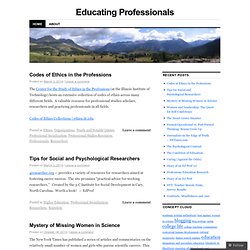 Jan Armstrong's Qualitative Research in Education Home Page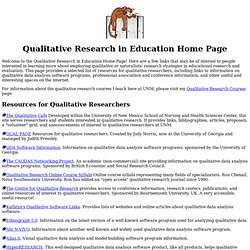 Welcome to the Qualitative Research in Education Home Page! Here are a few links that may be of interest to people interested in learning more about employing qualitative or naturalistic research strategies in educational research and evaluation. This page provides a selected list of resources for qualitative researchers, including links to information on qualitative data analysis software programs, professional association and conference information, and other useful and interesting spaces on the internet. For information about the qualitative research courses I teach here at UNM, please visit my Qualitative Research Courses page. The Qualitative Cafe Developed within the University of New Mexico School of Nursing and Health Sciences Center, this site serves researchers and students interested in qualitative research. It provides links, bibliographies, articles, proposals, a "volunteer" grid, and announcements of interest to qualitative researchers at UNM.
Qualitative Cross Cultural Research
ResearchWare: Simply Powerful Tools for Qualitative Analysis
HyperRESEARCH: What It Is HyperRESEARCH is designed to assist you with any research project involving analysis of qualitative data. It's easy to use and works with both Mac and Windows computers. So if you're collaborating with multiple researchers, everyone gets to use their preferred computer. HyperRESEARCH is powerful, and flexible - which means that no matter how you want to approach your data, the software will allow you to "do it your way." HyperRESEARCH can help you analyze almost any kind of qualitative data, whether it's audio, video, graphical or textual.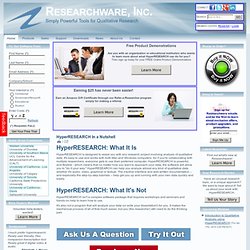 Definition: These programs enable the researcher to take "a qualitative approach to qualitative data. A qualitative approach is one where there is a need to interpret data through the identification and possibly coding of themes, concepts, processes, contexts, etc., in order to build explanations or theories or to test or enlarge on a theory."
Perform Qualitative Data Analysis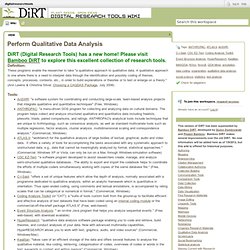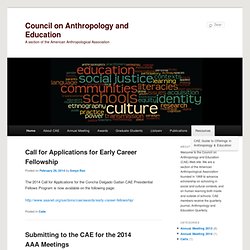 Submitting to the Council on Anthropology of Education for the 2014 AAA Meetings A Note from the 2014 Program Chair Calling all knowledge producers! On behalf of the Executive Committee, we invite you to get involved with the program for this year's AAA meeting, to be held in Washington, D.C., Dec. 3-7. We particularly look forward to engaging, provocative sessions and activities that link to the overall theme of the meetings ("Producing Anthropology"), and, importantly, connect to educational actors and organizations in the D.C. area.
Council on Anthropology and Education | A section of the American Anthropological Association
Welcome to SCCR
Human Culture:  What is Culture?
Go Page