Special Education Apps
Shell for iPad 2 (Pre-Order) | TRTL BOT iPhone 4 Stands & Wallets. Free Behavior Charts, Set Behavior Goals in a Fun Way Kids Love - Goalforit. Our Behavior Charts can help tweens & teens understand the consequences of their choices and actions, build essential behavior skills and develop a positive sense of self-determination.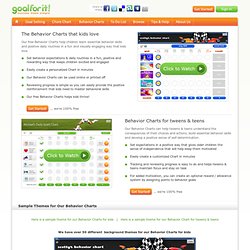 Set expectations in a positive way that gives older children the sense of independence that will help keep them motivatedEasily create a customized Chart in minutesTracking and reviewing progress is easy to do and helps tweens & teens maintain focus and stay on taskFor added motivation, you can create an optional reward / allowance system by assigning points to behavior goals. Apps for Special Needs. These apps for special needs were made by the developers at Moms With Apps to assist children and families.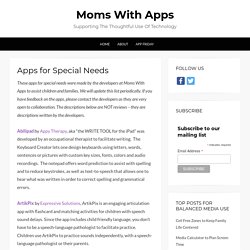 We will update this list periodically. If you have feedback on the apps, please contact the developers as they are very open to collaboration. The descriptions below are NOT reviews – they are descriptions written by the developers. Abilipad by Appy Therapy, aka "the WRITE TOOL for the iPad" was developed by an occupational therapist to facilitate writing. Special Education Apps | Best iPad Apps for Kids | Educational iPad Apps - A4CWSN.com.