Food
To Save a Species from Extinction, Get People to Eat It - New York Times
Tart and Tangy: Homemade Rhubarb Juice Recipe Review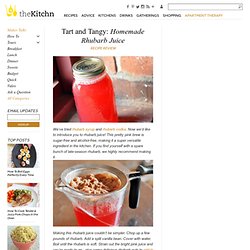 We've tried rhubarb syrup and rhubarb vodka . Now we'd like to introduce you to rhubarb juice! This pretty pink brew is sugar-free and alcohol-free, making it a super versatile ingredient in the kitchen. If you find yourself with a spare bunch of late-season rhubarb, we highly recommend making it. Making this rhubarb juice couldn't be simpler. Chop up a few pounds of rhubarb.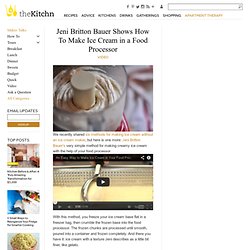 We recently shared six methods for making ice cream without an ice cream maker , but here is one more: Jeni Britton Bauer's very simple method for making creamy ice cream with the help of your food processor. With this method, you freeze your ice cream base flat in a freezer bag, then crumble the frozen base into the food processor. The frozen chunks are processed until smooth, poured into a container and frozen completely. And there you have it: ice cream with a texture Jeni describes as a little bit finer, like gelato. Have you ever tried making ice cream in a food processor?
Jeni Britton Bauer Shows How To Make Ice Cream in a Food Processor Video
Tools for Frozen Treats: Popsicle Molds
Desserts are certainly the highlight of a meal for me and sometimes I'm in the mood for something nice and simple, especially now that it's starting to get warm outside. I grew up enjoying popsicles on a daily basis and this non-guilty pleasure of mine won't be something I'll be abandoning any time soon. Some of the best popsicles I've ever had have been made right in my own kitchen. One of the biggest factors in creating a perfect popsicle is the perfect popsicle mold. • Stainless Steel Popsicle Mold , $39.95 at Amazon: Made from 18/8 Stainless Steel (an interesting material for a popsicle mold).
I have big plans for boozy popsicles this summer. Big. Plans. As far as I'm concerned, there is a whole wide world of cocktails out there just waiting to be made into popsicles. The only question is how? Alcohol has a lower freezing point than fruit juice and other pop ingredients, much lower than our home freezers can manage.
DIY Boozy Popsicles! Just How Much Alcohol to Use?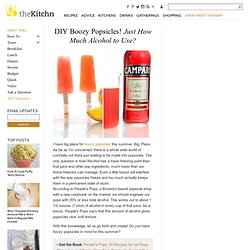 We've chatted about making ice cream by hand before and there are different theories on the best way to go about it. With summer nearing the corner and warmer weather (finally) making an appearance, ice cream is on your mind. We feel you. Here are 6 ways to make creamy cold stuff without buying (or hauling out) your ice cream maker. There are many different ways to approach making ice cream at home without a machine (besides the food processor Amazing Banana Ice Cream pictured above!), and we thought we'd leave it up to you to decide what works best for your level of interest and amount of time and effort you have to donate to the task at hand.
6 Ways to Make Ice Cream Without an Ice Cream Machine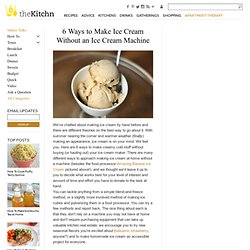 My Vegan Pantry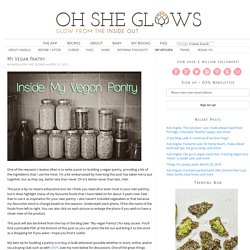 One of the requests I receive often is to write a post on building a vegan pantry, providing a list of the ingredients that I use the most. I'm a bit embarrassed by how long this post has taken me to put together, but as they say, better late than never. Or is it better never than late…heh.
A journal article published today examines the long-term impacts of small but significant lifestyle changes—especially to diet In a new report published today in The New England Journal of Medicine , a team of Harvard researchers has revealed the results of a study of 120,877 people showing that small changes in lifestyle behaviors such as physical activity, sleep duration, and TV-watching are strongly correlated with long-term weight gain. But the most important factor was diet—and among the report's most intriguing findings is precisely how much weight gain (or loss) can be attributed to consuming an additional daily serving of a variety of specific foods over a four-year period. The following 10 foods were found to be especially correlated with long-term changes in weight (the first five foods promoting weight gain, the second five promoting weight loss):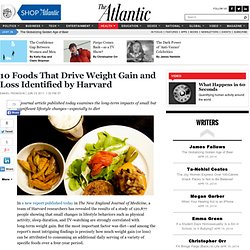 10 Foods That Drive Weight Gain and Loss Identified by Harvard - Daniel Fromson - Health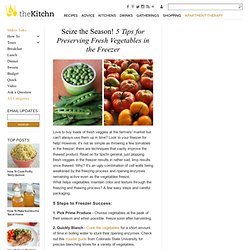 Seize the Season! 5 Tips for Preserving Fresh Vegetables in the Freezer
Love to buy loads of fresh veggies at the farmers' market but can't always use them up in time? Look to your freezer for help! However, it's not as simple as throwing a few tomatoes in the freezer; there are techniques that vastly improve the thawed product. Read on for tips! In general, just plopping fresh veggies in the freezer results in rather sad, limp results once thawed.
From The Fishmonger: Black Cod (Butterfish/Sablefish)
Inspired to cook a whole fish ? Here's another great sustainable option. Black cod, which also goes under the names butterfish and sablefish, is a rich white-flesh fish with a moist, succulent texture. Its habitat stretches from the Bering Sea to California, and the Monterey Bay Aquarium Seafood Watch ranks black cod from Alaska as a "Best Choice ."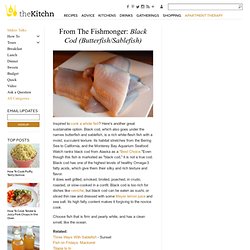 Monkfish and the Minimalist: Choosing Ocean Friendly Seafood
We were surprised to see Mark Bittman's recipe yesterday for Monkfish and Mashed Potatoes . The dish looks great, but the choice of fish? Not so much. Monkfish is high on the list of fish to avoid - high in mercury, overfished, and fished in a way that damages the ocean floor.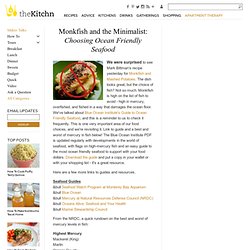 Grill 'Em All
Marcus Nilsson for The New York Times; Food stylist: Maggie Ruggiero. Prop stylist: Angharad Bailey. I set out to talk to Alan Ashkinaze about that. Ashkinaze is the longtime chef de cuisine for Laurent Manrique, the charming Frenchman who came to Peacock Alley at the Waldorf-Astoria in the 1990s, courted fame at Aqua in San Francisco and later returned to Manhattan to open Millesime in the Carlton Hotel. Manrique is a celebrity chef of a sort, Gallic and handsome, often on the road.
23 Homemade Breads to Fit Any Schedule Recipe Roundup
Whether you have an hour or a whole day, you can count on having fresh bread. Fresh-baked bread is a special treat, a delicious treasure of a home-cooked meal. But we know how hard it can be to tackle bread. Some days you have a whole day to devote to the kneading, rising, and tending of a loaf of artisan bread.
Seasonal Menu Planning from Around the U.S.
This week in the Kitchen Cure we're talking about menu planning . Yesterday I promised I'd give some suggestions for seasonal menus from around the country. Leave us your suggestions in the comments, and make sure to tell us where you are geographically, since "seasonal" and "local" are not interchangeable. International contributions encouraged!
After working for a few years as a personal chef, the most important skill I learned from the job wasn't how to wield my knife like a pro or how to cook super fancy, it was the ability to plan a menu for the week ahead. Do you plan your meals in advance? If so, what does this look like for you?
5 Tips for Vegetarian Menu Planning
We like to shop around at farmers markets for good deals on summer berries, cucumbers, and other fruit for summer cooking and preserving. But did you know you can get even better deals if you go straight to the source? In fact, many farms and farm stands offer bulk quantities of fruit for customers willing to buy 10 pounds of blackberries, 12 pints of strawberries, a batch of dill pickles' worth of cucumbers. This is how we discovered our latest prize: 10 pounds of tart, juicy cherries. We got a tip ( thanks Lisa!
Summer Preserving: Buy Fruit In Bulk From Local Farms
Shopping for Ice Cream Makers: 5 Models We've Reviewed
Produce Calendars
From Artichoke to Zucchini: Our A-Z Guide to Grilled Vegetables
Freeze Individual Portions For Expedited Defrosting Lunch In A Box
Quick Tips: What To Do With Leftover Egg Whites
Clip-Art Freezer Labels - Martha Stewart Templates & Clipart
The Porthole by Crucial Detail: The Aviary's Glassware at Home
30 Courses of a Nathan Myhrvold "Modernist Cuisine" Dinner
Zucchini Ribbons and Peaches with Macadamia Cream Recipe - Alyssa Gorelick
Why Small Batch Canning Is Awesome: And What You Need To Get Started Urban Preserving with Marisa McClellan
The better for you diet, low sugar, all natural soda - DRY Soda
5 Delicious Pregnancy Safe Cheeses Everyone Will Enjoy
Kitchen Treaty | Vegetarians and meat-eaters CAN live together
Chocolate ice cream with candied bacon bits (and no ice cream maker) - Adventures of the Kitchen Ninja
101 Fast Recipes for Grilling
Mix & Match Bagged Meals At Home
How to Freeze Fresh Herbs: Rosemary and Thyme
More About Freezing Fresh Herbs: Freezing Thai Basil, Sage, Tarragon, and Mint
mashed potato spinach patties
Fat or Fiction
Smart Tip: Keep Berries Fresh Longer With This Washing Method
Grilled Polenta with Shiitakes, Onions & Gorgonzola | BITCHIN' CAMERO
Fish Balls in Nuts Sauce.
HAYASHI ATSUHIRO PRODUCT DESIGN
Greenmarket Cocktails, Made With Summer's Best
Daily Candy Kids :: Mini Chicken Pot Pie « sundaysuppers
The June Salad Challenge! Plus, 6 Scrumptious Salad Recipes to Kick it Off.
Grain Salad Recipe: Create Your Own - Fine Cooking Recipe Maker
Fresh and Light: 12 Modern Breakfast Casseroles
Sleep In! How to Make Breakfast Rolls Ahead of Time
Find local earth friendly and green products. | EcoSeek.net