Victorian neck knit
Grace sock : Knitty Winter bis 2011
Toe: Using your chosen toe-up CO method, CO 22 sts, or 11 sts on each of two needles.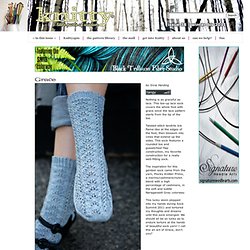 Cuff CO 72 sts.
editorial win 05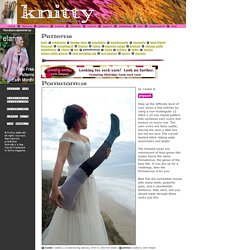 Alarming Female - Fluke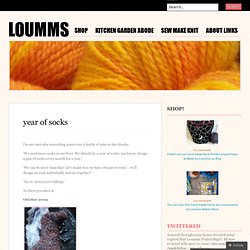 loumms
Search
Knitsnthings's Weblog
NOTE: In the pattern, where I say to disregard row 1, I mean row one (the 'no stitch' row) of the charted pattern – I made the chart one row too long. The written pattern is correct as written. Sorry for any confusion! Hello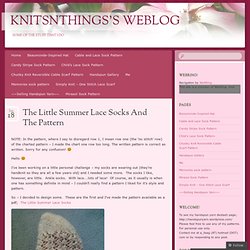 Tribute sock: Knitty Spring+Summer 2010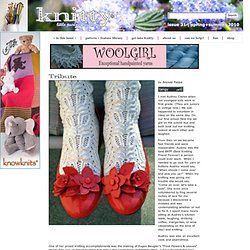 Socks Loosely cast on 68 sts leaving a 12-inch tail to sew down cuff.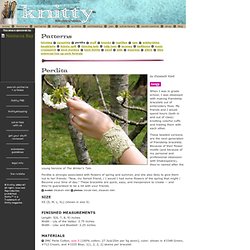 Summer 2006
Lily of the Valley (Shown in Green above): String 40[50, 60, 70, 80] beads onto the yarn.
Eleanor cowl: Knitty Deep Fall 2010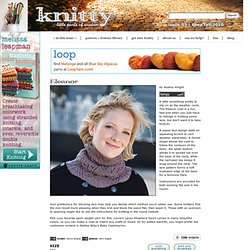 If working back and forth in rows: Using largest straight needles and long tail method, loosely CO 132 sts.
Katherine Matthews is fascinated by all things new and shiny, and she occasionally noodles out a design under the Purl Diving banner. She draws inspiration from many cultures, and is currently obsessed by the colors and motifs seen in Hindi films from Bollywood, as well as other South Asian film genres.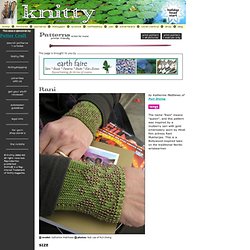 Rani - Knitty, Summer 2009
Chez Plum » Felicie Chokers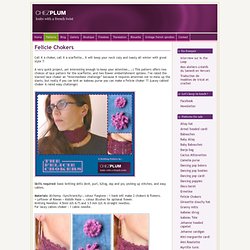 Call it a choker, call it a scarflette… It will keep your neck cozy and toasty all winter with great style !! A very quick project, yet interesting enough to keep your attention… ;-) This pattern offers two choices of lace pattern for the scarflette, and two flower embellishment options. I've rated the slanted lace choker an "intermediate challenge" because it requires attention not to mess up the slants, but really if you can knit an Isabeau purse you can make a Felicie choker !!!
Lace Choker pattern by Jamie A Besel
Tilting Tardis Cowl
victorian-neck-cozy1
Trifle Cowl from KnitPicks.com Knitting
Happy 2011! We are deep into winter now, with feet of snow outside here in the frozen northeast.
Ninaknits's Blog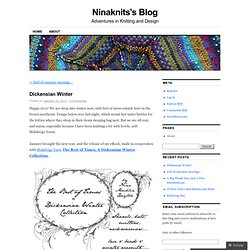 Hooded Mozzetta Knitting Pattern Silmarwen by TheJaneVictoria