Do it
Cool Illustrated Facial Expressions. 100 Awesome Art Lessons on YouTube. Whether you're getting your bachelor's degree in painting, graphic design or sculpture, there's so much to learn about art — from its lush history to materials — that it can sometimes feel overwhelming.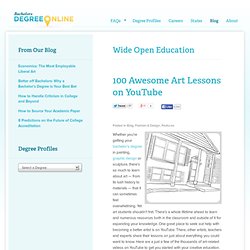 Yet art students shouldn't fret. There's a whole lifetime ahead to learn and numerous resources both in the classroom and outside of it for expanding your knowledge. How to Think of What to Draw. Edit Article Edited by Dvortygirl, Laptop123, Nicole Willson, Random and 41 others Have you been inspired to draw, including getting inspiration from famous artists, or are just doing it for fun?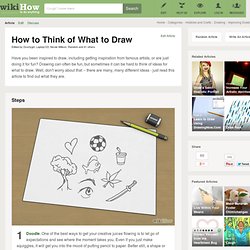 How To Draw Hands Tutorials. So everybody knows that the hands and the fingers are one of the hardest things to draw.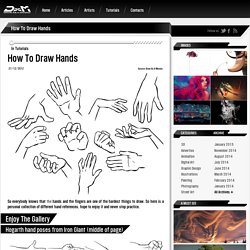 So here is a personal collection of different hand references, hope to enjoy it and never stop practice. Hogarth hand poses from Iron Giant (middle of page) Moss Graffiti | Humor Cluster. Drawing Board. The Logic Lab: simulating simple circuits of logic gates. DeviantART muro - StumbleUpon. How To Draw - StumbleUpon.
To make all of these Instructables, download this collection of How To's as an ebook.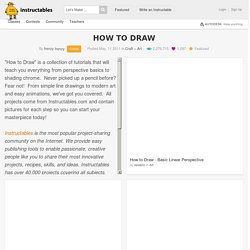 Download » "How to Draw" is a collection of tutorials that will teach you everything from perspective basics to shading chrome. Never picked up a pencil before? Fear not! 40 Free Tutorials on Advanced Drawing Techniques | Vectortuts+ - StumbleUpon. The traditional form of drawing and sketching is a highly sought after skill.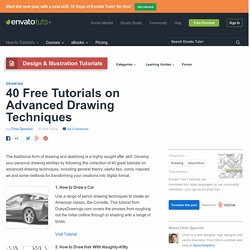 Develop your personal drawing abilities by following this collection of 40 great tutorials on advanced drawing techniques, including general theory, useful tips, comic inspired art and some methods for transforming your creations into digital format. 1. How to Draw a CarUse a range of pencil drawing techniques to create an American classic, the Corvette. This tutorial from DueysDrawings.com covers the process from roughing out the initial outline through to shading with a range of tones.Visit Tutorial 2.
How to Draw Hair With Naughty-KittyFollow this tutorial by Naughty Kitty to gain some useful tips on recreating Manga inspired hair in a range of styles.Visit Tutorial 3. How to Draw Celtic Knotwork. The old method These instructions can be followed with pencil and paper or using any computer based drawing or drafting program.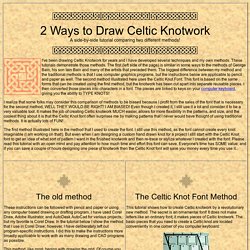 I have used Corel Draw, Adobe Illustrator, and AutoDesk AutoCad for various projects, but my favorite is Corel Draw. In the tutorial below I show the method that I use in Corel Draw; however, I have deliberately left out program-specific instructions. I did this to make the instructions more broadly applicable to work with as many drawing and CAD programs as possible. This method, like most, begins with drawing the grid.
---