NEWS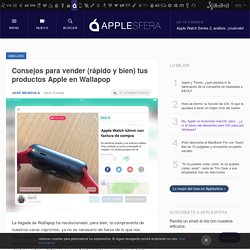 Al inicio de esta Guía sobre OS X 10.9 hablamos de la gestión y de escritorios y ventanas en Mavericks, algo relativamente sencillo y que nos permite trabajar de forma más cómoda y eficiente con nuestro Mac. Pero hubo algún lector que me preguntaba por qué en Mac las ventanas no se maximizan igual que en Windows. OS X redimensiona las ventajas del Finder o cualquier otra aplicación bajo un criterio que el considera que es el más adecuado: optimizar el espacio de escritorio. Esto significa que nunca ocuparán todo el ancho y alto de la pantalla pues nos quitaría sitio para colocar otras aplicaciones o ventanas.
Yo soy un Mac, ¿y tú, qué eres? | Somosmac
www.faq-mac.com | Noticias y tecnología para el mundo Mac
En Portada | MacRSS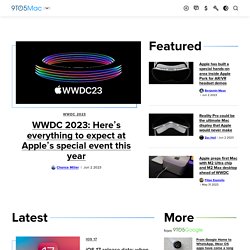 Evidence presented by Samsung Apple SVP of Marketing Phil Schiller took the stand again today in the Samsung Patent Trial v2. Schiller was grilled on a number of emails Samsung came up with in discovery that painted Apple as paranoid about the rise of Android and Samsung's Galaxy line in particular. CNET covered one such email where Schiller seemed concerned with the quality of Samsung's Superbowl ad campaign:
OWC XLR8 SPECIALS!(click for list) = UPGRADES by Model = Upgrades for YOUR Mac! = Used Macs =(Click for Current List) = SSDs from under $60! =Fast SSDs for Most Macs!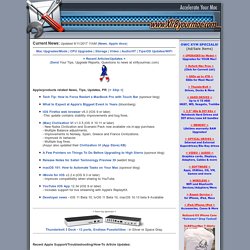 Accelerate Your Macintosh! News Page - 6/24/10
MuyMac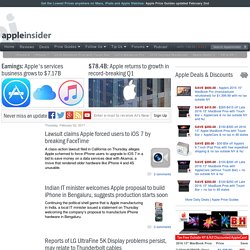 An email Apple cofounder Steve Jobs sent to his top executives outlines the vision he had for the company in 2010, including future iPhone iterations, "Apple TV 2" and changes to MobileMe that hoped would leapfrog Google's cloud services. During the Apple v. Samsung patent trial on Friday, Apple software engineer and head of the company's human interface team Greg Christie took the stand to offer background on the original iPhone, specifically the "slide-to-unlock" feature.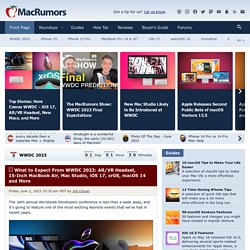 Earlier this week, Amazon launched its Fire TV media streaming box, entering a crowded market with devices from Roku, the Chromecast from Google and the Apple TV. With the Fire TV delivering a number of features rumored for a future Apple TV, reactions to Amazon's new box have certainly been of interest to Apple fans. With an immediate launch for Fire TV, the device has already landed in the hands of reviewers and at popular repair shop iFixit, which promptly tore the device down. Early analysis of the Fire TV suggests the device has market-leading hardware that is hindered by less-than-perfect software. On the hardware front, iFixit confirms the Fire TV is a powerhouse with a quad-core, 1.7 GHz Qualcomm Krait 300 processor, Qualcomm Adreno 320 dedicated GPU, 2 GB LPDDR2 RAM clocked at 533 MHz, 8 GB internal storage, 802.11a/b/g/n MIMO Wi-Fi and Bluetooth 4.0. The Fire TV has the power to play back HD videos, with extra to spare for games.
4 hours ago | Posted in: digital imaging, iPad, iPad apps Adobe is on the verge of launching the iPad version of Lightroom, leaks indicate. Earlier this week, the company's website briefly contained references to the app, and even let some people pay for a subscription, which was listed with a $99 annual fee. The reason for the fee is cloud storage, since Lightroom is designed to bulk-process hundreds or thousands of photos, and Adobe wants to sync files between iPads and the Mac and Windows versions of the software.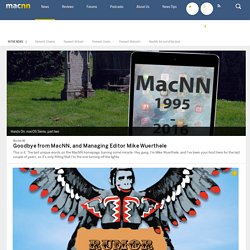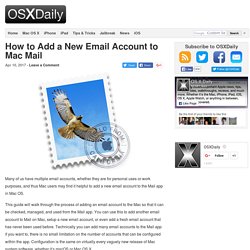 iMessage is the fantastic free messaging service from Apple that lets iPhone, iPad, iPod touch, and Mac users send each other endless free text messages, pictures, and videos. Because iMessage skips the standard SMS/text protocol from cellular carriers and relies on data transmission instead, it can often help you reduce your phone bill by cutting out the text message plan fee, or at least reducing it to a lower cost. All the benefits to using iMessage hardly matters if you need to turn off the iMessaging service for another reason, so long as you are clear as to why you are disabling it in the first place. No, we don't mean temporarily sending an SMS text on a one-off basis, though that can be a workaround for some situations.