War Crimes And War Criminals
Wiki Leaks' undeniable truth challenges complacency | Arbiter Online. WikiLeaks is good for the world and it is good for the United States of America.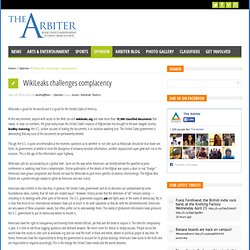 At this very moment, anyone with access to the Web can visit wikileaks.org and view more than 19,000 classified documents that reveal, in clear-cut numbers, the great many losses the United States' invasion of Afghanistan has brought to the war-ravaged country. Bradley Manning, the U.S. soldier accused of leaking the documents, is in isolation awaiting trial.
The United States government is demanding that any trace of the documents be permanently deleted. The Justice Department weighs a criminal case against WikiLeaks. IN AN INTERVIEW this year with the New Yorker, WikiLeaks founder Julian Assange acknowledged that his practice of posting largely unfiltered classified information online could one day lead the Web site to have "blood on our hands.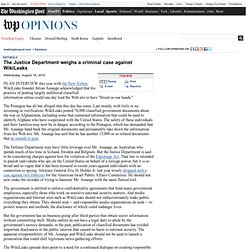 " The Pentagon has all but alleged that this day has come. Last month, with little or no screening or verification, WikiLeaks posted 76,000 classified government documents about the war in Afghanistan, including some that contained information that could be used to identify Afghans who have cooperated with the United States. The safety of these individuals and their families may now be in danger, according to the Pentagon, which has demanded that Mr.
'Israel has 8 days to strike Iran' Former US envoy to the UN John Bolton said Monday that if Israel wants to prevent Iran from acquiring a working nuclear plant, then a military strike must be launched against the Bushehr nuclear power facility within the next eight days.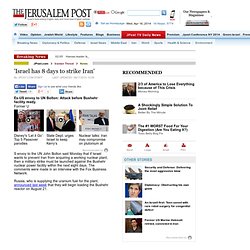 The comments were made in an interview with the Fox Business Network. Russia, who is supplying the uranium fuel for the plant, announced last week that they will begin loading the Bushehr reactor on August 21. Bolton warned that once the Bushehr facility is operational it will be too late for a military air strike against Iran because such an attack would spread radiation and harm Iranian civilians. Israeli "War Crimes" Exposed.
After the 2008-2009 war in Gaza, Amnesty International (AI) and Human Rights Watch (HRW) issued reports documenting Israeli "war crimes."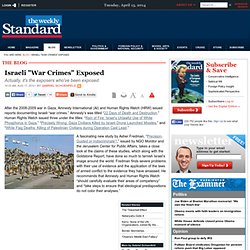 Amnesty's was titled "22 Days of Death and Destruction." Human Rights Watch issued three under the titles: "Rain of Fire: Israel's Unlawful Use of White Phosphorus in Gaza," "Precisely Wrong: Gaza Civilians Killed by Israeli Drone Launched Missiles," and "White Flag Deaths: Killing of Palestinian Civilians during Operation Cast Lead." A fascinating new study by Asher Fredman, "Precision-Guided or Indiscriminate? ," issued by NGO Monitor and the Jerusalem Center for Public Affairs, takes a close look at the claims of these studies, which along with the Goldstone Report, have done so much to tarnish Israel's image around the world.
Fredman finds severe problems with their use of evidence and the application of the laws of armed conflict to the evidence they have amassed. Chomsky about USrael's hypocrisy and war crimes. Don't read, LISTEN to the interview: Noam Chomsky on USrael By Kathleen Wells Internationally recognised as one of America's most critically-engaged public intellectuals today, Noam Chomsky spoke with me about Israel and its interplay with the United States.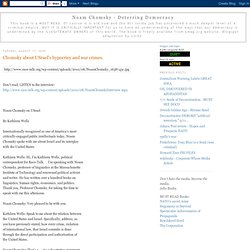 WikiLeaks and the war in Afghanistan. Last September, an assessment of the war in Afghanistan, by the American commander General Stanley McChrystal, was leaked to the press.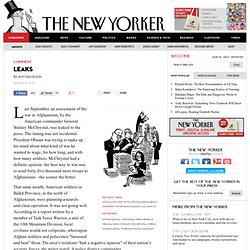 The timing was not incidental. President Obama was trying to make up his mind about what kind of war he wanted to wage, for how long, and with how many soldiers. McChrystal had a definite opinion: the best way to win was to send forty-five thousand more troops to Afghanistan—the sooner the better. That same month, American soldiers in Balkh Province, in the north of Afghanistan, were planning a search-and-clear operation. Wikileaks Makes Web-Hosting Arrangements with Swedish Pirate Party | Beth Callaghan | Voices | AllThingsD. Chalmers Johnson: The Guns of August: Lowering the Flag on the American Century. Crossposted with TomDispatch.com.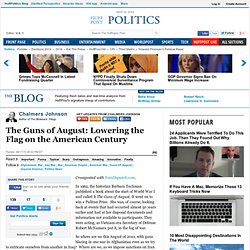 In 1962, the historian Barbara Tuchman published a book about the start of World War I and called it The Guns of August. It went on to win a Pulitzer Prize. She was, of course, looking back at events that had occurred almost 50 years earlier and had at her disposal documents and information not available to participants. TomDispatch. Robert Naiman: The Death Toll Does Not Lie -- Afghanistan Is Obama's War. 575.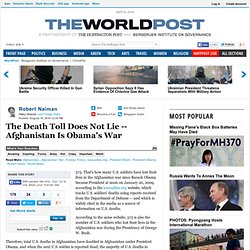 That's how many U.S. soldiers have lost their lives in the Afghanistan war since Barack Obama became President at noon on January 20, 2009, according to the icasualties.org website, which tracks U.S. soldiers' deaths using reports received from the Department of Defense -- and which is widely cited in the media as a source of information on U.S. deaths.
According to the same website, 575 is also the number of U.S. soldiers who lost their lives in the Afghanistan war during the Presidency of George W. Bush. Blackwater's Erik Prince Moves to Abu Dhabi. 'One hell of a spreadsheet': turning 90,000 rows of WikiLeaks data into a story. Simon Rogers, editor of the Guardian Datablog and Datastore, tells Journalism.co.uk about the process of making the vast WikiLeaks data archive accessible to readers Simon Rogers is editor of the Guardian Datablog and Datastore, an online data resource which publishes hundreds of raw datasets and encourages its users to visualise and analyse them.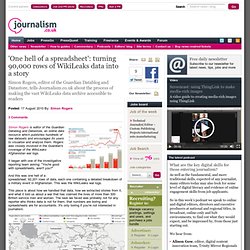 Rogers was closely involved in the Guardian's coverage of the WikiLeaks Afghanistan war logs. It began with one of the investigative reporting team asking: "You're good with spreadsheets, aren't you? " And this was one hell of a spreadsheet: 92,201 rows of data, each one containing a detailed breakdown of a military event in Afghanistan. This was the WikiLeaks war logs. Analysis: Probing war crimes in Afghanistan. KABUL, 15 August 2010 (IRIN) - The rising number of civilian casualties and the leaking of thousands of confidential war papers by whistleblower website Wikileaks have prompted fresh calls to bring alleged war criminals in Afghanistan to book.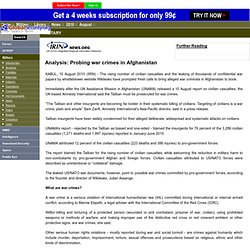 Immediately after the UN Assistance Mission in Afghanistan (UNAMA) released a 10 August report on civilian casualties, the UK-based Amnesty International said the Taliban must be prosecuted for war crimes. "The Taliban and other insurgents are becoming far bolder in their systematic killing of civilians. Targeting of civilians is a war crime, plain and simple" Sam Zarifi, Amnesty International's Asia-Pacific director, said in a press release. Taliban insurgents have been widely condemned for their alleged deliberate, widespread and systematic attacks on civilians. WikiLeaks says it won't be threatened by Pentagon. By Keith Moore, Associated Press Writer STOCKHOLM — WikiLeaks will publish its remaining 15,000 Afghan war documents within a month, despite warnings from the U.S. government, the organization's founder said Saturday. The Pentagon has said that secret information will be even more damaging to security and risk more lives than WikiLeaks' initial release of some 76,000 war documents.
"This organization will not be threatened by the Pentagon or any other group," Julian Assange told reporters in Stockholm. "We proceed cautiously and safely with this material. " In an interview with The Associated Press, he said that if U.S. defense officials want to be seen as promoting democracy then they "must protect what the United States' founders considered to be their central value, which is freedom of the press. " It's official: WikiLeaks and Sweden's Pirate Party ink a hosting deal - by Brian Fung. Wikileaks War Documents Raise Secrecy, Security Questions. Classified documents from the wars in Iraq and Afghanistan, released in recent months on the whistleblower website Wikileaks, have garnered public attention and prompted widespread debate. For instance, the website's Afghan War Diary, released in late July 2010, contains thousands of classified military documents relating to the war in Afghanistan. Such leaks have raised questions about whether the information should have been released, whether the leaker and Wikileaks should face prosecution, and the military's strategies to control information.
Wikileaks is a whistleblower website that accepts anonymous submissions of leaked documents. Controversy about its methods has dogged Wikileaks since its inception; nevertheless, the site has continued to gain access to sensitive materials, which have laid the foundation for investigations by major journalism organizations and provoked reactions by governments and civil society. Wikileaks' Afghanistan war logs: how our datajournalism operation worked | World news. Wikileaks Afghanistan data: click image for the graphic. Illustration: Paul Scruton for the Guardian Well, we always wanted stories from data: now we've got it. In spades. With bells on. Afghan Women Have Already Been Abandoned. I know Bibi Aisha, the woman on the Time cover. But the logic of those who use her image to argue for the war escapes me.
The question her story raises is, What Happens if We Stay? Mosque Furor Endangers US Troops - NewsTrust.net. Go to consortiumblog.com to post comments Order Now Archives Age of Obama Barack Obama's presidency Bush End Game George W. Bush's presidency since 2007. Analysis: Probing war crimes in Afghanistan - AfricaNewsAnalysis. "WikiLeaks did what journalists should have done" « Nicholas John Mead. Interview: The 'Shadow Elite,' WikiLeaks, And Living In A 'Dangerous Era' - Radio Free Europe / Radio Liberty © 2010. Transcript of Interview With Ethan McCord of Wikileaks' Collateral Murder Video by Cindy Sheehan. Clueless Commentators Think That It's Possible To Stop Wikileaks. Abraham R. Wagner: Secrets Exposion. ReliefWeb » Document » Analysis: Probing war crimes in Afghanistan. In Bold Display, Taliban Order Stoning Deaths. What Do Wikiality and Leaked Secrets Have in Common? - Wordtastic. Charging the WikiLeaks leaker with treason would be absurd. - By Fred Kaplan.
WikiLeaks pledges to publish more war papers - World News, Frontpage. Can WikiLeaks Help Save Lives? by Ray McGovern. Is Wikileaks the New Abolitionist? (Video) | West Orlando News Online 2010® Central Florida News, Info, Sports. Whistleblowers get a refuge - Westport - Minuteman News Center. Global Guerrillas: GLOBAL GUERRILLA: Julian Assange. Sam Sasan Shoamanesh: Iran's Nuclear Crisis: Why ICC Ratification Could Help Ease Tensions and Avert War. Impeach Blair and Bush. Blair: Confessions of a former war leader - News, People. The day Tony Blair gave evidence to the Iraq war inquiry | TV 2M. War Criminal Blair Tries to Buy Redemption. Engelhardt, The War Mentality. Reform, repression in Mahmoud Ahmadinejad's Iran.
---