Issues
Hamas founder's son decries Islamic 'god of hate' - Washington T. The son of one of the founders of Hamas is turning his back not only on the organization that now controls Gaza, but the religion that so animates the followers of the group his father helped create.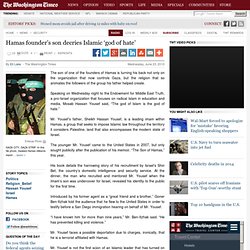 Speaking on Wednesday night to the Endowment for Middle East Truth, a pro-Israel organization that focuses on radical Islam in education and media, Mosab Hassan Yousef said, "The god of Islam is the god of hate." Mr. McChrystal's counter-terrorism without McChrystal. Lawrence Wilkerson: Overall objectives and basic strategy in Afghanistan are wrong - it's time to leave - Bio Lawrence Wilkerson is a retired United States Army soldier and former chief of staff to United States Secretary of State Colin Powell.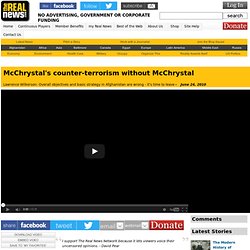 Wilkerson is an adjunct professor at the College of William & Mary where he teaches courses on US national security. He also instructs a senior seminar in the Honors Department at the George Washington University entitled "National Security Decision Making. " McChrystal 'sacked for intelligence leak' McChrystal 'sacked for intelligence leak' Army General Stanley McChrystal Kabul circles say the dismissal of US commander was over leaking information including NATO's connection with the executed leader of the Jundallah terrorist group, Abdolmalek Rigi.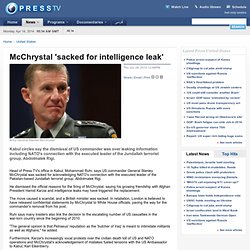 Three 'neo-cons' support Obama firing McChrysal. Rolling Stone writer explains McChrystal article. Al Jazeera: Michael Hastings on what Gen.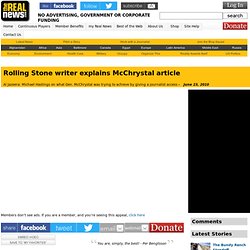 McChrystal was trying to achieve by giving a journalist access - Precis Michael Hastings, the author of the Rolling Stone article on General Stanley McChrystal, tells Al Jazeera what the top US and Nato commander in Afghanistan was trying to achieve by giving a journalist so much access. General Stanley McChrystal's Exit Comes at Key Time in Afghanist. Three Things You Missed in Rolling Stone's McChrystal Profile | Unfortunately, President Obama missed an opportunity today to not only replace an out-of-control general but an out-of-control and failing strategy in Afghanistan.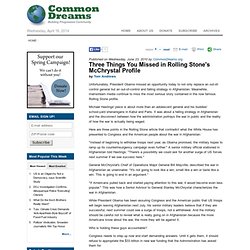 Meanwhile, mainstream media continue to miss the most serious story contained in the now famous Rolling Stone profile. Michael Hastings' piece is about more than an adolescent general and his buddies' school-yard shenanigans in Kabul and Paris. It was about a failing strategy in Afghanistan and the disconnect between how the administration portrays the war in public and the reality of how the war is actually being waged. Here are three points in the Rolling Stone article that contradict what the White House has presented to Congress and the American people about the war in Afghanistan: "Instead of beginning to withdraw troops next year, as Obama promised, the military hopes to ramp up its counterinsurgency campaign even further. " BP Gulf Oil Spill Myths - Gulf Oil Spill Myths and Facts - theda. Judge who overturned drilling bans had shares in the oil industr. An oil worker's hat lies on a polluted Louisiana beach.
The White House is to appeal against the lifting of the drilling ban. Photograph: Lee Celano/Reuters. Feldman, Martin L. C. Fox News is BP oil spill misinformation clearinghouse | Media Ma. Fox News' staunch defense of BP Myth: Obama waited weeks before responding to the oil spill Myth: Moratorium is not needed because oil companies are equipped to handle spill Myth: BP was only drilling "out there" because environmentalists and the federal government "made them" do it Myth: Obama, unlike Bush, "was off on vacation" during crisis Myth: "Ridiculous" and "offensive" to blame Bush for spills.
Gulf Coast Oil Disaster: Interactive map - Special Coverage on C. BP boycotts hurt local stations; gas giant offers help. Amber Keller protests outside an Atlanta, Georgia, BP gas station Saturday.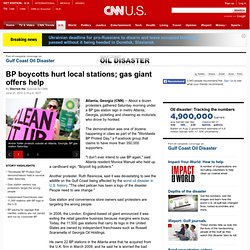 "Worldwide BP Protest Day" demonstrations held in several cities SaturdayGas station owners say protesters target the wrong peopleIndependent franchisees own 11,500 stations with BP logo in the U.S. BP paying for signage that clarifies stations are not owned and run by corporate BP Atlanta, Georgia (CNN) -- About a dozen protesters gathered Saturday morning under a BP gas station sign in metro Atlanta, Georgia, picketing and cheering as motorists who drove by honked. The demonstration was one of dozens happening in cities as part of the "Worldwide BP Protest Day," a Facebook group that claims to have more than 350,000 supporters.
June Deadliest Month for NATO Troops Since Afghan War Began. NATO in Face-Saving Mode After Top Commander McChrystal Sacked. Chomsky Denied Entry, Interviewed on DN! 5/17/10 (1/3) Denied Entry: Israel Blocks Noam Chomsky from Entering West Bank. This is a rush transcript.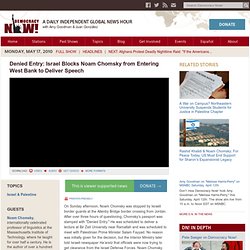 Copy may not be in its final form. AMY GOODMAN: Noam Chomsky has been denied entry into the West Bank by Israel. The world-renowned linguist and political thinker was scheduled to deliver a lecture at Bir Zeit University near Ramallah and was scheduled to meet with Palestinian Prime Minister Salam Fayyad. On Sunday afternoon, he was stopped by Israeli border guards at the Allenby Bridge border crossing from Jordan. After three hours of questioning, Chomsky's passport was stamped with "Denied Entry. " ThisBoyTV's Channel. Chomsky: "We were denied entry" RNC looking low on cash as midterm elections loom - Washington T. Just months before critical midterm elections, the Republican National Committee is hurting for cash more than at any similar period in memory, according to figures reported this week to the Federal Election Commission.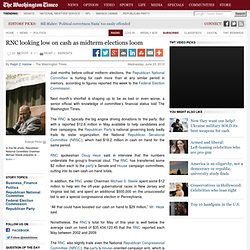 Next month's shortfall is shaping up to be as bad or even worse, a senior official with knowledge of committee's financial status told The Washington Times. The RNC is typically the big engine driving donations to the party. But with a reported $12.6 million in May available to help candidates and their campaigns, the Republican Party's national governing body badly trails its sister organization, the National Republican Senatorial Committee (NRSC), which had $18.2 million in cash on hand for the same period. RNC spokesman Doug Heye said in interview that the numbers understate the group's financial clout. Memo to right-wing media: Petraeus has spoken favorably on Afgha. SEN. JOHN THUNE [R-SD]: Thank you, Mr. Chairman. General, is there any indication, though, that the -- that the Taliban are engaging in direct- or indirect-fire attacks more often and with greater effect now that they know -- or that with this -- that there is potentially a diminished threat from the air?
Do you see any evidence to that -- Right Now - An apology to my readers. I'm a member of an off-the-record list-serv called "Journolist," founded by my colleague Ezra Klein. Last Monday, I was deluged with angry e-mail after posting a story about Rep. Bob Etheridge (D-N.C.) that was linked by the Drudge Report with a headline intimating that I defended his roughing-up of a young man with a camera; after this, the Washington Examiner posted a gossip item about my dancing at a friend's wedding. Unwisely, I lashed out to Journolist, which I've come to view as a place to talk bluntly to friends. Below the fold are quotes from me e-mailing the list that day -- quotes that I'm told a gossip Web site will post today. Engelhardt, The Perfect American Weapon. [Note for TomDispatch Readers: Check out Inter Press Service reporter Daniel Luban's review of my new book, The American Way of War: How Bush's Wars Became Obama's, which can be ordered by clicking here.
And while you're at it, don't miss Timothy MacBain's first TomCast video interview with me about the book by clicking here. I was also on Laura Flanders GRITtv show yesterday, while the McChrystal resignation was happening and you can check that out here.
---