Issues
Enlarge Photo GAZA CITY, GAZA STRIP -In this file photo, masked Hamas militants march ... more > The son of one of the founders of Hamas is turning his back not only on the organization that now controls Gaza, but the religion that so animates the followers of the group his father helped create. Speaking on Wednesday night to the Endowment for Middle East Truth, a pro-Israel organization that focuses on radical Islam in education and media, Mosab Hassan Yousef said, "The god of Islam is the god of hate."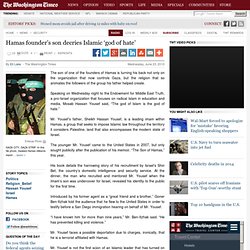 Hamas founder's son decries Islamic 'god of hate' - Washington T
McChrystal's counter-terrorism without McChrystal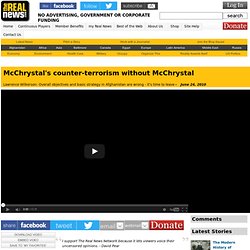 Lawrence Wilkerson: Overall objectives and basic strategy in Afghanistan are wrong - it's time to leave 2010-07-12 22:41:04
McChrystal 'sacked for intelligence leak' Army General Stanley McChrystal Kabul circles say the dismissal of US commander was over leaking information including NATO's connection with the executed leader of the Jundallah terrorist group, Abdolmalek Rigi.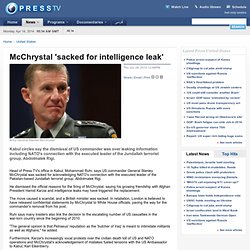 McChrystal 'sacked for intelligence leak'
Three 'neo-cons' support Obama firing McChrysal
Al Jazeera: Michael Hastings on what Gen.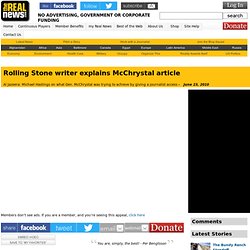 Rolling Stone writer explains McChrystal article
By GERALD F.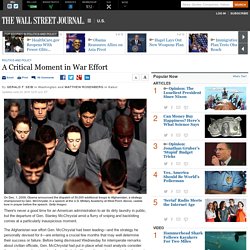 General Stanley McChrystal's Exit Comes at Key Time in Afghanist
Unfortunately, President Obama missed an opportunity today to not only replace an out-of-control general but an out-of-control and failing strategy in Afghanistan. Meanwhile, mainstream media continue to miss the most serious story contained in the now famous Rolling Stone profile.
Three Things You Missed in Rolling Stone's McChrystal Profile |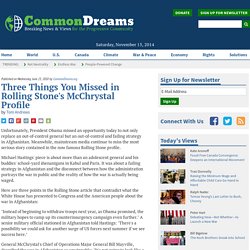 Workers on the Development Driller II drill a relief well June 19 at the site of the Deepwater Horizon explosion.
BP Gulf Oil Spill Myths - Gulf Oil Spill Myths and Facts - theda
Judge who overturned drilling bans had shares in the oil industr
An oil worker's hat lies on a polluted Louisiana beach. The White House is to appeal against the lifting of the drilling ban. Photograph: Lee Celano/Reuters
Feldman, Martin L. C.
Fox News is BP oil spill misinformation clearinghouse | Media Ma
Fox News' staunch defense of BP Myth: Obama waited weeks before responding to the oil spill
Gulf Coast Oil Disaster: Interactive map - Special Coverage on C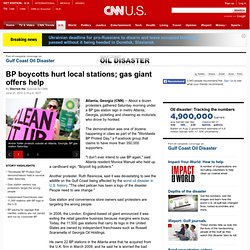 Amber Keller protests outside an Atlanta, Georgia, BP gas station Saturday.
BP boycotts hurt local stations; gas giant offers help
June Deadliest Month for NATO Troops Since Afghan War Began
NATO in Face-Saving Mode After Top Commander McChrystal Sacked
Chomsky Denied Entry, Interviewed on DN! 5/17/10 (1/3)
Denied Entry: Israel Blocks Noam Chomsky from Entering West Bank
This is a rush transcript. Copy may not be in its final form.
Welcome to YouTube! The location filter shows you popular videos from the selected country or region on lists like Most Viewed and in search results.To change your location filter, please use the links in the footer at the bottom of the page.
ThisBoyTV's Channel
Chomsky: "We were denied entry"
Enlarge Photo In this file photo, Republican National Committee Chairman Michael Steele prepares to ... more >
RNC looking low on cash as midterm elections loom - Washington T
Memo to right-wing media: Petraeus has spoken favorably on Afgha
SEN.
Right Now - An apology to my readers
Engelhardt, The Perfect American Weapon
North Korea threatens more punishment for American