Chart & software
Standards and Guidelines for Crochet and Knitting |
The publishers, fiber, needle and hook manufacturers and yarn members of the Craft Yarn Council have worked together to set up a series of guidelines and symbols to bring uniformity to yarn, needle and hook labeling and to patterns, whether they appear in books, magazines, leaflets or on yarn labels.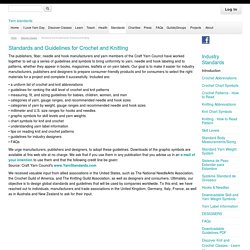 Le forum du filage / Programmes informatiques tricot
I used to like row-by-row instructions. They told me what stitches to make, and I made them. It was very simple.
knitty.com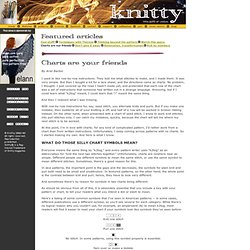 CYCAKnitChartSymbols.pdf (Objet application/pdf)
New in version 2.00: For Mac users, font should now work on both Windows and Macinstosh systems.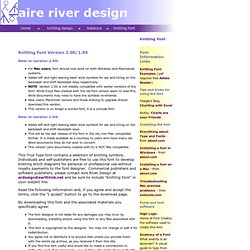 Aire River Knitting Font
Stitch charts in knit and crochet patterns are being used more and more as an addition to or in place of words to describe a pattern stitch.
Knit Chart Symbols |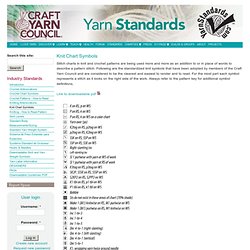 s-and-g.pdf (Objet application/pdf)
Updated Terms & chartic Symbols Used in These Patterns
LaceFontSample.pdf (Objet application/pdf)
Chez Plum » Tutorial: How I make my knitting charts for lace
So, a couple weeks ago I showed a glimpse of the knitting chart I was working on.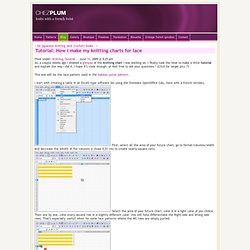 knittingchartmaker - A knitting chart designing program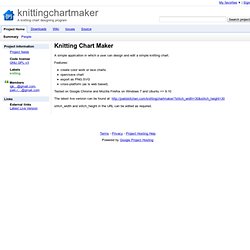 A simple application in which a user can design and edit a simple knitting chart. Features: create color work or lace charts open/save chart export as PNG.SVG cross-platform (as is web based)
Cathy Scott's StitchMastery
I mostly love my iPad, but I wish someone would write the perfect knitting app.
software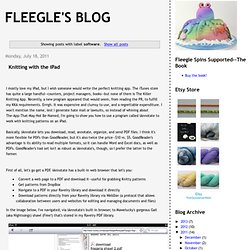 Personal computers, dweeby and enormously expensive toys twenty years ago, are now, for better or worse, an intimate part of most of our lives. Their uses span a breathtaking (or alarming,depending on your point of view) range of applications. We all know about the Internet; word processing, photo editing, and Solitaire.
Software for Knitters: Part I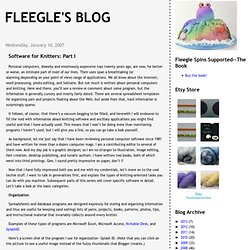 Good old Excel. This spreadsheet app has been around forever, and its uses are myriad. You can keep a stash list, make charts, and keep track of pattern rows as you knit.
Software for Knitters: Part II--Charting with Excel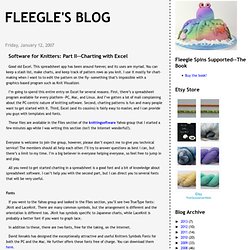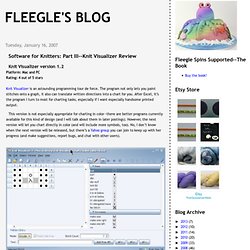 Software for Knitters: Part III--Knit Visualizer Review
Knit Visualizer version 1.2 Platform: Mac and PCRating: 4 out of 5 stars
Jacquie's Journal
Knitting Chart Maker by Jacquie
KnitChart
The Bottom Line
Knitting Chart Maker - Review of Knitting Chart Maker Program by Jacquie
3 Easy Ways to Chart a Knitting Pattern — so you wannabee a Domestik Goddess?
How can a crafter turn an image into a custom pattern for a knitted motif — quickly and easily — without spending a fortune?
Buy Knit Visualizer If you are upgrading from 1.x and have a discount code; please use our upgrade page. ** When you purchase our software to download, you will be sent an email with download instructions.
Knit Foundry: Software
software for knitting
EnvisioKnit Design Studio Knitting Software
Intwined Pattern Studio