Ecclesiastia
Alison
A organization freak
Faith related
Tutorials. Second Life. Graphic Design. Iphone 5 stuff. Tea. Medical. Self help. Christmas ideas. How to Use and Cite Creative Commons Resources. Internet users who upload their own images, sounds and text are increasingly using the Creative Commons license.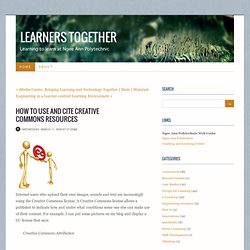 A Creative Commons license allows a publisher to indicate how and under what conditions some one else can make use of their content. For example, I can put some pictures on my blog and display a CC license that says: Creative Commons Attribution What this means is that some one else visiting my site can use my pictures on their own web site or some other project as long as they properly attribute me as the creator of the work. If I had displayed a license that said.
Mac. Social Media. Gaming. Ecards.
---