Crafts - Home
30 Fabulous Reuses & Repurposes for Old or Recalled Cribs. With new crib regulations, the resale of cribs is going to be pretty non-existent for a while.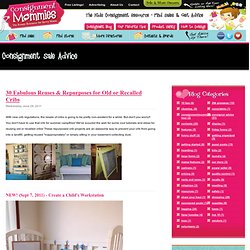 But don't you worry!! You don't have to use that crib for summer campfires! We've scoured the web for some cool tutorials and ideas for reusing old or recalled cribs! These repurposed crib projects are an awesome way to prevent your crib from going into a landfill, getting reused "inappropriately" or simply sitting in your basement collecting dust. Fast & Fabulous DIY Wall Art Ideas. Pssst – do we have cheap & easy wall art for you today!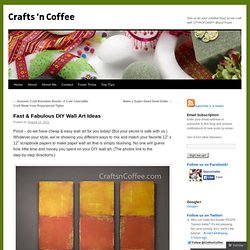 (But your secret is safe with us.) Whatever your style, we're showing you different ways to mix and match your favorite 12" x 12" scrapbook papers to make paper wall art that is simply stunning. No one will guess how little time and money you spent on your DIY wall art. "Stained Glass" Votive Holders. By Jenny Ryan Many times when I'm at the grocery or drug store, I can't resist throwing a few scented votive candles in my cart.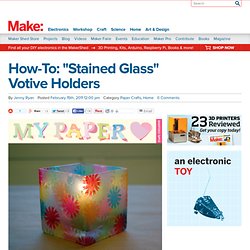 When I'm ready to burn them, it's easy enough to sit one on a cute little vintage china saucer, but I recently decided to try and find a fancier display solution for them. I also wanted the project to be inexpensive, and the materials used to be things I already had on hand. I was inspired by memories of making faux-stained glass in elementary school and came up with these fun little glass votive holders. This project is quick and easy, and a great way to whip up custom party décor on the cheap. Materials. Weekend Project: A Candelabra Made From Old Bottles. One of the many things I loved about working with art director Susan Wasinger at Natural Home was her knack for finding craft projects that had long ago lost their luster—and giving them a contemporary spin.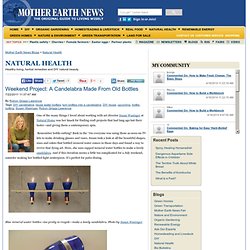 Remember bottle-cutting? Back in the '70s everyone was using those as-seen-on-TV kits to make drinking glasses and vases. Susan took a look at all the beautiful shapes, sizes and colors that bottled mineral water comes in these days and found a way to revive that dying art. Here, she uses capped mineral water bottles to make a lovely candelabra. Felting Project: A Rug!
This is the most beautiful felt project we've seen.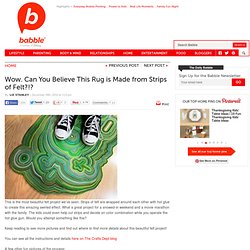 Strips of felt are wrapped around each other with hot glue to create this amazing swirled effect. What a great project for a snowed-in weekend and a movie marathon with the family. The kids could even help cut strips and decide on color combination while you operate the hot glue gun. Would you attempt something like this? Paper Fortune Cookie Favors by La La Laurie.
How to build invisible shelves | Plastic Spoon Laurel Wreath.
---