Astronomy
There are two different styles of script on this astrolabe. The older is found on the tympans and the rete. It is a cruder script consisting entirely of square capitals, often created with a punch, and it uses older number shapes.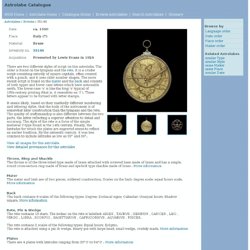 Astrolabe report (inventory number 35146)
Encoder – A Program for Digital Setting Circles Using a PC Mouse. http://www.worldaccessnet.com/~dstixrud/Jon/Encoder.html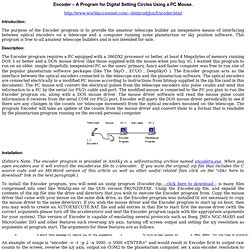 Encoder - a program for digital setting circles using a PC mouse
Making a Sturdy Wood Tripod - How To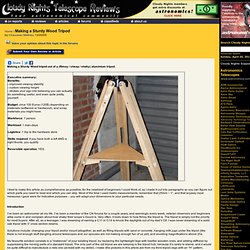 Making a Sturdy Wood tripod out of a (flimsy / cheap / shaky) aluminium tripod. I tried to make this article as comprehensive as possible, for the newbiest of beginners I could think of, so I made it out into paragraphs so you can figure out which parts you need to read and which you can skip.
International Meteor Organization | International Collaboration in Meteor Science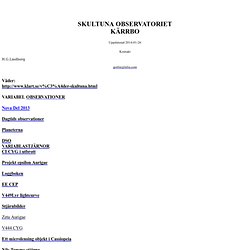 Uppdaterad 2013-10-08
SAAF:S
The Andromeda Project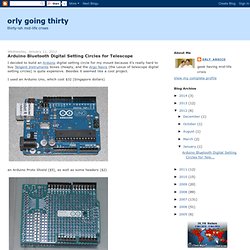 Arduino Bluetooth Digital Setting Circles for Telescope
I decided to build an Arduino digital setting circle for my mount because it's really hard to buy Tangent Instruments boxes cheaply, and the Argo Navis (the Lexus of telescope digital setting circles) is quite expensive. Besides it seemed like a cool project.
Gary's Motorized Big Bino Chair
Gary's Motorized Big Binocular Chair - by Gary Honis - Detailed Construction Procedure - Page 1 of 7
Another DIY Parallelogram Binocular Mount Submitted: Wednesday, 28th March 2007 by Dennis Simmons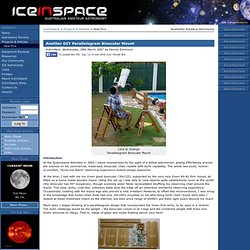 Another DIY Parallelogram Binocular Mount
My Comet Couch! - Article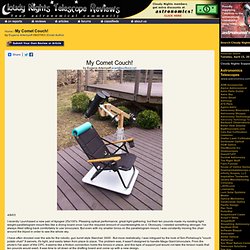 My Comet Couch!
Preparing MPCs (Info)
Lists and Plots: Comets
Space Situational Awareness, services provided by PROBA2 | PROBA2 Science Center
PolHors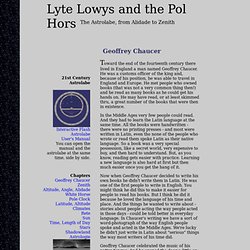 Toward the end of the fourteenth century there lived in England a man named Geoffrey Chaucer. He was a customs officer of the king and, because of his position, he was able to travel in England and Europe.
Homepage | The Planetary Society
science::.. The Astrophysical Journal Letters
This site uses cookies. By continuing to use this site you agree to our use of cookies. To find out more, see our Privacy and Cookies policy.
venus transis NASA Goddard photos
Herschel Space Observatory
Keith's Home Page
Photopic Sky Survey