Medical Billing
ePACES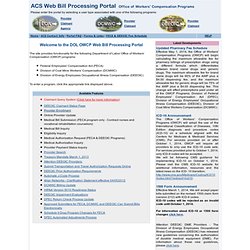 Workers Comp Bill Proc. Portal
Effective May 1, 2014, the Office of Workers' Compensation Programs (OWCP) will begin calculating the maximum allowable fee for pharmacy billings of prescription drugs using a different formula which differentiates between brand name drugs and generic drugs. The maximum allowable fee for brand name drugs will be 90% of the AWP plus a $4.00 dispensing fee, and the maximum allowable fee for generic drugs will be 75% of the AWP plus a $4.00 dispensing fee. This change will affect prescriptions paid under all of the OWCP Programs; Division of Federal Employees' Compensation Act (DFEC), Division of Energy Employees' Occupational Illness Compensation (DEEOIC), Division of Coal Mine Workers Compensation (DCMWC). The Office of Workers' Compensation Programs (OWCP) will adopt the use of the International Classification of Diseases, 10th Edition diagnosis and procedure codes (ICD-10) on a schedule aligned with the Centers for Medicare & Medicaid Services (CMS).
eMedNY Self Help
NPI Registry Search
Procedure Code Lookup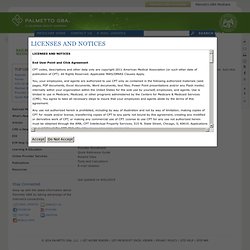 End User Point and Click Agreement CPT codes, descriptions and other data only are copyright 2011 American Medical Association (or such other date of publication of CPT). All Rights Reserved. Applicable FARS/DFARS Clauses Apply. You, your employees, and agents are authorized to use CPT only as contained in the following authorized materials (web pages, PDF documents, Excel documents, Word documents, text files, Power Point presentations and/or any Flash media) internally within your organization within the United States for the sole use by yourself, employees, and agents.
Palmetto GBA - Railroad Medicare - Resources
www.eMedNY.org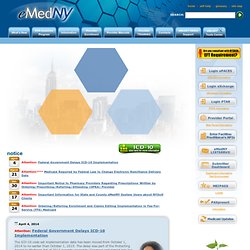 April 4, 2014 Attention: Federal Government Delays ICD-10 Implementation The ICD-10 code set implementation date has been moved from October 1, 2014 to no earlier than October 1, 2015. The delay was part of the Protecting Access to Medicare Act of 2014 recently passed by Congress and signed into law by President Obama on April 1, 2014. New York Medicaid will adhere to the new federal compliance timeframe for ICD-10 implementation and eMedNY will not accept ICD-10 codes until October 1, 2015 at the earliest.
Part B - Home - Index
ePACES Login