Spiritual
What is My Life About?
25 July 2011Last updated at 19:44 ET By Swaminathan Natarajan BBC Tamil Usually only men are trained to take the job of a mahout A young Finnish woman is intent on pursuing a career as an elephant rider - or mahout - after spending time working with the animals in India.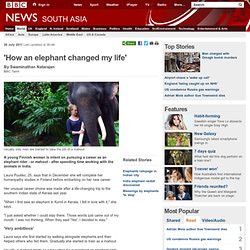 'How an elephant changed my life'
Sounds True
The official website of Author and Philosopher John de Ruiter.
Mark Bezos: A life lesson from a volunteer firefighter
Patanjali Yog Peeth (UK) Trust
Home - Yoga and Meditation Classes, London SE16
Urasenke: Activities
The London Branch of the Urasenke Foundation is open to all who have an interest in Chado, The Way of Tea. It is our aim to disseminate the Way of Tea in the United Kingdom through lectures, demonstrations, training and Tea gatherings. For those who are interested in learning more about this important part of Japanese culture and to experience at first hand its special values, participation in the activities of the Branch are possible at several levels.
Guru Kaur - The Lady with the White Turban - Guru Kaur's Website and Personal Blog
A Unique Personal Development Course and Private Online Community for Women ~ Be the Woman You were Born to Be...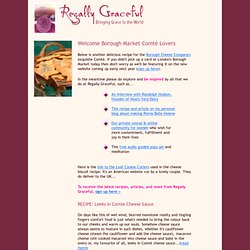 Kundalini Yoga with Guru Kaur - Regally Graceful™
Below is another delicious recipe for the Borough Cheese Company's exquisite Comté. If you didn't pick up a card at London's Borough Market today then don't worry as we'll be featuring it on the new website coming up early next year (sign up here). In the meantime please do explore and be inspired by all that we do at Regally Graceful, such as... Here is the link to the Leaf Cookie Cutters used in the cheese biscuit recipe. It's an American website run by a lovely couple. They do deliver to the UK...
Pagan Network - Index
Sri Sathya Sai Central Trust, Prasanthi Nilayam
Living The Wheel of The Year home page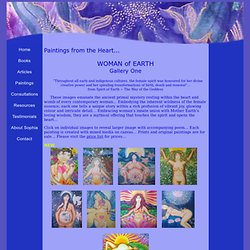 Paintings from the Heart ~~ Galleries by Roslyne Sophia Breillat
"Throughout all early and indigenous cultures, the female spirit was honoured for her divine creative power and her spiraling transformations of birth, death and renewal"… from Spirit of Earth ~ The Way of the Goddess These images emanate the ancient primal mystery resting within the heart and womb of every contemporary woman… Embodying the inherent wildness of the female essence, each one tells a unique story within a rich profusion of vibrant joy, glowing colour and intricate detail… Embracing woman's innate union with Mother Earth's loving wisdom, they are a mythical offering that touches the spirit and opens the heart… Click on individual images to reveal larger image with accompanying poem… Each painting is created with mixed media on canvas... Prints and original paintings are for sale... Please visit the price list for prices...
Paintings « Meraylah Allwood
Glastonbury - the Isle of Avalon
Online Rune Readings, Pendants talisman for Asatru, Pagan, SCA, Norse, Druid, Fae, Faerie, Goddess, Celtic and Wicca
Glastonbury Goddess Conference
British Druid Order
Mid-Atlantic Geomancy
Today is the summer solstice, the first day of summer. To celebrate this day, which is the longest day and shortest night of the year in the Northern hemisphere, we would like to share the poem, "Shall We Offer Flowers?" by Andrew Schelling. Bitter buffaloberrydevil's club, tangled dogtoothnarrowleaf arrowheadWhat are the lineages of life?ground water, radiant heat—listen, they form the underlying beatof the watershed,gifts with no motive the way of the ancientsskyrocket chicory bluestemfew-flowered shooting starIndian pipeall the paradise you need's outside your doorthe medicine Buddha wears a lapis lazuli headdressfeathers & turquoise beadscan you give thanks with a pinch ofbear tobacco?balms salves unguents poisons the mintsEarth puts forth her medicinesone day you'll need a planta certain herb you've never metstep cautiouslyyellow owl's clover, prairie smokeif you bend the yellow florets asideyou open an abyss
It's the First Day of Summer! Shall We Offer Flowers?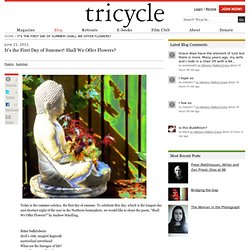 In the Heart of the Goddess
goddesstemple.co.uk - Home
Mother Earth 2 I feel her breath Hear her heart beat Feel her gentle presence Under my feet Gaia Our Mother Earth Holding the balance Creating a safe space Her nurturing energy exuding grace Allowing each of us to tread our path No judgements or conditions Whether we cry Or just laugh I feel so connected And in my power Feel the compassion Gentle and beautiful Like a delicate flower
poems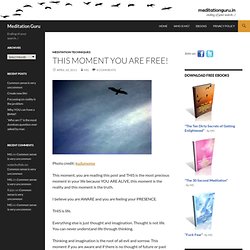 Real freedom | Meditationguru
Photo credit: kudumomo This moment, you are reading this post and THIS is the most precious moment in your life because YOU ARE ALIVE, this moment is the reality and this moment is the truth. I believe you are AWARE and you are feeling your PRESENCE. THIS is life. Everything else is just thought and imagination.
Humanity Healing Network
Meditation it makes sense! Meditation is said to be a great stress reducer and exercise for any spiritual path. I have been thinking a lot about what I feel Meditation is and the information poured in as soon as I asked the Universe for what I was seeking. So this is what I have learned.
*۞* Healing World Convergence Directory | Wholistic-awareness.groupsite.com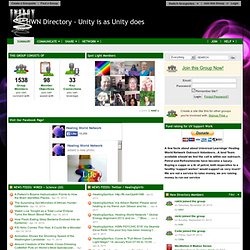 Portsmouth Temple of Spiritualism
Mindfulness Groups, Advice & Courses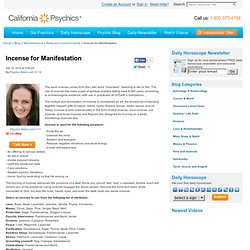 The word incense comes from the Latin word "incendere" meaning to set on fire. The use of incense has been a part of spiritual practice dating back 8,000 years, according to archaeological evidence, with use in practically all of Earth's civilizations. The mixture and formulation of incense is considered an art, the ancient art of blending together fragrant gifts of nature: resins, herbs, flowers, leaves, barks, spices, and oil. Today, incense is sold commercially in the form of stick incense, cone incense, coil incense, and loose incense and fragrant oils, designed for burning on a small, smoldering charcoal disc. Incense is used for the following purposes:
Incense for Manifestation - Psychic Workout
Genesis Order of Druids
Sage Woman Article
Psychic and Spiritual Healing, Mediumship, Astrology & Tarot in Portsmouth
Mind, Body & Spirit Event Date: 30-Jan-2014 7:30 PM Visit Site
Hampshire Spirit Guide - Hampshire Spiritualist Churches addresses