Spiritual
"There are two great days in a person's life – the day we are born and the day we discover why." – William Barclay Do you wish to know what your purpose on this planet is? I can tell you exactly what your life purpose is – the bottom line of why you are here – by looking at your birth chart. Your soul chose to enter this world at a precise time so it could experience and express certain things. Your astrological birth chart is a life map for you to follow. Few people know that they have all the life guidance they need built into their moment of birth.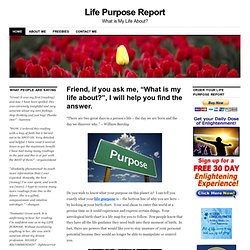 What is My Life About?
26 July 2011Last updated at 00:44 By Swaminathan Natarajan BBC Tamil Usually only men are trained to take the job of a mahout A young Finnish woman is intent on pursuing a career as an elephant rider - or mahout - after spending time working with the animals in India.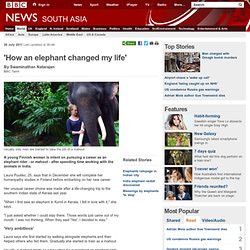 'How an elephant changed my life'
Sounds True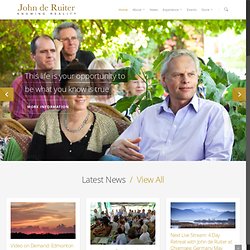 The official website of Author and Philosopher John de Ruiter.
Excerpt from a discussion with John on January 12, 2014 Q: I find since I was in the chair, something new has opened up when I'm being with people. What I find really new is that I can see that it doesn't matter where the other person is being; it's about me finding the other, whether that means having much or having little.
Mark Bezos: A life lesson from a volunteer firefighter
Yog - The Way to Good Health and Wellbeing Each work has to pass through these stages: ridicule, opposition, and then acceptance. Those who think ahead of their time are sure to be misunderstood ~ Swami Vivekananda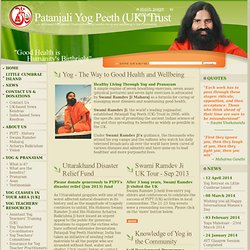 Patanjali Yog Peeth (UK) Trust
Home - Yoga and Meditation Classes, London SE16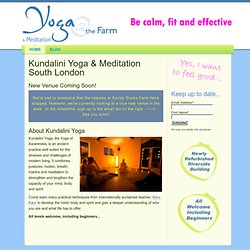 New Venue Coming Soon! About Kundalini Yoga Kundalini Yoga, the Yoga of Awareness, is an ancient practice well suited for the stresses and challenges of modern living. It combines postures, motion, breath, mantra and meditation to strengthen and lengthen the capacity of your mind, body and spirit. Come learn many practical techniques from internationally acclaimed teacher, Guru Kaur to develop the mind, body and spirit and gain a deeper understanding of who you are and what life has to offer. All levels welcome, including beginners...
Urasenke: Activities
The London Branch of the Urasenke Foundation is open to all who have an interest in Chado, The Way of Tea. It is our aim to disseminate the Way of Tea in the United Kingdom through lectures, demonstrations, training and Tea gatherings. For those who are interested in learning more about this important part of Japanese culture and to experience at first hand its special values, participation in the activities of the Branch are possible at several levels.
Guru Kaur - The Lady with the White Turban - Guru Kaur's Website and Personal Blog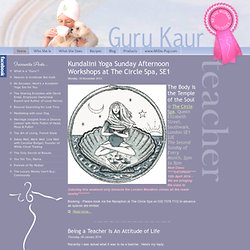 Food unites us. Food allows us to cross boundaries. Food defines us, creates us, destroys us.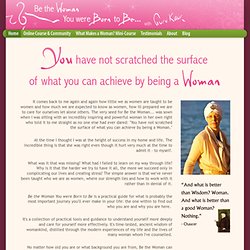 A Unique Personal Development Course and Private Online Community for Women ~ Be the Woman You were Born to Be...
It comes back to me again and again how little we as women are taught to be women and how much we are expected to know as women, how ill prepared we are to care for ourselves let alone others. The very seed for Be the Woman... was sown when I was sitting with an incredibly inspiring and powerful woman in her own right who told it to me straight as no one else had ever dared: "You have not scratched the surface of what you can achieve by being a Woman." At the time I thought I was at the height of success in my home and life. The incredible thing is that she was right even though it hurt very much at the time to admit it - to myself. What was it that was missing?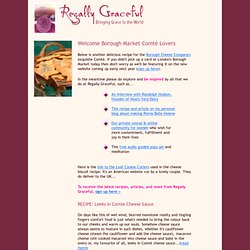 Kundalini Yoga with Guru Kaur - Regally Graceful™
Below is another delicious recipe for the Borough Cheese Company's exquisite Comté. If you didn't pick up a card at London's Borough Market today then don't worry as we'll be featuring it on the new website coming up early next year (sign up here). In the meantime please do explore and be inspired by all that we do at Regally Graceful, such as... Here is the link to the Leaf Cookie Cutters used in the cheese biscuit recipe. It's an American website run by a lovely couple. They do deliver to the UK...
Sri Sathya Sai Central Trust, Prasanthi Nilayam
Living The Wheel of The Year home page
New and exciting ways to explore and celebrate the Celtic Festivals , both in community and nature. Learn more about Living The Wheel of the Year. Workshops and training in Suffolk and Norfolk, East Anglia, UK.
Paintings from the Heart ~~ Galleries by Roslyne Sophia Breillat
"Throughout all early and indigenous cultures, the female spirit was honoured for her divine creative power and her spiraling transformations of birth, death and renewal"… from Spirit of Earth ~ The Way of the Goddess These images emanate the ancient primal mystery resting within the heart and womb of every contemporary woman… Embodying the inherent wildness of the female essence, each one tells a unique story within a rich profusion of vibrant joy, glowing colour and intricate detail… Embracing woman's innate union with Mother Earth's loving wisdom, they are a mythical offering that touches the spirit and opens the heart… Click on individual images to reveal larger image with accompanying poem… Each painting is created with mixed media on canvas... Prints and original paintings are for sale... Please visit the price list for prices...
Paintings « Meraylah Allwood
Introducing Glastonbury What's special about this place? Visiting Glastonbury Info for visitors & pilgrims Places to see Online tour of Glastonbury's sites
Glastonbury - the Isle of Avalon
Online Rune Readings, Pendants talisman for Asatru, Pagan, SCA, Norse, Druid, Fae, Faerie, Goddess, Celtic and Wicca
Glastonbury Goddess Conference
British Druid Order
Mid-Atlantic Geomancy
It's the First Day of Summer! Shall We Offer Flowers?
In the Heart of the Goddess
goddesstemple.co.uk - Home
poems
Real freedom | Meditationguru
Humanity Healing Network
*۞* Healing World Convergence Directory | Wholistic-awareness.groupsite.com
Portsmouth Temple of Spiritualism
Mindfulness Groups, Advice & Courses
Incense for Manifestation - Psychic Workout
Genesis Order of Druids
Sage Woman Article
Psychic and Spiritual Healing, Mediumship, Astrology & Tarot in Portsmouth
Hampshire Spirit Guide - Hampshire Spiritualist Churches addresses