Art, Cinema, Museums, History, Culture
PROJECT NIM In Theatres July 8
Tatjana Krizmanic
Latest Blog Post Working with Brass, Part 1 – Cutting Brass – Dug's Tips 13 Brass is a metal that looks good with wood, is easy to work, and can be soldered. You can use it for specific parts or create entire automaton with it!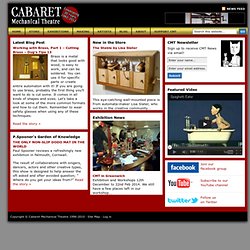 Cabaret Mechanical Theatre
Kseniya Simonova - Sand Animator - Artist | Ukraine's Got Talent 2009 Winner
Ragnar Axelsson photographer
Nick Fleming Photographer - Photography
Paper People
Jonathan Jeremiah | Free Music, Tour Dates, Photos, Videos
Jonathan has spent the best part of a decade defining a sound rooted in a rich legacy of bespoke English folk and confessional soul. With a deep, naturally dramatic voice, stunningly arranged orchestrations, delicate finger picked guitar and songs that make a lasting impression Jonathan's sound is the result of a journey that began with guitar lessons age 6. It has taken in family childhood singalongs with his 5 siblings on summer holidays to his mother's native Tipperary and progressed through the discovery of influences by listening to his fathers extensive vinyl collection. Artists such as Scott Walker, Cat Stevens, Serge Gainsbourg and John Martyn made a formative and lasting impression on him. While his friends were listening to contemporary pop and Indie Jonathan dug deep into the past, his own sensibility coming into bloom.
POMPEY POP!
The Round Tower
Strong Island | Portsmouth & Southsea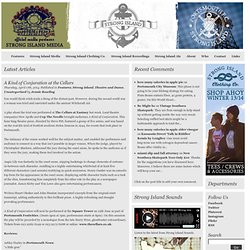 A Kind of Conjuration at the Cellars You would think witch trails a thing of the distant past. However, during the second world war a woman was tried and convicted under the ancient Witchcraft Act. A play about the trial was performed at The Cellars at Eastney last week. Local theatre companies New Apollo and Cop The Needle brought audiences A Kind of Conjuration. This hour-long theatre piece, directed by Steve Pitt, featured a group of five actors, and was based on the real-life trial of Scottish medium Helen Duncan in 1944, for events that took place in Portsmouth.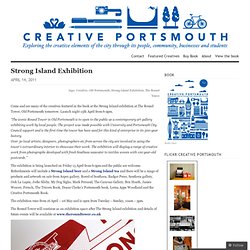 Strong Island Exhibition « Creative Portsmouth
Come and see many of the creatives featured in the book at the Strong Island exhibition at The Round Tower, Old Portsmouth tomorrow. Launch night 15th April from 6-9pm. "The iconic Round Tower in Old Portsmouth is to open to the public as a contemporary art gallery exhibiting work by local people. The project was made possible with University and Portsmouth City Council support and is the first time the tower has been used for this kind of enterprise in its 500-year history.Over 30 local artists, designers, photographers etc from across the city are involved in using the tower's extraordinary interior to showcase their work. The exhibition will display a range of creative work from photographs developed with fresh Southsea seawater to textiles woven with 100 year-old postcards."
Welcome to Jaume Plensa's website
The Grant Museum of Zoology is the only remaining university zoological museum in London. It houses around 67,000 specimens, covering the whole Animal Kingdom. Founded in 1828 as a teaching collection, the Museum is packed full of skeletons, mounted animals and specimens preserved in fluid. Many of the species are now endangered or extinct including the Tasmanian Tiger or Thylacine, the Quagga, and the Dodo. What's on at the Grant Museum Explore the Grant Museum of Zoology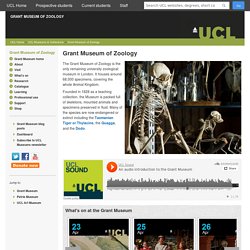 Grant Museum of Zoology
The Artwork of Jesse C. Smigel
The Atomic Testing Museum and the NTSHF - Las Vegas, NV
Home - Suze Rotolo
Benda Bilili ! | Directors' Fortnight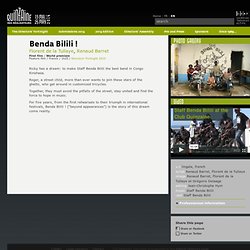 Ricky has a dream: to make Staff Benda Bilili the best band in Congo Kinshasa. Roger, a street child, more than ever wants to join these stars of the ghetto, who get around in customized tricycles. Together, they must avoid the pitfalls of the street, stay united and find the force to hope in music. For five years, from the first rehearsals to their triumph in international festivals, Benda Bilili ! ("beyond appearances") is the story of this dream come reality.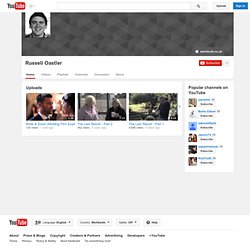 Welcome to YouTube! The location filter shows you popular videos from the selected country or region on lists like Most Viewed and in search results.To change your location filter, please use the links in the footer at the bottom of the page. Click "OK" to accept this setting, or click "Cancel" to set your location filter to "Worldwide". The location filter shows you popular videos from the selected country or region on lists like Most Viewed and in search results. To change your country filter, please use the links in the footer at the bottom of the page. Uploaded videos
OASTLERFILM's Channel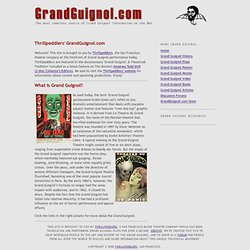 Grand Guignol Online
What is Grand Guignol? As used today, the term 'Grand Guignol' (pronounced Grahn Geen-yol') refers to any dramatic entertainment that deals with macabre subject matter and features "over-the-top" graphic violence. It is derived from Le Theatre du Grand Guignol, the name of the Parisian theatre that horrified audiences for over sixty years. The theatre was founded in 1897 by Oscar Metenier as an extension of the naturalist movement, which had been popularized by André Antoine's Theatre Libre. A typical evening at the Grand Guignol Theatre might consist of five or six short plays, ranging from suspenseful crime dramas to bawdy sex farces.
Monica Fernandez (Photography)