Art, Cinema, Museums, History, Culture
PROJECT NIM In Theatres July 8. Tatjana Krizmanic. Cabaret Mechanical Theatre. Kseniya Simonova - Sand Animator - Artist | Ukraine's Got Talent 2009 Winner. Ragnar Axelsson photographer. Nick Fleming Photographer - Photography. Paper People. Jonathan Jeremiah. POMPEY POP! Kseniya Simonova - Sand Animation (Україна має талант / Ukraine's Got Talent) The Round Tower. Strong Island | Portsmouth & Southsea. Strong Island Exhibition « Creative Portsmouth. Come and see many of the creatives featured in the book at the Strong Island exhibition at The Round Tower, Old Portsmouth tomorrow.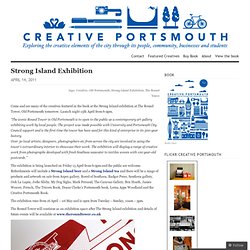 Launch night 15th April from 6-9pm. "The iconic Round Tower in Old Portsmouth is to open to the public as a contemporary art gallery exhibiting work by local people. The project was made possible with University and Portsmouth City Council support and is the first time the tower has been used for this kind of enterprise in its 500-year history.Over 30 local artists, designers, photographers etc from across the city are involved in using the tower's extraordinary interior to showcase their work. The exhibition will display a range of creative work from photographs developed with fresh Southsea seawater to textiles woven with 100 year-old postcards." Welcome to Jaume Plensa's website. Grant Museum of Zoology. The Grant Museum of Zoology is the only remaining university zoological museum in London.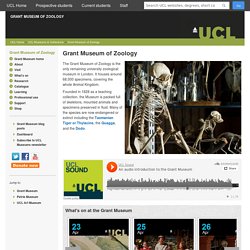 It houses around 67,000 specimens, covering the whole Animal Kingdom. Founded in 1828 as a teaching collection, the Museum is packed full of skeletons, mounted animals and specimens preserved in fluid. Many of the species are now endangered or extinct including the Tasmanian Tiger or Thylacine, the Quagga, and the Dodo. What's on at the Grant Museum Explore the Grant Museum of Zoology.
The Artwork of Jesse C. Smigel. The Atomic Testing Museum and the NTSHF - Las Vegas, NV. Freud Museum, London. Home - Suze Rotolo. Benda Bilili ! | Directors' Fortnight. Ricky has a dream: to make Staff Benda Bilili the best band in Congo Kinshasa.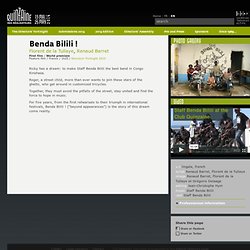 Roger, a street child, more than ever wants to join these stars of the ghetto, who get around in customized tricycles. Together, they must avoid the pitfalls of the street, stay united and find the force to hope in music. For five years, from the first rehearsals to their triumph in international festivals, Benda Bilili ! ("beyond appearances") is the story of this dream come reality. OASTLERFILM's Channel. Upload awfultruth.co.uk Subscription preferences Loading...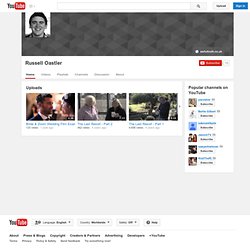 Working... Russell Oastler. AMDM | Adobe Museum of Digital Media. Grand Guignol Online. Monica Fernandez (Photography)
---