Facebook Page Management
20 Great Video Applications For Facebook. With over 3000 available applications, Facebook has become a platform for, well, just about anything.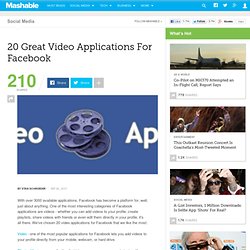 One of the most interesting categories of Facebook applications are videos - whether you can add videos to your profile, create playlists, share videos with friends or even edit them directly in your profile, it's all there. We've chosen 20 video applications for Facebook that we like the most. Top 10 Facebook Apps for Fan Engagement and Building Community. Are you looking for ways to better engage Facebook fans and build your community?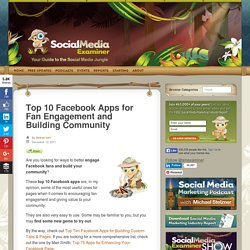 These top 10 Facebook apps are, in my opinion, some of the most useful ones for pages when it comes to encouraging fan engagement and giving value to your community. They are also very easy to use. Some may be familiar to you, but you may find some new gems to try out. By the way, check out Top Ten Facebook Apps for Building Custom Tabs & Pages. If you are looking for a more comprehensive list, check out the one by Mari Smith: Top 75 Apps for Enhancing Your Facebook Page. [Etude] Les socionautes exigeants vis-à-vis des marques. Le Syndicat National de la Communication Directe (SNCD) vient de publier une étude sur le comportement des e-consommateurs sur les réseaux sociaux.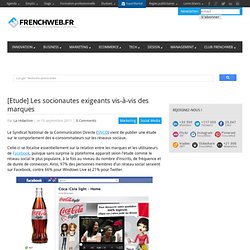 Celle-ci se focalise essentiellement sur la relation entre les marques et les utilisateurs de Facebook, puisque sans surprise la plateforme apparaît selon l'étude comme le réseau social le plus populaire, à la fois au niveau du nombre d'inscrits, de fréquence et de durée de connexion. Ainsi, 97% des personnes membres d'un réseau social seraient sur Facebook, contre 66% pour Windows Live et 21% pour Twitter. Cette enquête nous apprend entre autres que: [Etude] Ce qu'attendent les fans des marques sur Facebook en 4 points. Attentes, interactivité, réactivité, services, reconnaissance… Une récente étude, réalisée par CMO Council, met en évidence un véritable fossé entre les marques et les utilisateurs sur les réseaux sociaux, et ce, notamment sur Facebook.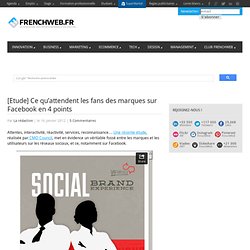 Selon l'étude, les consommateurs attendent davantage d'expériences, d'engagement, de récompenses lorsqu'ils se connectent aux marques sur les médias sociaux. Dans ses conclusions, CMO Council rappelle donc aux entreprises qu'acquérir de nouveaux fans n'est pas une fin en soi, mais un moyen permettant d'enrichir leur relation clients. Ainsi, basée sur un panel de 1300 consommateurs et de 132 senior marketers, l'étude identifie quatre décalages majeurs entre les deux entités. Fort de ce constat, CMO Council soumet plusieurs stratégies que les marques pourraient développer afin de coller davantage aux attentes de leurs clients. Les interactions entre fans : 4 Ways to Measure Social Media and Its Impact on Your Brand. Do you know how social media is helping your business?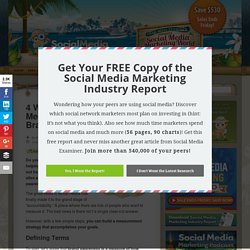 Want to find out how Twitter, Facebook and other sites are impacting your brand awareness? The good news is social media has finally made it to the grand stage of "accountability." A place where there are lots of people who want to measure it. The bad news is there isn't a single clear-cut answer. However, with a few simple steps, you can build a measurement strategy that accomplishes your goals.
How to Develop a Social Media Content Strategy. Do you have a social media strategy?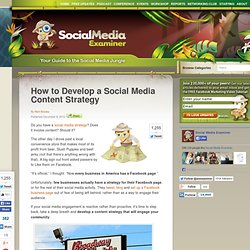 Does it involve content? Should it? The other day I drove past a local convenience store that makes most of its profit from beer, Slush Puppies and beef jerky (not that there's anything wrong with that). A big sign out front asked passers-by to Like them on Facebook. ShortStack.com Custom Facebook Pages | Build free custom Facebook Tabs, Pages, apps and contests. 3 Ways to Boost Interaction With Your Facebook Fans. Are you looking for fresh ideas to engage your Facebook fans?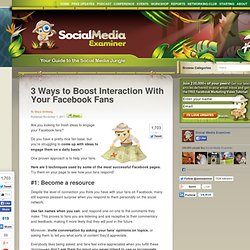 Do you have a pretty nice fan base, but you're struggling to come up with ideas to engage them on a daily basis? One proven approach is to help your fans. Here are 3 techniques used by some of the most successful Facebook pages. Facebook Marketing: Ultimate Guide for Social Media. Howdy SEOmoz fans!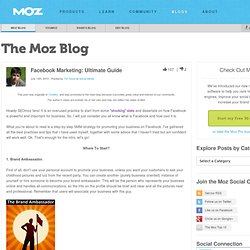 It is an overused practice to start from some "shocking" stats and dissertate on how Facebook is powerful and important for business. So, I will just consider you all know what is Facebook and how cool it is. What you're about to read is a step-by-step SMM strategy for promoting your business on Facebook. I've gathered all the best practices and tips that I have used myself, together with some advice that I haven't tried but am confident will work well.
---