JavaScript
Get flash to fully experience Pearltrees
Cloud Zoom: a jQuery image zoom plugin. Jet Zoom: Fast magnifier zoom. Star Zoom: variable super-hi res zoom. Cloud Carousel: a jQuery 3d carousel plugin. Lens Flare: a jQuery lens flare plugin. SVG to HTML5 Canvas converter.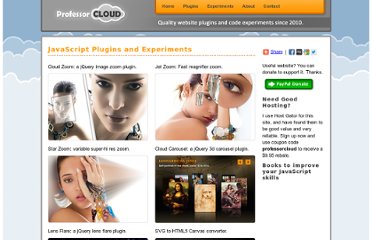 jquery-toastmessage-plugin is a JQuery plugin which provides android-like notification messages. It's a quite nice way to report info or error to the user. jquery-toastmessage-plugin's main features are: Informations are introduced as toastmessages to the user in a seamless and natural way Toastmessages may or may not disrupt the user and they are still informative 4 different predefined types of toasts: notice, success, warning and error Fully customizable Easy to use API
Example Features No images, no external CSS No dependencies (jQuery is supported , but not required) Highly configurable Resolution independent Uses VML as fallback in old IEs Uses @keyframe animations, falling back to setTimeout() Works in all major browsers, including IE6 MIT License Usage The spin() method creates the necessary HTML elements and starts the animation. If a target element is passed as argument, the spinner is added as first child and horizontally and vertically centered.