Math Resources
Get flash to fully experience Pearltrees
Content: calculators , graphs , computational tools , math games , algebra , courses , tutorials and problem solving
The four branches of arithmetic — ambition, distraction, uglification and derision. (Lewis Caroll, Alice in Wonderland )
The writing of textbooks and making them freely available on the web is an idea whose time has arrived.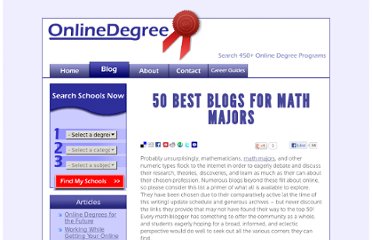 Probably unsurprisingly, mathematicians, math majors , and other numeric types flock to the internet in order to eagerly debate and discuss their research, theories, discoveries, and learn as much as their can about their chosen profession.
Imagine that your only contact with "English" as a subject was through classes in school. Suppose that those classes, from elementary school right through to high school, amounted to nothing more than reading dictionaries, getting drilled in spelling and formal grammatical construction, and memorizing vast vocabulary lists — you never read a novel, nor a poem; never had contact with anything beyond the pedantic complexity of English spelling and formal grammar, and precise definitions for an endless array of words. You would probably hate the subject.You might come to wonder what the point of learning English was.
Eur eq a (pronounced "eureka") is a software tool for detecting equations and hidden mathematical relationships in your data.