Society
20 Great Talks on the Future of Information | Online College Tip. Even if you've grown up in a world where computers and the Internet were around, you likely remember a time when they weren't such a big part of business, personal and educational life.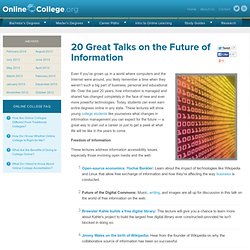 Over the past 20 years, how information is managed and shared has changed completely in the face of new and ever more powerful technologies. Today, students can even earn entire degrees online in any state. 50 Inspiring Films You Should Show Your Students | Online Colleg. Whether you are looking for a movie to support a lesson you've been teaching or a book your class has read, or if you would like to offer a reward for hard work well done, these movies offer education, inspiration, entertainment, and sometimes, even a warning.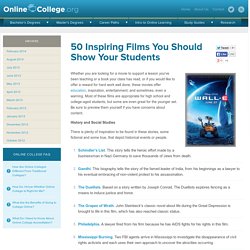 Most of these films are appropriate for high school and college-aged students, but some are even great for the younger set. Be sure to preview them yourself if you have concerns about content. 50 Famously Successful People Who Failed At First | Online Colle. Not everyone who's on top today got there with success after success.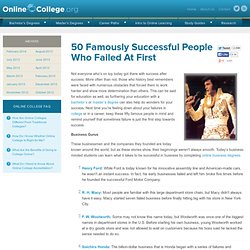 More often than not, those who history best remembers were faced with numerous obstacles that forced them to work harder and show more determination than others. This can be said for education as well, as furthering your education with a bachelor's or master's degree can also help do wonders for your success. Next time you're feeling down about your failures in college or in a career, keep these fifty famous people in mind and remind yourself that sometimes failure is just the first step towards success.
TE prospect adept at overcoming obstacles - NFL. CORAL GABLES, Fla. – The muscles in Jimmy Graham's sculpted neck and shoulders clench as his face gets darkly serious.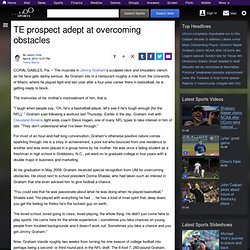 As Graham sits in a restaurant roughly a mile from the University of Miami, where he played tight end last year after a four-year career there in basketball, he is getting ready to block. The memories of his mother's mistreatment of him, that is. "I laugh when people say, 'Oh, he's a basketball player, let's see if he's tough enough [for the NFL],' " Graham said following a workout last Thursday. Earlier in the day, Graham met with Cleveland Browns tight ends coach Steve Hagen, one of many NFL types to take interest in him of late. "They don't understand what I've been through.
" 1,000 True Fans. [Translations: Chinese, French, German, Hebrew, Italian, Japanese, Portuguese, Romanian, Spanish] The long tail is famously good news for two classes of people; a few lucky aggregators, such as Amazon and Netflix, and 6 billion consumers.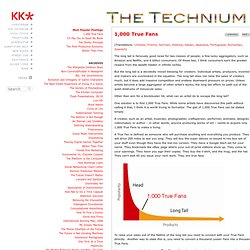 Of those two, I think consumers earn the greater reward from the wealth hidden in infinite niches. But the long tail is a decidedly mixed blessing for creators. Individual artists, producers, inventors and makers are overlooked in the equation.
---