Social TV apps
TvTak - Instant Detection of TV Shows
iPhone/Android SDK
Social TV companies
Apps Let You Supplement the TV Show You're Watching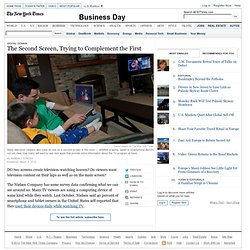 Darren Hauck for The New York Times Many television viewers also keep an eye on a second screen in the room — whether a laptop, tablet or smartphone. But it's not yet clear how many will want to use new apps that provide extra information about the TV program at hand. The Nielsen Company has some survey data confirming what we can see around us: Many TV viewers are using a computing device of some kind while they watch.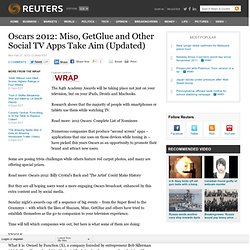 The 84th Academy Awards will be taking place not just on your television, but on your iPads, Droids and Macbooks. Research shows that the majority of people with smartphones or tablets use them while watching TV. Read more: 2012 Oscars: Complete List of Nominees Numerous companies that produce "second screen" apps – applications that one uses on those devices while tuning in – have picked this years Oscars as an opportunity to promote their brand and attract new users. Some are posing trivia challenges while others feature red carpet photos, and many are offering special prizes. Read more: Oscars 2012: Billy Crystal's Back and 'The Artist' Could Make History
Oscars 2012: Miso, GetGlue and Other Social TV Apps Take Aim (Updated)
Umami - Your TV Companion
Miso - Android Apps on Google Play
What is Islam? Recent world events have raised a general curiosity about Islam and its teachings. Tons of questions have been raised about Islam: What is Jihad?, is it a struggle to achieve peace or is it related to terrorism?, what about women?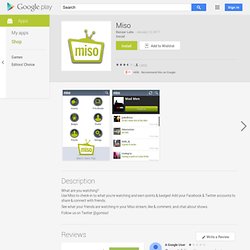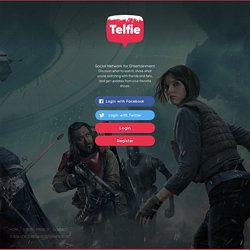 Your app for TV, Movies & Sports Discover what to watch, share what you're watching with friends and fans, and get great updates from your favorite shows. Discover Find the best TV, movies and sports with a guide that knows what you like, what your friends are watching, and what's popular.
With a Slingbox at home, enjoy your live or recorded TV on your Android phone over a 3G, 4G, or Wi-Fi connection. If you own a Slingbox (or if you're a DISH Network subscriber), please click "More" or expand this description for details about SlingPlayer app compatibility.Extend your living room TV experience to your Android phone with SlingPlayer software. If you like TV, it's hard not to smile when you take control of your TV and DVR from your Android phone.
IntoNow - Android Apps on Google Play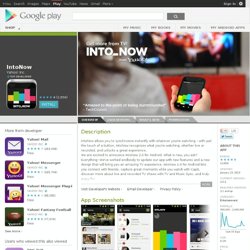 TVcheck, Devenez le Master de la TV !