Social TV apps
TvTak - Instant Detection of TV Shows
iPhone/Android SDK
TvTak Software Development Kit The TvTak iPhone/Android Software Development Kit allows third-party developers, advertisers and media companies to enable instant TV check-ins on their TV Companion Apps, bookmarking TV content and triggering events in synch with the TV broadcast.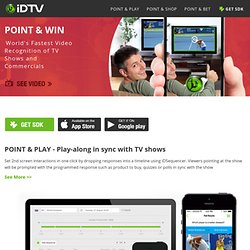 Social TV companies
Frontend - Guide - Local Trend Mode
Apps Let You Supplement the TV Show You're Watching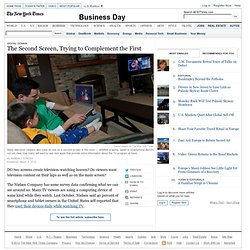 Darren Hauck for The New York Times
Oscars 2012: Miso, GetGlue and Other Social TV Apps Take Aim (Updated)
Umami - Your TV Companion
Miso - Android Apps on Google Play
IntoNow allows you to synchronize instantly with whatever you're watching – with just the touch of a button, IntoNow recognizes what you're watching, whether live or recorded, and unlocks a great experience. We are excited to announce IntoNow 2.0 for Android. What is new, you ask?
IntoNow - Android Apps on Google Play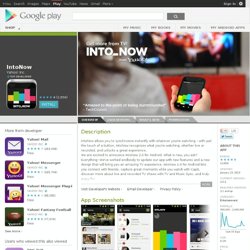 TVcheck, Devenez le Master de la TV !