DIY / Physical computing / Electonics
Kinect. Useless Boxes. Tweetosapien: Hack a Robosapien With Arduino to React to Tweets. Shop. Aria G25 - Low cost Linux Embedded SMD module. Aria G25 is a cost-effective System-on-Module (SoM) thought of to drastically reduce the development time needed to design a low-power and low-EMI Linux Embedded device.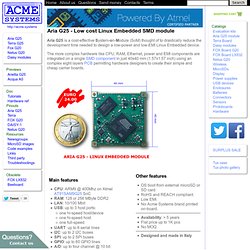 The more complex hardware like CPU, RAM, Ethernet, power and EMI components are integrated on a single SMD component in just 40x40 mm (1.57x1.57 inch) using an complex eight layers PCB permitting hardware designers to create their simple and cheap carrier boards. Software main features. Fablab, Makerspace en bibliothèque. Cosm - Internet of Things Platform Connecting Devices and Apps for Real-Time Control and Data Storage. Transform businesses (and lives) Xively helps unlock and expand business potential by removing the barriers inhibiting the complete comprehension and control of your business.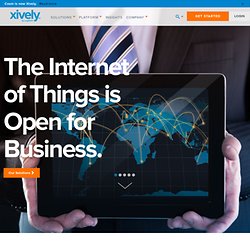 Continuous, 360-degree interaction with your business-connected objects delivers real-time insights that drive intelligent action. Companies are transformed into responsive organizations that can predict and fix disruptive issues before they happen, streamline operational processes, anticipate and proactively meet customer needs, and much more. Business Opportunities. Sigfox : One network, A billion dreams.
Raspberry Pi. ATtiny. Other shields. Minis. Drone Tri/Quadri-copter. Tutorials / projects. Tools. Shops. Blog, zine hacking. Docs Electronic / Référence. DIY Electronics.
---
drone Jan 28 2011

Cool et bravo, cest beau. Jaimerai bien que les industriels Français se mettre enfin et réellement à la domotique. Qui sait peut être que la Freebox V6 ira dans ce sens? Cela serait un argument supplémentaire déclencheur pour moi pour my mettre ;-p, même sli me faudra dégager du temps pour cela.

dweez Jan 28 2011

Quand j'ai le temps ... C'est à dire pas souvent ;) Je viens de poster une ptite vidéo d'un bricolage perso (pilotage via interface web d'une led RGB) sur Vimeo que je perlerai quand il sera dispo. En attendant :

drone Jan 28 2011

Bricoles tu sous Arduino ? Perso, je n'ai pas encore le temps ;-p

drone Jan 22 2011

Très intéressantes ce "pearltree".
---