HTML5
Save time. Create with confidence. ★ Analytics, icons, and more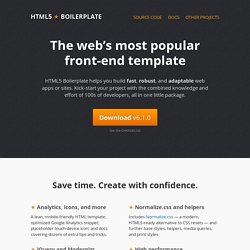 yepnope is an asynchronous conditional resource loader that's super-fast, and allows you to load only the scripts that your users need. There are only a handful of things to know about yepnope. There are only 5 functions available to you and there's only one that's really important. yepnope(resources )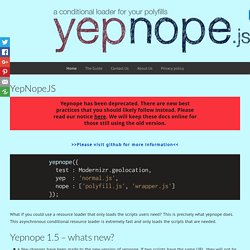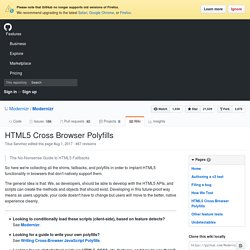 So here we're collecting all the shims, fallbacks, and polyfills in order to implant html5 functionality in browsers that don't natively support them. The general idea is that: we, as developers, should be able to develop with the HTML5 apis, and scripts can create the methods and objects that should exist. Developing in this future-proof way means as users upgrade, your code doesn't have to change but users will move to the better, native experience cleanly. Looking for a way to conditionally load these scripts client-side based on feature detects? See Modernizr.
balupton/history.js - GitHub
Intelligent State Handling - GitHub
Ajaxify a Website with the HTML5 History API using History.js, jQuery and ScrollTo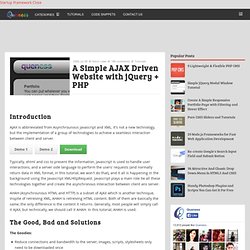 Introduction AJAX is abbrieviated from Asynchrounous javascript and XML. It's not a new technology, but the implementation of a group of technologies to achieve a seamless interaction between client and server.
A Simple AJAX Driven Website with jQuery + PHP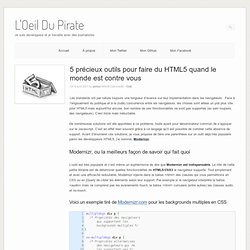 Les standards ont par nature toujours une longueur d'avance sur leur implémentation dans les navigateurs. Face à l'engouement du publique et à la (rude) concurrence entre les navigateurs, les choses sont allées un poil plus vite pour HTML5 mais aujourd'hui encore, bon nombre de ses fonctionnalités ne sont pas supportés (au sein toujours, des navigateurs). C'est triste mais inéluctable.
5 précieux outils pour faire du HTML5 quand le monde est contre vous | L'Oeil Du Pirate