Following <-> Followers
DoesFollow - doesfollow.com - Find out who follows whom on Twitter. Your Twitter Karma. Tweepler (Tweepler.com) Dweez Back on Twitter. We've got a new login system.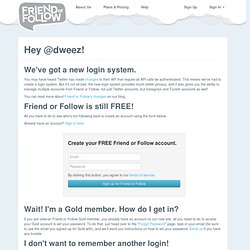 You may have heard Twitter has made changes to their API that require all API calls be authenticated. This means we've had to create a login system. But it's not all bad, the new login system provides much better privacy, and it also gives you the ability to manage multiple accounts from Friend or Follow, not just Twitter accounts, but Instagram and Tumblr accounts as well!
---