Music & Media
BRUCE PENINSULA | Southern Souls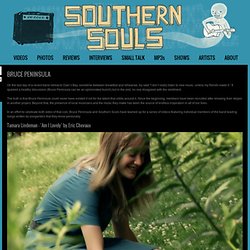 On the last day of a recent band retreat to Dyer's Bay, sometime between breakfast and rehearsal, Ivy said "I don't really listen to new music, unless my friends made it." It sparked a healthy discussion (Bruce Peninsula can be an opinionated bunch) but in the end, no one disagreed with the sentiment. The truth is that Bruce Peninsula could never have existed if not for the talent that orbits around it. Since the beginning, members have been recruited after showing their stripes in another project. Beyond that, the presence of local musicians and the music they make has been the source of endless inspiration in all of our lives. In an effort to celebrate both sides of that coin, Bruce Peninsula and Southern Souls have teamed up for a series of videos featuring individual members of the band leading songs written by songwriters that they know personally.
'2nd 4th World War' by Bruce Peninsula Q TV
'Crabapples' by Bruce Peninsula on Q TV

Bruce Trail Fire Sale
All inquiries should be directed to brucepeninsula@gmail.com Find us elsewhere online at twitter.com/bruce_peninsulafacebook.com/brucepeninsulamusicradio3.cbc.ca/#/bands/Bruce-Peninsulalast.fm/music/Bruce+Peninsula Open Flames Reviews & InterviewsBruce Peninsula PDF Presskit Since forming in 2006, Bruce Peninsula's rolling soul revue has left countless clubs shaken and all critics convinced. Colliding a lare female choir into an imaginative four-piece rock band, the music is a strange mix of American gospel, African folk and modern progressive rock, resulting in a style often praised for it's "genre-less" qualities.
What's New?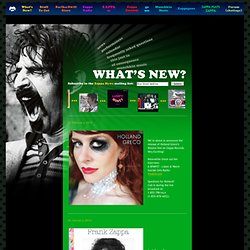 20 February 2014 30 January 2014 17 December 2013 10 December 2013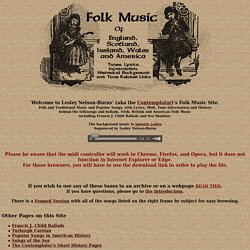 Welcome to Lesley Nelson-Burns' (aka the Contemplator)'s Folk Music Site.Folk and Traditional Music and Popular Songs, with Lyrics, Midi, Tune Information and History behind the folksongs and ballads. Irish, British and American Folk Music including Francis J. Child Ballads and Sea Shanties. Because of the many requests I receive for information on songbooks and other resources I have become an Amazon Associate (that's the book store type Amazon...) For resources click below to check out