Engels
LTM. LT-Tijdschrift | Levende Talen. English resources, English revision, English worksheets,TES Resources. From Shakespeare to Steinbeck, from Medieval literature to the present day: if you're looking for lesson plans on poetry or prose, our collection of free English resources covers a wide area of literature and language.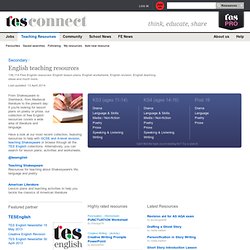 Have a look at our most recent collection, featuring resources to help with GCSE and A-level revision, teaching Shakespeare or browse through all the TES English collections. Alternatively, you can search for lesson plans, activities and worksheets. @tesenglish Teaching Shakespeare Resources for teaching about Shakespeare's life, language and poetry. British Council | Education UK | Search. Triptico | Inspiring Imaginative Teachers » Download. English exercises: Using Songs. Plaatjes: Stampotique Originals. $0.000 items View BasketCheckout Weddings Piling Thing Item# 6176 Price: $11.00.
Special English | Learning English. CRETA. Home Page. Teach English. In this Teach English section you'll find materials and pages designed to help in your teaching.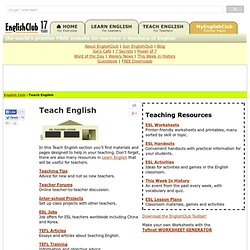 Don't forget, there are also many resources in Learn English that will be useful for teachers. Teaching Tips Advice for new and not so new teachers. Teacher Forums Online teacher-to-teacher discussion. VO Engels.
Videomateriaal. Leesmateriaal. Lesideeën. Grammar. Examentraining. Woordenboeken.
---