Top Bar Hive
Home. Vela Creations - Bait Hive. Getting honey from your Honey Cow requires you to have bees in your hive.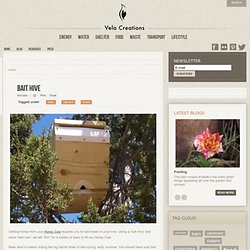 Using a "bait hive" and some "bee lure", we will "fish" for a swarm of bees to fill our Honey Cow. Bees tend to swarm during the big nectar flows in late spring, early summer. You should have your bait hives set up well ahead of time. Top Bar Hive Products | Bee Thinking. Diagram and plans for a top bar hive « mistress beek. 3 May Updated: Oct 2012 Looking to build your own top bar hive?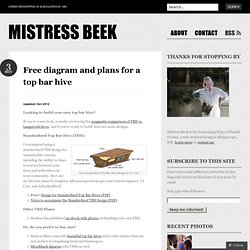 If you're a new beek, consider reviewing this pragmatic comparison of TBH vs. Langstroth hives. And if you're ready to build, here are some designs: Backyardhive.com - BackYardHive.com - Top Bar Hive, Beekeeping DVD. TopHive : Top Bar Hives (TBH) Natural beekeeping using low-cost, low impact top bar hives.
---