Top Bar Hive
Home
Big Give Christmas Challenge Thank you for all your generous donations! Your help will support African women in rural areas who frequently lack independent means of earning money, despite heavy domestic and farming workloads.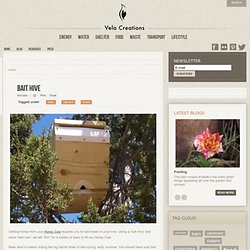 Getting honey from your Honey Cow requires you to have bees in your hive. Using a "bait hive" and some "bee lure", we will "fish" for a swarm of bees to fill our Honey Cow. Bees tend to swarm during the big nectar flows in late spring, early summer. You should have your bait hives set up well ahead of time.
Vela Creations - Bait Hive
Western Red Cedar top bar hives, hive kits, DIY top bar hive plans, nucleus boxes, one-piece top bars, and hive accessories. Made in Portland, Oregon -- FREE SHIPPING to the contiguous 48 states. Please inquire for Alaska, Hawaii, and international shipping. Top Bars $18.00 + Quick View Top Bars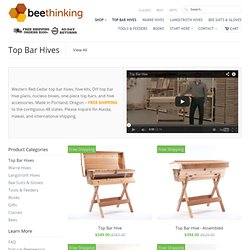 Top Bar Hive Products | Bee Thinking
3 May Updated: Oct 2012 Looking to build your own top bar hive? If you're a new beek, consider reviewing this pragmatic comparison of TBH vs. Langstroth hives. And if you're ready to build, here are some designs: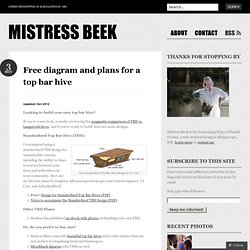 Diagram and plans for a top bar hive « mistress beek
backyardhive.com - BackYardHive.com - Top Bar Hive, Beekeeping DVD
BackYardHive Plans (For The Do-It-Yourself Beekeeper) Are you an accomplished woodworker with some time on your hands? If so, you may want to build your own topbar hive the BackYardHive way. We now offer Top Bar Hive plans for both our Golden Mean hive and the Original BackYardHive.
TopHive : Top Bar Hives (TBH)
natural beekeeping using low-cost, low impact top bar hives