Professional social networking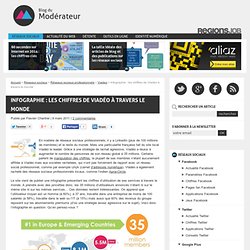 En matière de réseaux sociaux professionnels, il y a LinkedIn (plus de 100 millions de membres) et le reste du monde. Mais une particularité française fait du site local Viadéo le leader. Grâce à une stratégie de rachat agressive, Viadéo a réussi à augmenter le nombre de personnes de son réseau global à 35 millions. Certains parlent de manipulation des chiffres , la plupart de ses membres n'étant aucunement affiliée à Viadéo mais aux sociétés rachetées, qui n'ont pas forcément de rapport avec un réseau social professionnel, comme par exemple Unyk (carnet d'adresses numérique ).
Infographie : les chiffres de Viadéo à travers le monde
Dan Klamm is the Outreach & Marketing Coordinator at Syracuse University Career Services. This post was co-authored by Alana Edmunds who is an IT Project Manager and Social Strategist for Recruiting & Staffing at GE Energy. Connect with them on Twitter @DanKlamm and @amedmunds .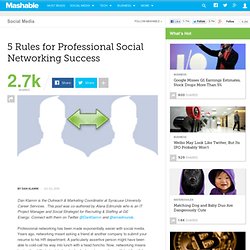 5 Rules for Success
LinkedIn et la force de son réseau