People
Alain de Botton: Atheism 2.0
Open Letter from a Millennial: Quit Telling Us We're Not Special « The Phoenix and Olive Branch
An open letter to SFU parents, faculty, staff and members of the SFU community SFU childcare workers need your support – possible January strike action Burnaby, December 14, 2012 Dear SFU parent, Dear member of the SFU community,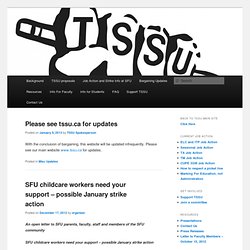 Bargaining @ TSSU | Getting a Better Contract For You
Death penalty dilemma dividing Taiwan
3 June 2012Last updated at 20:06 ET By Cindy Sui BBC News, Taipei Wang Tsai-lien, mother of Chiang Kuo-ching, lives with the grief of her son's wrong execution In 1997 a Taiwanese soldier was executed for murder, despite there being no evidence against him. The authorities last year admitted he was innocent and compensated his family, but legal experts warn a similar tragedy could happen again under the current judicial system.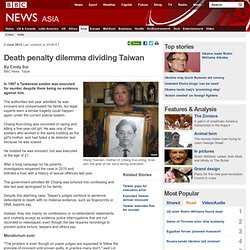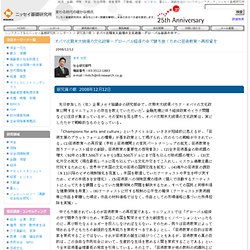 オバマ次期米大統領の文化政策-グローバル経済の中で勝ち抜くために芸術教育へ再投資を│研究員の眼│ニッセイ基礎研究所
先日参加した(社)企業メセナ協議会の研究部会で、次期米大統領バラク・オバマの文化政策に関するマニフェストの存在を教えていただいたi。金融危機に伴う経済政策やイラク問題などに注目が集まっているが、その資料を見る限り、オバマ次期米大統領の文化政策は、実にしたたかで戦略的なものとなっている。 「Champions for arts and culture」というタイトルは、いささか短絡的に思えるが、「芸術支援のプラットフォームの構築」が基本政策として掲げられ、次の6つの戦略が示されている。
Study Abroad Dims Employment Outlook for Japanese
Shit Harper Did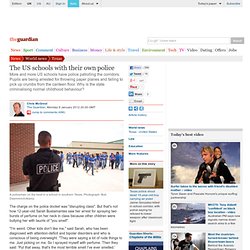 The US schools with their own police | World news
The charge on the police docket was "disrupting class". But that's not how 12-year-old Sarah Bustamantes saw her arrest for spraying two bursts of perfume on her neck in class because other children were bullying her with taunts of "you smell". "I'm weird. Other kids don't like me," said Sarah, who has been diagnosed with attention-deficit and bipolar disorders and who is conscious of being overweight.
Swedish Official Gleefully Cuts Racist Black Lady Cake, Delights Onlookers