JS Frameworks
MooTools (My Object-Oriented Tools) [ 1 ] is a lightweight, object-oriented , JavaScript framework .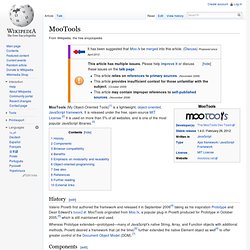 MooTools
ZK is an open-source Ajax Web application framework , written in Java , [ 2 ] [ 3 ] [ 4 ] that enables creation of rich graphical user interfaces for Web applications without the application developer having to write JavaScript (despite the J in Ajax acronym standing for JavaScript) and with little required programming knowledge.
ZK (framework)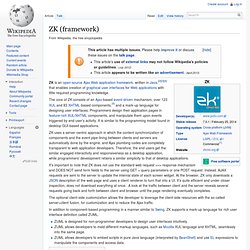 JS MV* Libraries & Frameworks
Index : Protoculous : Prototype & Scriptaculous lightweight !
Thursday, October 16th, 2008 < p >Bill Higgins of IBM Rational has written up some thoughts on componentization and packaging for Ajax applications based on work that his team did on the Rational Jazz platform.
OSGI and JavaScript; Frameworks and building blocks for Ajax apps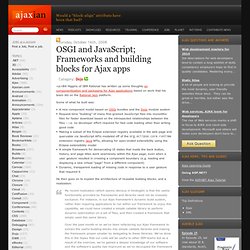 Using jQuery with Other Libraries
General The jQuery library, and virtually all of its plugins are constrained within the jQuery namespace. As a general rule, "global" objects are stored inside the jQuery namespace as well, so you shouldn't get a clash between jQuery and any other library (like Prototype, MooTools, or YUI).
jQuery
jQuery is a multi-browser JavaScript library designed to simplify the client-side scripting of HTML . [ 4 ] It was released in January 2006 at BarCamp NYC by John Resig .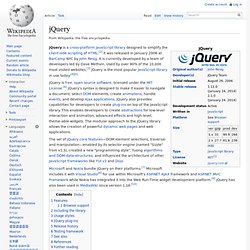 YUI Library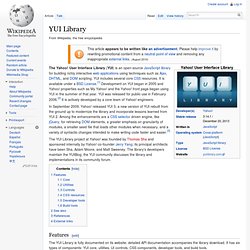 The Yahoo!
API Documentation
Welcome to the Dojo Toolkit API documentation.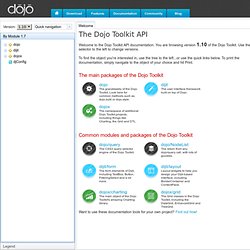 Dojo Toolkit (stylized as dōjō toolkit ) is an open source modular JavaScript library (or more specifically JavaScript toolkit) designed to ease the rapid development of cross-platform, JavaScript/ Ajax -based applications and web sites.
Dojo Toolkit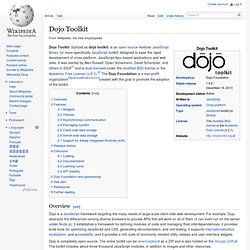 JS Long Polling Frameworks
Retinafy your web sites and apps — ebook by Thomas Fuchs
Pivotal Labs: Mobile: Overview