JS Frameworks
MooTools (My Object-Oriented Tools)[1] is a lightweight, object-oriented, JavaScript framework.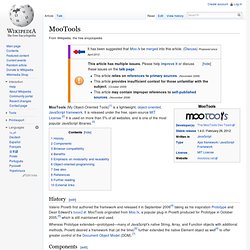 MooTools
ZK uses a server-centric approach in which the content synchronization of components and the event pipe-lining between clients and servers are automatically done by the engine, and Ajax plumbing codes are completely transparent to web application developers.
ZK (framework)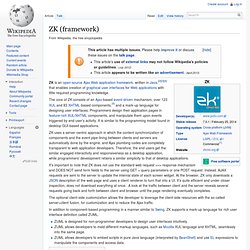 JS MV* Libraries & Frameworks
Index : Protoculous : Prototype & Scriptaculous lightweight !
Thursday, October 16th, 2008 <p>Bill Higgins of IBM Rational has written up some thoughts on componentization and packaging for Ajax applications based on work that his team did on the Rational Jazz platform.
OSGI and JavaScript; Frameworks and building blocks for Ajax apps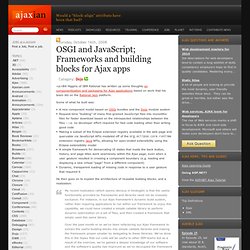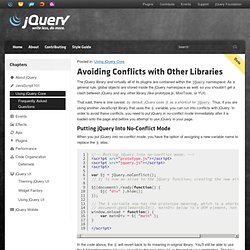 Using jQuery with Other Libraries
The jQuery library and virtually all of its plugins are contained within the jQuery namespace.
jQuery is a cross-platform JavaScript library designed to simplify the client-side scripting of HTML.[2] It was released in January 2006 at BarCamp NYC by John Resig.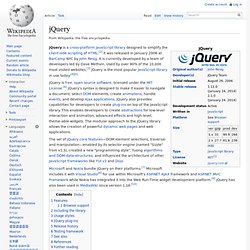 YUI Library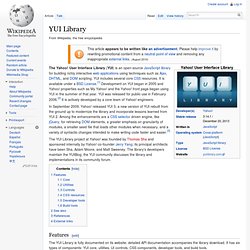 In September 2009, Yahoo!
API Documentation
Welcome to the Dojo Toolkit API documentation. You are browsing version 1.9 of the Dojo Toolkit. Use the selector to the left to change versions.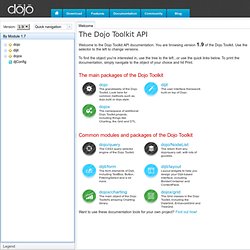 Overview[edit]
Dojo Toolkit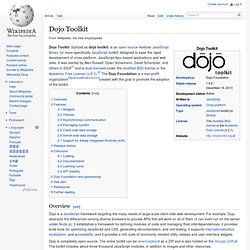 JS Long Polling Frameworks
Retinafy your web sites and apps — ebook by Thomas Fuchs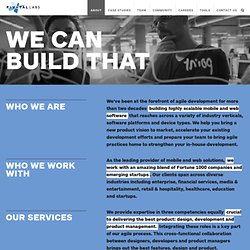 Pivotal Labs: Mobile: Overview
We've been at the forefront of agile development for more than two decades building highly reliable, scalable software for innovative industry leaders and emerging companies across a number of industries. We serve a range of clients from seed stage startups to Fortune 1000 companies.