JS Frameworks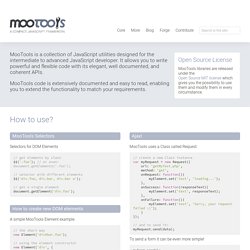 MooTools is a compact, modular, Object-Oriented JavaScript framework designed for the intermediate to advanced JavaScript developer. It allows you to write powerful, flexible, and cross-browser code with its elegant, well documented, and coherent API. MooTools code respects strict standards and doesn't throw any warnings. It's extensively documented and has meaningful variable names: a joy to browse and a snap to understand. Open Source License
MooTools (My Object-Oriented Tools)[1] is a lightweight, object-oriented, JavaScript framework. It is released under the free, open-source MIT License.[2] It is used on more than 5% of all websites, and is one of the most popular JavaScript libraries.[3] History[edit] Valerio Proietti first authored the framework and released it in September 2006[4] taking as his inspiration Prototype and Dean Edward's base2.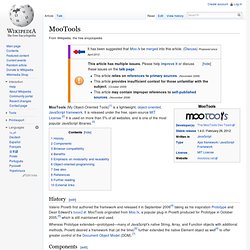 MooTools
ZK uses a server-centric approach in which the content synchronization of components and the event pipe-lining between clients and servers are automatically done by the engine, and Ajax plumbing codes are completely transparent to web application developers. Therefore, the end users get the similar engaged interactivity and responsiveness as a desktop application, while programmers' development retains a similar simplicity to that of desktop applications. It's important to note that ZK does not use the standard web request <=> response mechanism and DOES NOT send form fields to the server using GET + query parameters or one POST request. Instead, AJAX requests are sent to the server to update the internal state of each screen widget. At the browser, ZK only downloads a JSON description of the web page and uses a client renderer to turn that into a UI.
ZK (framework)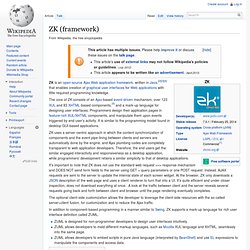 JS MV* Libraries & Frameworks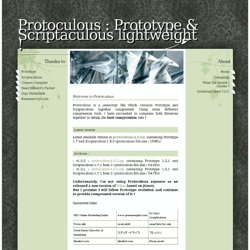 Protoculous is a javascript file which contains Prototype and Scriptaculous together compressed. Using some different compression tools, I have succeeded to compress both librairies together to obtain the best compression rate ! Latest version Latest available version is protoculous-2.0.zip containing Prototype 1.7 and Scriptaculous 1.9.0 (protoculous file size : 158Ko) Archives :
Index : Protoculous : Prototype & Scriptaculous lightweight !
RequireJS is a JavaScript file and module loader. It is optimized for in-browser use, but it can be used in other JavaScript environments, like Rhino and Node. Using a modular script loader like RequireJS will improve the speed and quality of your code. IE 6+ .......... compatible ✔ Firefox 2+ ..... compatible ✔ Safari 3.2+ .... compatible ✔ Chrome 3+ ...... compatible ✔ Opera 10+ ...... compatible ✔ Get started then check out the API.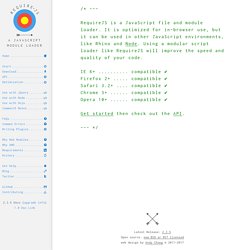 Thursday, October 16th, 2008 <p>Bill Higgins of IBM Rational has written up some thoughts on componentization and packaging for Ajax applications based on work that his team did on the Rational Jazz platform. Some of what he built was:
OSGI and JavaScript; Frameworks and building blocks for Ajax apps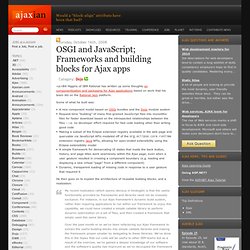 What is jQuery? jQuery is a fast, small, and feature-rich JavaScript library. It makes things like HTML document traversal and manipulation, event handling, animation, and Ajax much simpler with an easy-to-use API that works across a multitude of browsers.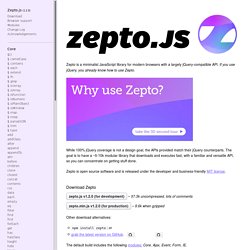 The default build includes the following modules: Core, Ajax, Event, Form, IE. Zepto v1.0 used to bundle Effects, iOS3, and Detect modules in the default build. See below for optional modules.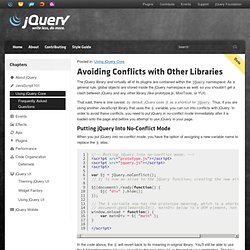 Using jQuery with Other Libraries
The jQuery library and virtually all of its plugins are contained within the jQuery namespace. As a general rule, global objects are stored inside the jQuery namespace as well, so you shouldn't get a clash between jQuery and any other library (like prototype.js, MooTools, or YUI). That said, there is one caveat: by default, jQuery uses $ as a shortcut for jQuery. Thus, if you are using another JavaScript library that uses the $ variable, you can run into conflicts with jQuery.
jQuery is a cross-platform JavaScript library designed to simplify the client-side scripting of HTML.[2] It was released in January 2006 at BarCamp NYC by John Resig. It is currently developed by a team of developers led by Dave Methvin. Used by over 80% of the 10,000 most visited websites,[3] jQuery is the most popular JavaScript library in use today.[4][5] The set of jQuery core features — DOM element selections, traversal and manipulation — enabled by its selector engine (named "Sizzle" from v1.3), created a new "programming style", fusing algorithms and DOM-data-structures; and influenced the architecture of other JavaScript frameworks like YUI v3 and Dojo.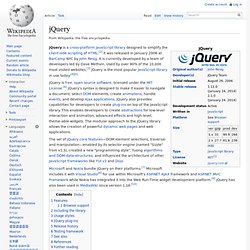 Add elements to the set of matched elements. Add the previous set of elements on the stack to the current set, optionally filtered by a selector. Adds the specified class(es) to each of the set of matched elements. Insert content, specified by the parameter, after each element in the set of matched elements. Register a handler to be called when Ajax requests complete.
Underscore is a JavaScript library that provides a whole mess of useful functional programming helpers without extending any built-in objects. It's the answer to the question: "If I sit down in front of a blank HTML page, and want to start being productive immediately, what do I need?" … and the tie to go along with jQuery's tux and Backbone's suspenders. Underscore provides 80-odd functions that support both the usual functional suspects: map, select, invoke — as well as more specialized helpers: function binding, javascript templating, deep equality testing, and so on. It delegates to built-in functions, if present, so modern browsers will use the native implementations of forEach, map, reduce, filter, every, some and indexOf.
Why YUI? Fast YUI's lightweight core and modular architecture make it scalable, fast, and robust. Built by frontend engineers at Yahoo!, YUI powers the most popular websites in the world.
YUI Library
In September 2009, Yahoo! released YUI 3, a new version of YUI rebuilt from the ground up to modernize the library and incorporate lessons learned from YUI 2. Among the enhancements are a CSS selector driven engine, like jQuery, for retrieving DOM elements, a greater emphasis on granularity of modules, a smaller seed file that loads other modules when necessary, and a variety of syntactic changes intended to make writing code faster and easier.[3] Features[edit]
Instantly Better Web Apps Dojo saves you time and scales with your development process, using web standards as its platform. It's the toolkit experienced developers turn to for building high quality desktop and mobile web applications. From simple websites to large packaged enterprise applications whether desktop or mobile, Dojo will meet your needs.
API Documentation
Dojo Toolkit
JS Long Polling Frameworks
Retinafy your web sites and apps — ebook by Thomas Fuchs
Pivotal Labs: Mobile: Overview