Teaching Resources
Wiki Writing: Collaborative Learning in the College Classroom / Robert E. Cummings and Matt Barton, Editors. Why Tagging Matters: An Interview with David Weinberger. Forget Dewey and His Decimals, Internet Users are Revolutionizing the Way We Classify Information – and Make Sense of It Just as the internet allows users to create and share their own media, it is also enabling them to organize digital material their own way, rather than relying on pre-existing formats of classifying information.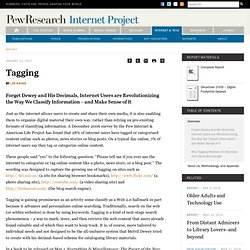 A December 2006 survey by the Pew Internet & American Life Project has found that 28% of internet users have tagged or categorized content online such as photos, news stories or blog posts. On a typical day online, 7% of internet users say they tag or categorize online content. These people said "yes" to the following question: "Please tell me if you ever use the internet to categorize or tag online content like a photo, news story, or a blog post."
The Real Life Social Network v2.
---