Anusara
Anusara Controversy: Overview and Timeline · drwh0
on May 19, 2012 Photo: Patheos "The show is not the show, but they who go."
The Vicious Vocal Minority vs. John Friend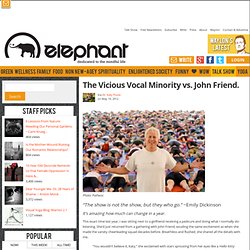 Open to Grace Offerings
on Mar 22, 2012 Anusara: The Great Chasm. ~ Richard Hudak Photo: Wikimedia Commons. A great chasm, or rather canyon, separates the Yoga Coalition and the Kula Evolution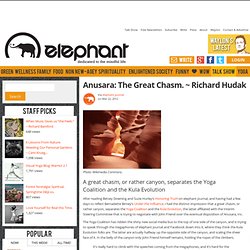 Anusara: The Great Chasm. ~ Richard Hudak
Letter from John. March 20, 2012
on Mar 20, 2012 Letter from John. March 20, 2012. A letter by John Friend of Anusara Yoga. But first, some context via elephant editor Waylon Lewis (feel free to skip): A month ago, leading yoga teacher John Friend was accused of various things by an anonymously-backed web site. After an initial calm phase, during which we sought to sift agenda-driven accusations and fact, elephantjournal.com has published some 90 articles representing different perspectives from former and current Anusara yoga teachers and students, as well as from outsiders.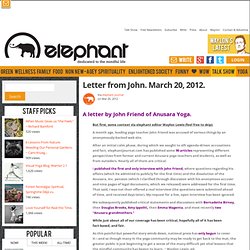 john friend pulled from wanderlust festival 2012 lineup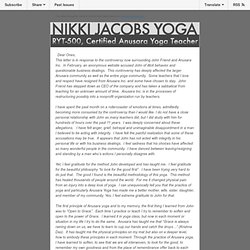 March Newsletter
Dear Ones, This letter is in response to the controversy now surrounding John Friend and Anusara Inc. In February, an anonymous website accused John of illicit behavior and questionable business dealings. This controversy has deeply affected the larger Anusara community as well as the entire yoga community. Some teachers that I love and respect have resigned from Anusara Inc. and some have chosen to stay.
Philip Goldberg: Scandal in Yogaland: Let's Not Draw the Wrong Conclusions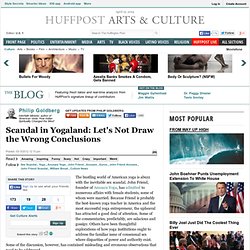 The bustling world of American yoga is abuzz with the inevitable sex scandal. John Friend, founder of Anusara Yoga , has admitted to numerous affairs with female students, some of whom were married. Because Friend is probably the best-known yoga teacher in America and the most successful yoga entrepreneur, the upheaval has attracted a good deal of attention.
Dr. Who's Reading Room
Swami Muktananda
William J Broad on John Friend Scandal: Yoga is a Sex Cult and We're All Ignorant Minions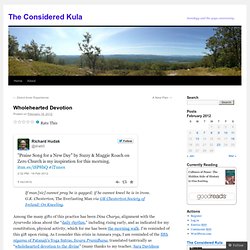 i Rate This If man [sic] cannot pray he is gagged; if he cannot kneel he is in irons. G.K.
Wholehearted Devotion
on Feb 8, 2012 My interview with John Friend regarding jfexposed accusations. Update: two more key interviews/letters: Douglas Brooks , longtime colleague of John Friend's, & Amy Ippoliti , senior Anusara teacher who recently resigned. Update: my interview with an Anusara Yoga teacher who resigned today: an inside view re the Anusara teacher resignations and a conversation re: how to avoid repeating history. ~ ed, 5 Questions for Anusara Yoga's John Friend regarding "jfexposed" anonymous accusations.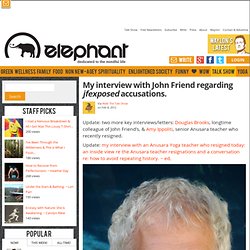 My interview with John Friend regarding jfexposed accusations
About John Friend
Anusara™ Workshop - The Collective Makeover with Desirée Rumbaugh
unnamed pearl
On beginning Anusara Yoga Teacher Training
on May 12, 2010 I took my first yoga class in a gym called Body Blast my junior year of High School. It was an accident really – a spillover from the kick boxing class I attended beforehand. For whatever serendipitous reason that particular day, I decided to stay and work on my flexibility.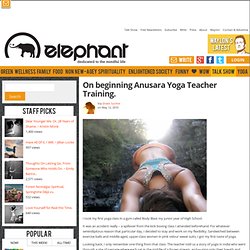 Daily Insight Newsletter May 16, 2010
The yogic sages—especially in the Hindu and Buddhist branches of Tantra —anticipated quantum physics by claiming that a subtle vibratory energy is the substratum of everything we know. Unlike physicists, however, yogic seers experience this energy not simply as a neutral vibration but as the expression of the divine feminine power, called shakti . Reality, the tradition says, is shakti's dance , which takes its form as our body, our thoughts, our perceptions, and also the physical world. The Hindu traditions are comfortable with the idea that absolute reality, while formless, also manifests itself as divine entities.