Strategy Google (Android)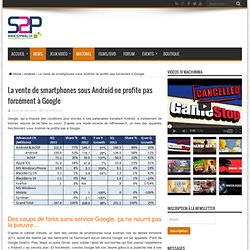 La vente de smartphones sous Android ne profite pas forcément à Google | S2Pmag
Google, qui a imposé des conditions plus strictes à ses partenaires installant Android, a visiblement de bonnes raisons de se faire su souci. D'après une étude récente de ABIresearch, un tiers des appareils fonctionnant sous Android ne profite pas à Google… Des coups de forks sans service Google, ça ne nourrit pas la pieuvre… D'après le cabinet d'étude, un tiers des ventes de smartphones sous Android, lors du dernier trimestre 2013, aurait été réalisé par des fabricants ne fournissant aucun service Google sur les appareils. Point de Google Search, Play, Maps ou autre Gmail, sans oublier l'ajout de surcouches qui font passer l'expérience « Android » au second plan.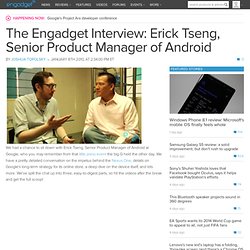 We had a chance to sit down with Erick Tseng, Senior Product Manager of Android at Google, who you may remember from that little press event the big G held the other day. We have a pretty detailed conversation on the impetus behind the Nexus One, details on Google's long-term strategy for its online store, a deep dive on the device itself, and lots more. We've split the chat up into three, easy-to-digest parts, so hit the videos after the break and get the full scoop!
The Engadget Interview: Erick Tseng, Senior Product Manager of A
Taking advantage of freedom of speech gifted by his new found employer, former Sun Microsystems web technologies director Tim Bray has taken to his blog to give a candid account of his new role as Google Developer Advocate - and that means talking down the firm's main mobile rival, Apple. Speaking in an entry detailing his new role at Google - which, he says, will mainly focus on working with Android - Bray takes time to dismiss the notion that taking on iPhone is a fruitless task. All-conquering Apple Indeed, according to Bray Apple's current direction is suffocating the companies and consumers that have iPhone at the centre of their activities. "The iPhone vision of the mobile Internet's future omits controversy, sex, and freedom, but includes strict limits on who can know what and who can say what," Bray says in the blog entry. "It's a sterile Disney-fied walled garden surrounded by sharp-toothed lawyers.
iPhone a 'sterile Disney-fied walled garden', says Android advoc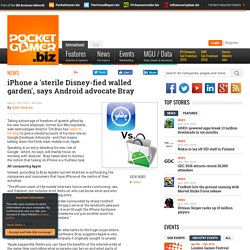 Les 10 000 employés de Google vont-ils devoir changer leurs habitudes de travail? Le Financial Times croit savoir que les responsables de Mountain View veulent se débarrasser des produits Microsoft, au premier rang desquels Windows. Cette initiative a été décidée pour des raisons de sécurité selon les témoignages recueillis par le quotidien britannique auprès d'employés de Google. L'entreprise aurait mal supporté l'attaque de son système d'information depuis la Chine évoqué en janvier dernier. Outre le gouvernement chinois, Google pointe du doigt les failles de Windows.
Google se débarrasse de Microsoft Actualité --- Silicon.fr ---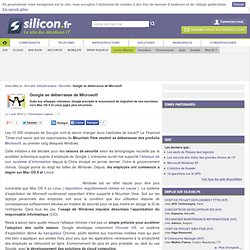 Deux jours après son passage à l'IFA de Berlin, où il a détaillé son projet Google TV, le P-DG de Google faisait une halte à Paris ce jeudi pour dévoiler un ambitieux programme d'investissements en France et en Europe. Reçu à l'Elysée par le Président Nicolas Sarkozy, il lui a détaillé ce projet. « Nous allons ouvrir ces prochaines semaines un Institut culturel européen en France, parce qu'il n'y a pas de meilleur endroit pour une implantation culturelle », précise Eric Schmidt. Institut culturel et centre de R&D Google En France Dans le domaine de la recherche, Google va ouvrir un centre d'ingénierie à Paris, pour lequel il prévoit « plusieurs dizaines d'embauches d'ingénieurs ces prochaines années en France ».
Google annonce la création d'un centre de R&D en France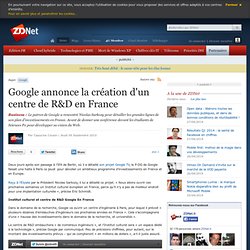 Google rachète FlexyCore, la start-up française touche le gros lot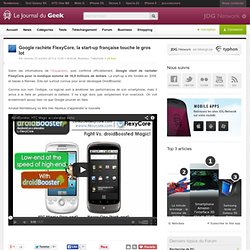 Selon les informations de l'Expansion, puis confirmé officiellement, Google vient de racheter FlexyCore pour la modique somme de 16,9 millions de dollars. La start-up a été fondée en 2008, et basée à Rennes. Elle est surtout connue pour avoir développé DroidBooster.