Others Teccno
Grapple Mobile | Home - Mobile applications for everyone. Karya Specializes in Business Mobile Applications with Increased. Ansca Mobile | Corona SDK | Easy Scripting, High Performance. BasicBuild your games or apps in record time and start monetizing with in-app purchases or ads.BUY $16/monthProPro adds advanced graphics, all Corona Plugins, analytics and much more.BUY $49/monthEnterpriseCall any native library (C++/Objective-C/Java) from your Corona app and do offline builds.CONTACT US Download Corona and you are automatically a Corona SDK Starter.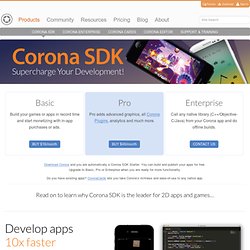 You can build and publish your apps for free.Upgrade to Basic, Pro or Enterprise when you are ready for more functionality. Do you have existing apps? Create Mobile Apps | Conduit Mobile. Conduit Mobile : comment générer une application Android, iOS, WP7, Blackberry et Symbian gratuitement ! « FrAndroid Communauté Android. Créer une application Android, iOS, WP7, Blackberry et Symbian n'a jamais été aussi simple.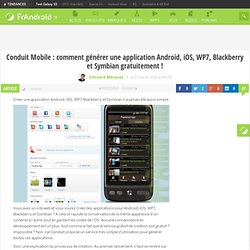 Vous avez un site web et vous voulez créer des applications pour Android, iOS, WP7, Blackberry et Symbian ? A cela se rajoute la conservation de la même apparence d'un système à l'autre, tout en gardant les codes de l'OS. Présentation de Conduit Mobile (FrAndroid) RhoHub Introduction - Part I.
Rejected by Apple
AppsBar - iPhone App Builder, Android App Builder, Windows App Builder. Appsbar lets anyone make free iOS and Android apps for free. So far we've seen quite a few app building services but none of them was completely free.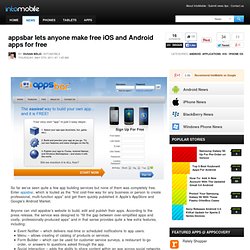 Enter appsbar, which is touted as the "first cost-free way for any business or person to create professional, multi-function apps" and get them quickly published in Apple's AppStore and Google's Android Market. Anyone can visit appsbar's website to build, edit and publish their apps. According to the press release, the service was designed to "fill the gap between over-simplified apps and costly, professionally-produced apps" and in that sense provides quite a few extra features, including: Créer gratuitement votre application Android avec appsbar. 05mai Dans la famille des WebApp vous permettant de créer depuis un navigateur web votre application Android, je vous présente Appsbar.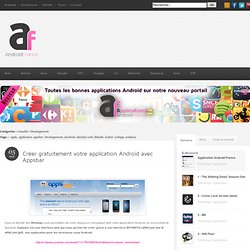 Appsbar est une interface web qui vous permet de créer grâce à son interface WYSIWYG (what you see is what you get) une application pour les terminaux sous Android. Sibblingz en approche pour Android. 16mai Sibblingz est une société qui propose aux développeurs un moteur pour des jeux sociaux sur Facebook .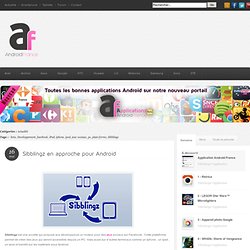 Cette plateforme permet de créer des jeux qui seront accessible depuis un PC mais aussi sur d'autres terminaux comme un Iphone, un Ipad , un Ipod et bientôt sur les matériels sous Android. Jusqu'à présent en version bêta fermée, cette solution devrait être accessible bientôt à tous les développeurs. Selon Sibblingz son moteur de jeux permet un gain de temps, cette solution permettant la création d'un dispositif multi plate forme,PC, Android, Iphone et Ipad.
---