Net Neutrality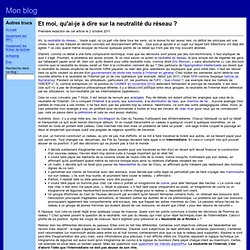 Ah, la neutralité du réseau... Vaste sujet, où ça part vite dans tous les sens, où la bonne foi est assez rare, où définir les principes est une chose mais où les traduire en termes concrets est étonnamment difficile... Que puis-je ajouter à un sujet sur lequel tant d'électrons ont déjà été agités ? Je vais quand même essayer de trouver quelques points de ce débat qui n'ont pas été trop souvent abordés. D'abord, comme ce débat a une forte composante technique, mais que les décisions sont prises par des non-techniciens, il faut expliquer de quoi il s'agit.
Et moi, qu'ai-je à dire sur la neutralité du réseau ?
Net Neutrality
Internet Neutralité/Filtrage
La surveillance des e-mails, invit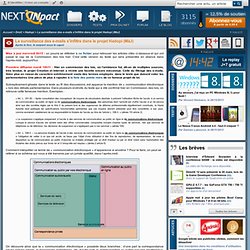 Mise à jour mercredi 8h15 : on pourra se référéer à ce fichier pour retrouver les articles cités ci-dessous et qui ont passé le cap de la Commission des lois hier. C'est cette version du texte qui sera présentée en séance dans l'après-midi, aujourd'hui. Première diffusion mardi 18h11 : Hier en commission des lois, où l'ambiance fut, dit-on de multiples sources, très tendue, le projet Création et Internet a révélé une facette encore méconnue. Celle du filtrage des e-mails.
Barack Obama: On Net Neutrality
Franken: Net Neutrality "Biggest Issue Since Freedom of Reli
Net Neutrality / Neutralité du Net (France)
Le Web risque la fragmentation selon Tim Berners-Lee
Le co-inventeur du Web et président du W3C est inquiet. Dans une tribune traduite par Framablog, Tim Berners-Lee estime en effet que « le Web tel que nous le connaissons » est « menacé de diverses façons » par des entreprises privées, mais aussi par des Etats. Tim Berners-Lee pointe ainsi en particulier les comportements de certains réseaux sociaux, qui selon lui concentrent, à l'écart du reste du Web, les informations publiées par les utilisateurs. Les fournisseurs d'accès et les gouvernements, totalitaires mais aussi démocratiques, ne sont pas épargnés (dont la France pour la loi Hadopi). Les réseaux sociaux sont des silos hermetiques Cette figure emblématique du Web leur reproche notamment une remise en cause du principe de neutralité du réseau et des atteintes aux droits de l'homme.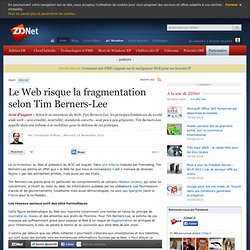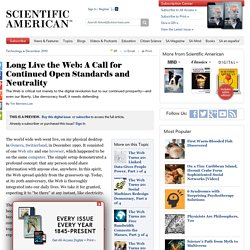 The world wide web went live, on my physical desktop in Geneva, Switzerland, in December 1990. It consisted of one Web site and one browser, which happened to be on the same computer. The simple setup demonstrated a profound concept: that any person could share information with anyone else, anywhere. In this spirit, the Web spread quickly from the grassroots up. Today, at its 20th anniversary, the Web is thoroughly integrated into our daily lives.