Mobile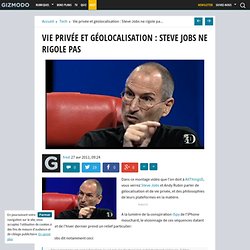 Vie privée et géolocalisation : Steve Jobs ne rigole pas
Dans ce montage vidéo que l'on doit à AllThingsD, vous verrez Steve Jobs et Andy Rubin parler de gélocalisation et de vie privée, et des philosophies de leurs plateformes en la matière. A la lumière de la conspiration iSpy de l'iphone mouchard, le visionnage de ces séquences datant de l'été et de l'hiver dernier prend un relief particulier: Steve Jobs dit notamment ceci: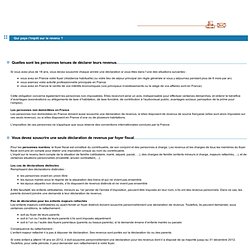 Qui paye l'impôt sur le revenu ?
Pour les personnes mariées, le foyer fiscal est constitué du contribuable, de son conjoint et des personnes à charge.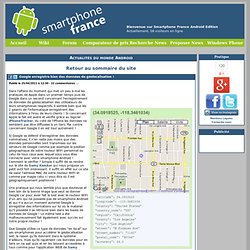 Google enregistre bien des données de géolocalisation !
Dans l'affaire du moment qui met un peu à mal les pratiques de Apple dans un premier temps puis de Google dans un second concernant l'enregistrement de données de géolocalisation des utilisateurs de leurs smartphones respectifs, il semble bien que les 2 géants de l'informatique enregistrent des informations à l'insu de leurs clients !
Prenez le contrôle de votre ordinateur à partir de Android
Location and my privacy | Windows Phone 7
This notice describes unintended behavior in the Windows Phone 7 software involving location services, explains how Microsoft eliminated that behavior, and reminds you that you can prevent access to location information if you choose to do so.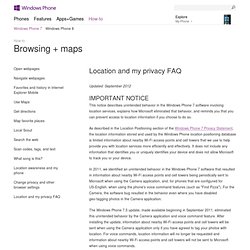 Vie privée et géolocalisation : Steve Jobs ne rigole pas
packetlss/android-locdump - GitHub
tags
Overview (SWIXML API v1.6 (#161))
Linphone, open-source voip software | Linphone, an open-source video sip phone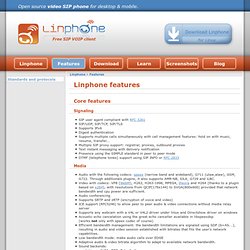 Core features
features | Linphone, an open-source video sip phone
SWiX - Easy to use XML based editor for debugging and updating of SWF files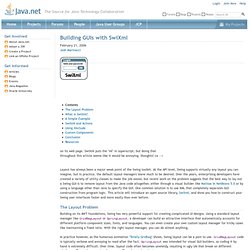 Layout has always been a major weak point of the Swing toolkit.
Building GUIs with SwiXml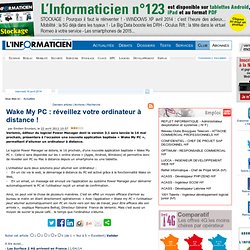 Wake My PC : réveillez votre ordinateur à distance !
par Emilien Ercolani, le 22 avril 2011 10:57 Verismic, éditeur du logiciel Power Manager dont la version 3.1 sera lancée le 16 mai prochain, présentera à l'occasion une nouvelle application baptisée « Wake My PC », permettant d'allumer un ordinateur à distance. Le logiciel Power Manager se dotera, le 16 prochain, d'une nouvelle application baptisée « Wake My PC ».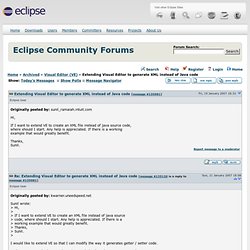 Community Forums
Originally posted by: alex_blewitt.yahoo.com Ah. Then you're almost certainly completely out of luck.
FAQ Eclipse
Basiquement, un plug-in au sens d'Eclipse est un ou plusieurs fichiers jar qui peuvent agir sur Eclipse en ajoutant de nouvelles fonctionnalités, perspectives, vues, etc. Techniquement, un plug-in au sens d'Eclipse est un bundle OSGi qui peut agir sur Eclipse : En exportant des packages (au sens d'OSGi) ce qui permet à d'autres plug-ins d'utiliser les classes qu'il exporte.