Installator : MSI / InstallShield / ORCA / Inno Setup
Configurer InstallShield pour faire une mise. Modification de msi avec Orca. Jrsoftware.org // Jordan Russell's Software. NSIS Wiki. Inno Setup. Setup Wizard Inno Setup is a free installer for Windows programs.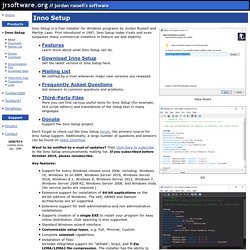 First introduced in 1997, Inno Setup today rivals and even surpasses many commercial installers in feature set and stability. FeaturesLearn more about what Inno Setup can do. Download Inno SetupGet the latest version of Inno Setup here.
---