Hologram
Get flash to fully experience Pearltrees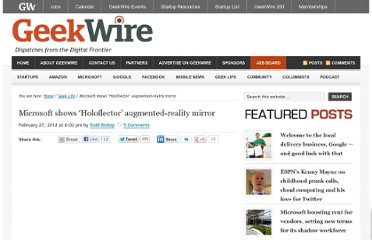 This afternoon at the Microsoft TechForum event in Redmond, the company's researchers showed a series of prototypes and demos in areas including advanced displays and augmented-reality applications. One of the research projects, dubbed Holoflector, includes a large, translucent mirror with an LCD panel about three feet behind it, and a Kinect camera on top. The setup make it possible to display computer graphics in real time on and around people and objects reflected in the mirror.
Researchers at Tokyo University have come up with a technology that is a first and significant step away from the mouse and keyboard – touchable holograms.
Pour les chercheurs de l'université de Tokyo , le contrôle d'un ordinateur ou tout autre dispositif informatique par une souris et un clavier ne semblait plus suffire.
Par Korben Lors du CES, la société InnoVision Labs a fait une démo de son écran holographique digne d'un bon Starwars sans parasite. Le HoloAd s'utilise sans lunettes et diffuse en réalité 3 vidéos d'un même objet mais pris d'un angle différent.