General Mobile Accesory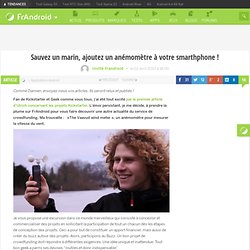 Comme Damien, envoyez-nous vos articles. Ils seront relus et publiés ! Fan de Kickstarter et Geek comme vous tous, j'ai été tout excité par le premier article d'Ulrich concernant les projets Kickstarter. L'émoi persistant, je me décide, à prendre la plume sur FrAndroid pour vous faire découvrir une autre actualité du service de crowdfunding. Ma trouvaille : »The Vaavud wind meter », un anémomètre pour mesurer la vitesse du vent. Je vous propose une excursion dans ce monde merveilleux qui consiste à concevoir et commercialiser des projets en sollicitant la participation de tout un chacun dès les étapes de conception des projets.
Sauvez un marin, ajoutez un anémomètre à votre smarthphone !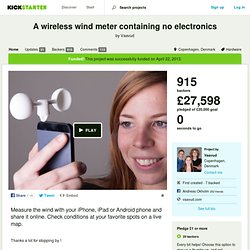 A wireless wind meter containing no electronics by Vaavud
Thanks a lot for stopping by ! Have you ever wondered how strong the wind is, exactly at the spot where you are? If you are a kitesurfer or windsurfer like us, then the answer is probably yes. But perhaps as a sailor, paraglider, model aircraft pilot, etc. etc. you would also like to get a precise reading of the wind, right on the spot? Then the Vaavud wind meter is just what you need! The Vaavud wind meter enables you to take precise and reliable measurements of the wind anywhere, using your iOS or Android phone.
Chargeur micro-USB pour tous les mobiles en Europe Voilà une sage et importante décision obtenue par l'Union Européenne : la plupart des grands constructeurs de téléphonie mobile ont accepté que la charge de leur mobile se fasse désormais via une prise micro-USB. Un chargeur standardisé pourra donc être utilisé pour tous ses mobiles dès 2010 et il n'aura pas à être jeté après l'achat d'un nouveau. C'est à la fois économique et écologique. Les marques qui ont accepté cette harmonisation sont : Apple, Motorola, Nokia, Sony Ericsson, LG, NEC, Qualcomm, Research in Motion, Samsung and Texas Instruments.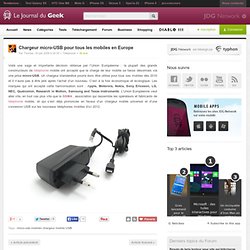 Chargeur micro-USB pour tous les mobiles en Europe | Le Journal
FlyGrip - Welcome
The Most Important thing You'll Learn in the Command Line
FlyGrip Review
Keyboard Mouse Pad controler (Hardware devices)
keys FLEX | Wireless Bluetooth Keyboard & Stand for Tablets | ZAGG
I bought this during their 50% promo deal. One of the best purchases I've made. Knowing what I know now, I would gladly pay the full price to buy one again. Essentially turns you iPad into a laptop.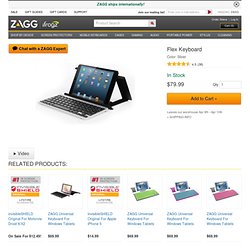 Pocket Projector for iPhone 4 Devices at Brookstone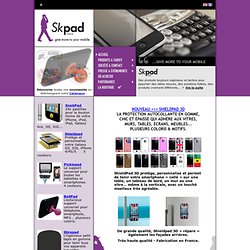 KnobPad 24x pastilles pour le bouton Home de votre iPhone, iPod, iPad, Galaxy Ace, SII, SIII... Shieldpad Protège et personnalise votre Galaxy SII, SIII, iPhone 4/4S/5. 5 couleurs. Picklepad Le support universel pour toutes les tablettes et smartphones. 4 couleurs.BallPad L'astucieux support universel pour téléphone, smartphone, MP3... plusieurs coloris. Slicepad L'ingénieux petit tapis en gomme pour tenir tous vos appareils sur votre tableau de bord.
SKPAD - ZIPLINQ - Accueil
chaussons, gants, parapluies, chaussettes d'intérieur, lunettes de lecture
Satarii Star Accessory -- IndieGoGo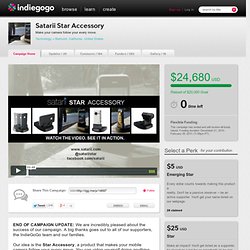 Our idea is the Star Accessory, a product that makes your mobile camera follow your every move. You can video yourself doing anything without the awkwardness of asking friends or complicated setups. Want to know more? Check out our Blog, follow us on twitter @satariistar or Facebook and send us your thoughts at info@satarii.com. Our Story
Voila le genre d'idée qu'il convient de voir en action pour en prendre la réelle mesure ... A priori, avoir une base mobile permettant à votre iPhone de vous filmer au gré de vos déplacements sans jamais quitter son champ de vision peut vous paraitre superflu. C'est d'ailleurs le premier avis que nous avons partagé à la rédaction, une position qui a changée après avoir regardé cette vidéo.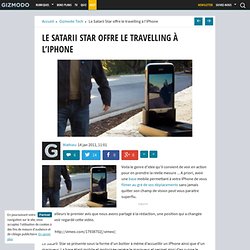 Le Satarii Star offre le travelling à l'iPhone
Satarii IndieGoGo Campaign on Vimeo
vainworks — No front-facing camera? No problem. Use the Vainworks Stand!
IMPORTANT UPDATE (12/16/2011): ooVoo now works with iOS (iPhone, iPad, etc.) and Android. So does Skype! Seems like everyone is talking about front-facing cameras these days. But what if you can't afford hundreds of dollars to upgrade your phone? What if you still have months on your contract?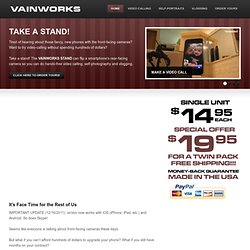 fring – VoIP mobile – le blog français » Blog Archive » Comment passer un appel vidéo sans caméra frontale ?
Our journey from pioneering mobile VoIP to joining GENBAND Since pioneering mobile Voice-over-IP communications back in 2006, we've had a great ride. We've enjoyed and driven this industry's technological, financial and social evolution from a time in which only a few had smartphones smart enough to make the world's first free mobile VoIP calls, to a world where consumers expect the rich services and cost savings that mobile Internet communication delivers. We're now very excited to join GENBAND, bringing your customers and their subscribers the mobile multimedia communications enjoyed by tens of millions of our fring users around the world, on all major smartphones and tablets, over any Internet connection.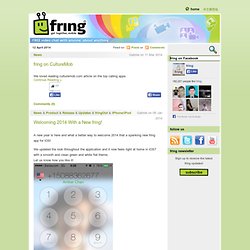 PadPivot™ is a "LAP and Desk stand" for iPad®, tablets and e-readers that blends form and seamless function to improve tablet users' viewing experiences. On a desk or resting on your lap, PadPivot™ gives hands-free support. Finally, you can enjoy a cup of tea as you read, munch on some popcorn as you watch a movie, gain an edge while gaming or wave to a friend as you FaceTime. In the kitchen, at school, at a bedside, in the office or lounging on a sofa, the versatility is unmatched.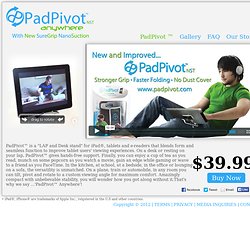 PadPivot™ - Welcome
PadPivot, lap & desk stand for your iPad,Tablet, or E-reader by Jim Young
Pad Pivot™ is the ultimate tablet stand for iPad, Galaxy Tab, Kindle, or other tablet device. It features hands-free positioning on your lap and adjustable angles and positioning on the desktop. The ingenious hinged design allows Pad Pivot to fold small enough to fit in your pocket, purse, or bag making it the most versatile and unique stand in the marketplace.
Support universel astucieux pour smartphones et tablettes
BALLPAD
EARonic, iPhone Cases That Look Like Ears
Pentel Airpen Pocket – Un stylo pour votre terminal Android
01fév Le Airpen Pocket de Pentel est un stylo numérique qui permet de digitaliser l'écriture et la transmettre à votre ordinateur, un petit boitier bluetooth permettant la liaison. Pentel vient d'annoncer la sortie d'une application Android assurant la compatiblité entre le Airpen Pocket et votre terminal. Pratique pour prendre ses notes en réunion sur Evernote (et passer pour un fou qui écrit en transparent sur la table…) L'application pour Airpen Pocket est prévue pour mars 2011, d'ici là vous pouvez toujours utiliser un bloc note (boooo).
Le stylo Airpen Mini de Pentel reçoit le support d'Android
Le Airpen Mini de Pentel est un gadget qu'on aimerait tous avoir dans sa poche, avec son smartphone Android par exemple. Chose possible dès mars 2011 puisque le stylo magique sera reconnu des appareils sous Android. Il se présente comme un stylo sans que rien ne le distingue particulièrement, sauf qu'il intègre une mémoire de 2MB et qu'il enregistre tout ce que vous écrivez (100 pages A5). Il vous suffit ensuite de transférez les données à votre ordinateur. Il ne fonctionne pour l'instant que sur PC et sur Mac. Une application sera simplement nécessaire sous Android et vous pourrez dès lors transférer vos textes via le petit émetteur/récepteur fourni avec le Airpen.