Aldebaran Robotics
Get flash to fully experience Pearltrees
Aldebaran Robotics is recruiting
Selon l'Express , le constructeur français Aldebaran Robotics , spécialisé dans les robots et notamment concepteur de Nao mais aussi plus récemment du Karotz , vient de se faire racheter par Softbank ! Le groupe japonais aurait racheté au moins 80% du capital pour 100 millions de dollars. Softbank devrait même investir 40 à 50 millions de dollars pour accélérer le développement de l'entreprise et s'ouvrir au grand public, ce qui pourrait nous faire découvrir NAO Next Gen ainsi que ROMEO plus tôt que prévu.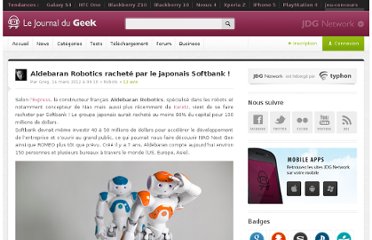 Cap Robotique is the first business cluster in France dedicated to the robotics industry. Cap Robotique is opened to every company or laboratory which wants to bring its expertise to the French industry of the domestic service robotics. The cluster gathers yet prestigious protagonists like the CEA LIST or the CNRS LAAS, but also various innovative start-ups, recognized experts of their fields, like Gostai , Spir.Ops or also Voxler .
Untitled from Jean Michel Billaut on Vimeo .
Bonne nouvelle pour les fans de robotique française. La société Aldebaran Roboticcs vient d'annoncer le rachat des actifs de Mindscape, en difficultés financières, qui avait elle même racheté les actifs de Violet…
Samsung's robotics division presented the company's latest humanoid robot, Roboray, at IROS 2012 in Portugal last week.