Adele
ADELE - Skyfall. Adele. Un article de Wikipédia, l'encyclopédie libre.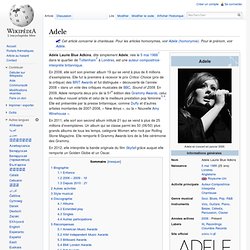 Adele Adele en concert en janvier 2009. En 2011, elle sort son second album intitulé 21 qui se vend à plus de 25 millions d'exemplaires. Un album qui se classe parmi les 50 (06/50) plus grands albums de tous les temps, catégorie Women who rock par Rolling Stone Magazine. Elle remporte 6 Grammy Awards lors de la 54e cérémonie des Grammy. Adele (singer) Life and career 1988–2005: Early life Two years later, she and her mother moved back to London; first to Brixton, and then to neighbouring district West Norwood, in south London.[34] West Norwood is the subject for Adele's first record, "Hometown Glory", written when she was 16.[35] After moving to south London, she became interested in R&B artists such as Aaliyah, Destiny's Child and Mary J.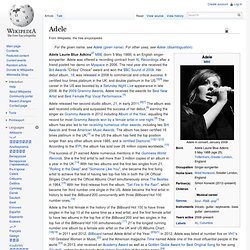 Blige.[36] Adele - Chasing Pavements. Adele. Adele - ''Someone Like You'' Adele - Someone like you live at Royal Albert Hall HD. Adele: NPR Music Tiny Desk Concert. Adele - Someone Like You (Live in Her Home) Adele - Rolling In The Deep. Adele LIVE: Rolling in the deep.
Adele at the 54th Grammy Awards 2012 Rolling in the deep. Adele - Rolling In The Deep (Grammy 2012) HD. Adele - Someone like you (OFFICIAL VIDEO LYRICS) HD Live from Brit Awards 2011.
---