360°
Vidéo, musique et film. Regardez une vidéo maintenant !
Mon premier panorama avec le logiciel Autopano
Paris 26 Gigapixels teaser - short version
Paris 26 Gigapixels: world largest image!
Vision panoramique, Appareil Photo 360°, créez vous même vos visites virtuelles
Annonces immobilieres gratuites | site immobilier France | portail immo
vous Philippe Clauss from Saint Grégoire ? Une caméra ch'ti de belle facture
Pour faire de belles visites virtuelles... avec jevisite-je choisis.com on Vimeo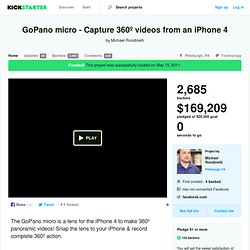 The GoPano micro is a lens for the iPhone 4 to make 360º panoramic videos! Just snap the lens to your iPhone 4 and press record to make cool interactive 360º videos. Use it to record all the action of your favorite sport, record your next meeting in 360º or just as a fun toy for the summer. The GoPano micro will record everything around you simultaneously. You can go back to the recorded video and choose to view any perspective, any angle at any point in time. The GoPano app allows you to upload your 360º video onto our web platform and share 360º videos with your friends.
GoPano micro - Capture 360º videos from an iPhone 4 by michaelrondinelli